Swain County Heritage Museum
Swain County Visitors Center
On the second floor of the courthouse, the Swain County Heritage Museum tells the story of the County and its people. Through photos, exhibits and video you will learn about the life of early settlers; and how the creation of the Great Smoky Mountains National Park and Fontana Dam rewrote the landscape and changed lives. You will enjoy seeing the restored log cabin porch, the 1887 church organ and one-room schoolhouse desks, and children's activity area among other items. The museum is open daily; hours vary by season, Free admission. Parking lot behind the courthouse.
VISITOR CENTER:  You will find a great children's selection of activity books, stuffed animals, wooden toys, puzzles, t-shirts, and ranger vests and hats. You'll also find guide books, cookbooks, CDs, DVDs, tote bags, clothing, foods, mugs and more.
You're Invited
June 27, 2020
"Main Street Saturday"
On Saturday, June 27, 2020 head out to your favorite main street and show your support for your local merchants.  Have lunch, shop or just take a stroll, we invite you to slow down and remember why these local merchants matter in your community.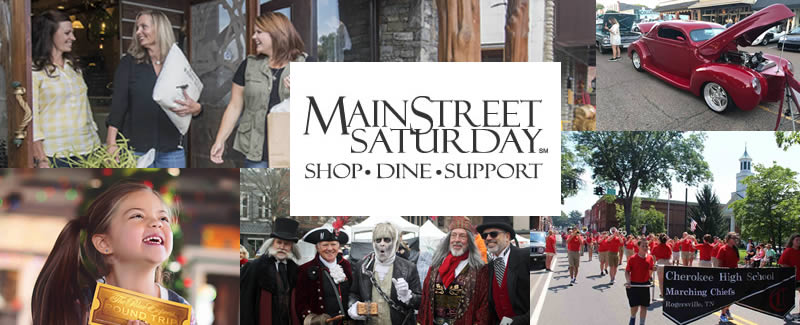 Other Great Destinations Nearby