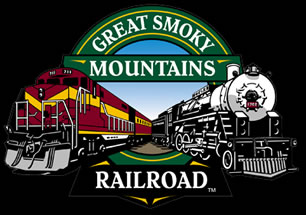 With 53 miles of track, two tunnels and 25 bridges, the Great Smoky Mountains Railroad will take you on a memorable journey through a remote and beautiful corner of North Carolina. Ride with us into river gorges, across valleys and through tunnels carved out of majestic mountains.
The Railroad offers a variety of scenic, round-trip excursions departing from Bryson City. Trips range from 3 ½ hours to a full day of fun and adventure.
The Nantahala Gorge Excursion carries you 44 miles to the Nantahala Gorge and back again. Travel the Little Tennessee and Nantahala Rivers across Fontana Lake and into the magic of the Nantahala Gorge.
The Tuckasegee River Excursion travels 32-mile round-trip along the Tuckasegee River through old railroad towns and scenic meadows. Specialty excursions include our Special Event Dinner Trains, PEANUTS™ The Easter Beagle Express, PEANUTS™ The Great Pumpkin Patch Express, and POLAR EXPRESS™.
A scenic trip through time
The Great Smoky Mountains Railroad will take you on a journey through the Carolina Mountains and some of the most beautiful landscapes in America. The Carolina Mountains border the entire western edge of North Carolina, comprising some 52 percent of the Great Smoky Mountains National Park. The region also includes the southern crest of the Blue Ridge Mountains, Pisgah, Cherokee, and Nantahala National Forests. Hundreds of years ago, glacial and volcanic movement left etchings still visible on the land. In more recent times, roads and flood controls have opened the area to commerce and tourism. Early in the 20th century, the railway played a major part of the story of the development of the region.
As you ride through the mountains, keep your eyes open! There are 125 varieties of trees in Western North Carolina, including hemlock, yellow buckeye, umbrella magnolia, oak, birch, sugar maple, mountain ash, Fraser fir, and short needle pine. Wild blackberries and blueberries are abundant in their seasons. In spring the mountains are alive with dogwood, redbud, flame azaleas, and mountain laurel blooms.
The coming of summer heralds rosebay rhododendron and an almost endless variety of wildflowers. In the fall, many of these plants show their bright berries, while the trees glow in all shades of red, russet, yellow, and orange. A nature lover can enjoy more than 1,000 species of flowering plants, 200 birds, and more than100 species of fish and animals.
This delightful mountain vacationland is like a nature conservancy dotted with small towns. Old railroad depots are located in three historic towns; Dillsboro (no current departures), a village of shops and crafts; Bryson City, located on the edge of the Great Smoky Mountains National Park; and Andrews (no current departures), a scenic valley town in the Snowbird Mountains. All were founded in the 1800s and have retained some of their original character, adding to their historic charm.
When you come to ride the train, we hope you'll plan to stay awhile. You'll enjoy the country inns, lodges, resorts, quaint shops, places to dine, historic sites, museums, and amenities. This is America as it used to be; a treasury of friendly people, a restful environment, and the beauty of nature everywhere.
Other Great Destinations Nearby