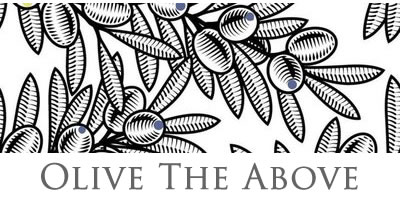 WELCOME TO OLIVE THE ABOVE, WE ARE A UNIQUE TASTING STORE OF THE WORLD'S FINEST EXTRA VIRGIN OLIVE OILS AND BALSAMIC VINEGARS. OUR OLIVE OILS ARE CAREFULLY PRESSED FOR QUALITY, NOT QUANTITY SO THEIR FLAVOR PROFILES AND HEALTH BENEFITS ARE EXCEPTIONAL. OUR DARK AND WHITE BALSAMIC VINEGARS ARE BARREL AGED, WITH A WONDERFUL BALANCE OF TART AND SWEET.
ALL OF OUR OLIVE OIL IS EXTREMLY FRESH BECAUSE WE FOLLOW THE GROWING SEASONS OF OLIVES IN THE NORTHERN AND SOUTHERN HEMISPHERES. OUR PRODUCERS ARE SETTING THE BAR ON THE TECHNIQUE OF HARVESTING AND PRESSING OLIVES BY USING THE BEST OF BOTH TRADITIONAL AND MODERN METHODS. THIS COMBINATION YIELDS THE FRESHEST, HEALTHIEST, TASTIEST EXTRA VIRGIN OLIVE OILS ON THE MARKET TODAY. OUR BALSAMIC VINEGARS ARE FROM MODENA, ITALY AND ARE NATURALLY BARREL AGED A MINIMUM OF 12 YEARS IN THE TRADITIONAL SOLERA METHOD. YOU WILL BE AMAZED BY THEIR FULL, SWEET, ZESTY FLAVORS AND WILL WANT TO USE THEM IN VINAGRETTES, SAUCES AND SOUPS OR DRIZZLE THEM AS A FINISH ON VEGETABLES, FISH, MEAT, AND ESPECIALLY DESSERTS.
STOP IN TO SAMPLE OUR FABULOUS OLIVE OILS AND VINEGARS AND DISCOVER JUST HOW WONDERFUL OUR FLAVORS ARE.
You will never think of olive oil and balsamic in the same way again.
WE LIVE LOCALLY AND ARE FAMILY OWNED IN THE BLUFFTON SC AREA.
Other Great Destinations Nearby