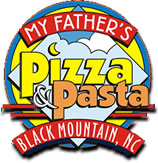 A family owned and operated restaurant serving Black Mountain since 1990, we offer mouthwatering fresh pizza, pasta, subs, salads, and a choice beer and wine selection.  All of our sauces, dough, meatballs, hummus, and special house dressing are prized family recipes and we make them fresh daily in-house. We also offer gluten free options including pizza crusts, pasta, and beer, as well as lactose free vegan cheese. Our goal is to provide excellent quality and friendly service to our friends, neighbors, and visitors to the area. Savour views of the always beautiful Blue Ridge mountains from our patio, or sit inside and enjoy pleasant conversation and great food in our cozy dining room.
My Father's Pizza sources as many of its products locally as possible, from produce to beer. Please let us know if you have suggestions or ideas on how we can support sustainable living and our local economy.
Stop on by and visit us!
My Father's Pizza & Pasta Virtual Tour of Restaurant
Other Great Destinations Nearby