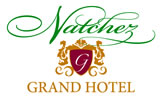 Natchez Grand Hotel
History and hospitality go hand in hand in Natchez – recently named one of the "100 Must-See Destinations" by Life magazine.
Gorgeous views, local charm and sites also earned Natchez a listing in the New York Times best-seller, 1000 Places to See before You Die.  The book features Natchez's great bike and walking trails, unique restaurants and over the top architecture.
Natchez was also recognized as the Best Small City for a Weekend by AAA Southern Traveler Magazine.
For almost 300 years, this quaint, southern city has captivated national and international visitors alike with its charm & grace. Situated on the banks of the Mississippi River, Natchez offers something for every one-from astounding antebellum homes and hypnotic history to exciting annual events, great golf and sophisticated shopping.
Enjoy cozy & elegant sophistication in an affordable, comfortable setting along the Mississippi River.
Check-in: 4pm | Check-out: 11am
For Complete Details – Click Here
Other Great Destinations Nearby