Top 10 Best Shopping Destinations in the South
for 2020
 Take virtual tours of these great local businesses and discover great new
Main Streets to explore and enjoy.
Our "South's Best" features 10 of our top picks for 2020:
 Ocean Springs, Mississippi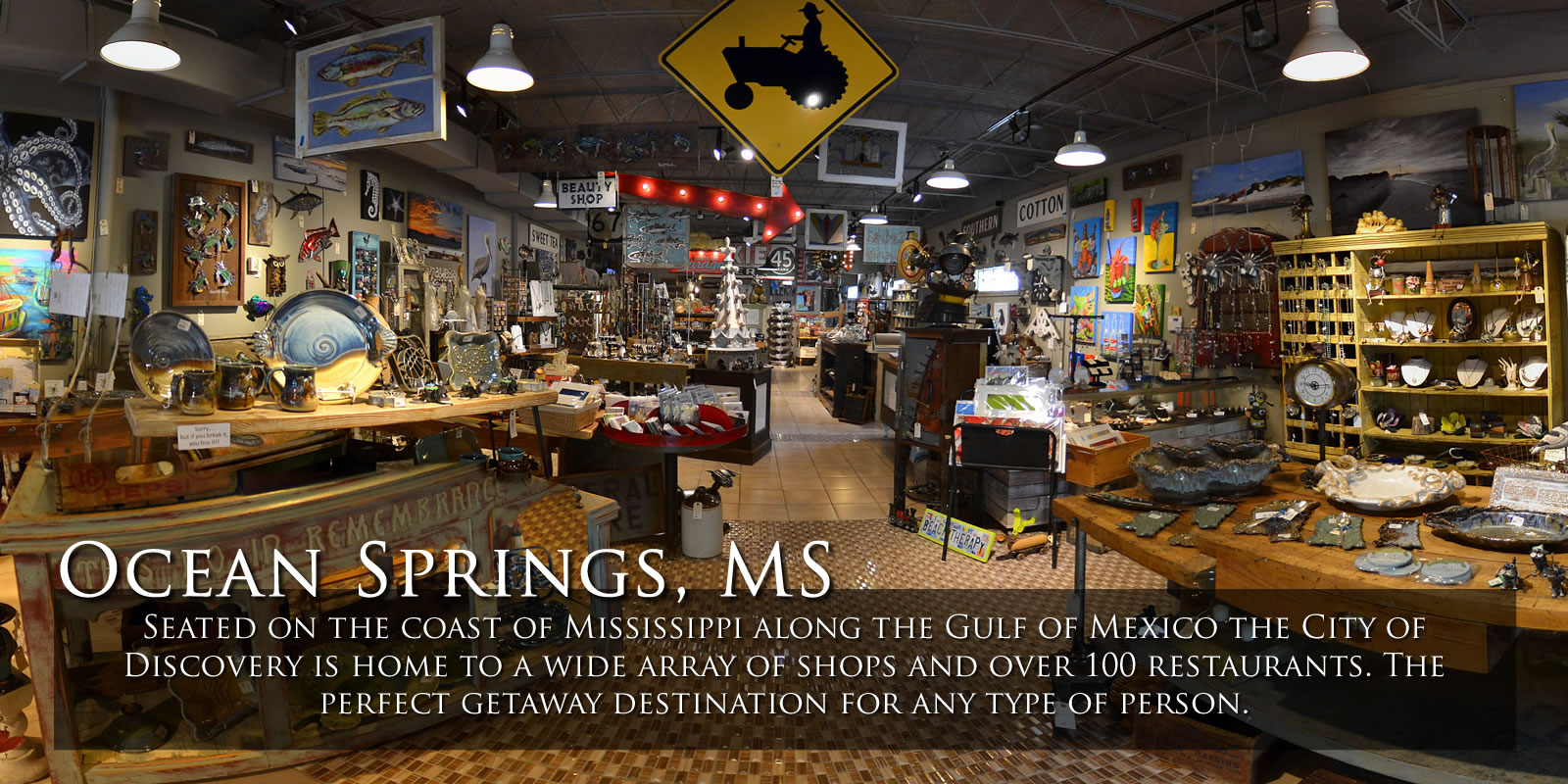 Seated on the coast of Mississippi along the Gulf of Mexico the City of Discovery is home to a wide array of shops and over 100 restaurants.
The perfect getaway destination for any type of person.
Miner's Doll & Toy Store Welcome to Miner's Doll and Toy Store! We feature fine dolls and fun toys for families and collectors. We are proud to offer you a full line of [...]
Best Ocean Springs Shopping & Restaurants Discover Ocean Springs' best shopping and restaurants.  Ocean Springs offers one of the best local shopping destinations on the Mississippi Gulf Coast.  Enjoy a thriving local shopping community with a wide variety of fashion [...]
Mosaic and the Beer House are open seven days a week offering the best in local and international cuisine and culture.  We have a wide selection of crafted cocktails and wine, 45 beers [...]
Layton's is a Home décor, furniture, gift shop where rustic,chic, & antique are all blended together to create that one of a kind WOW factor. 630 [...]
Load More Posts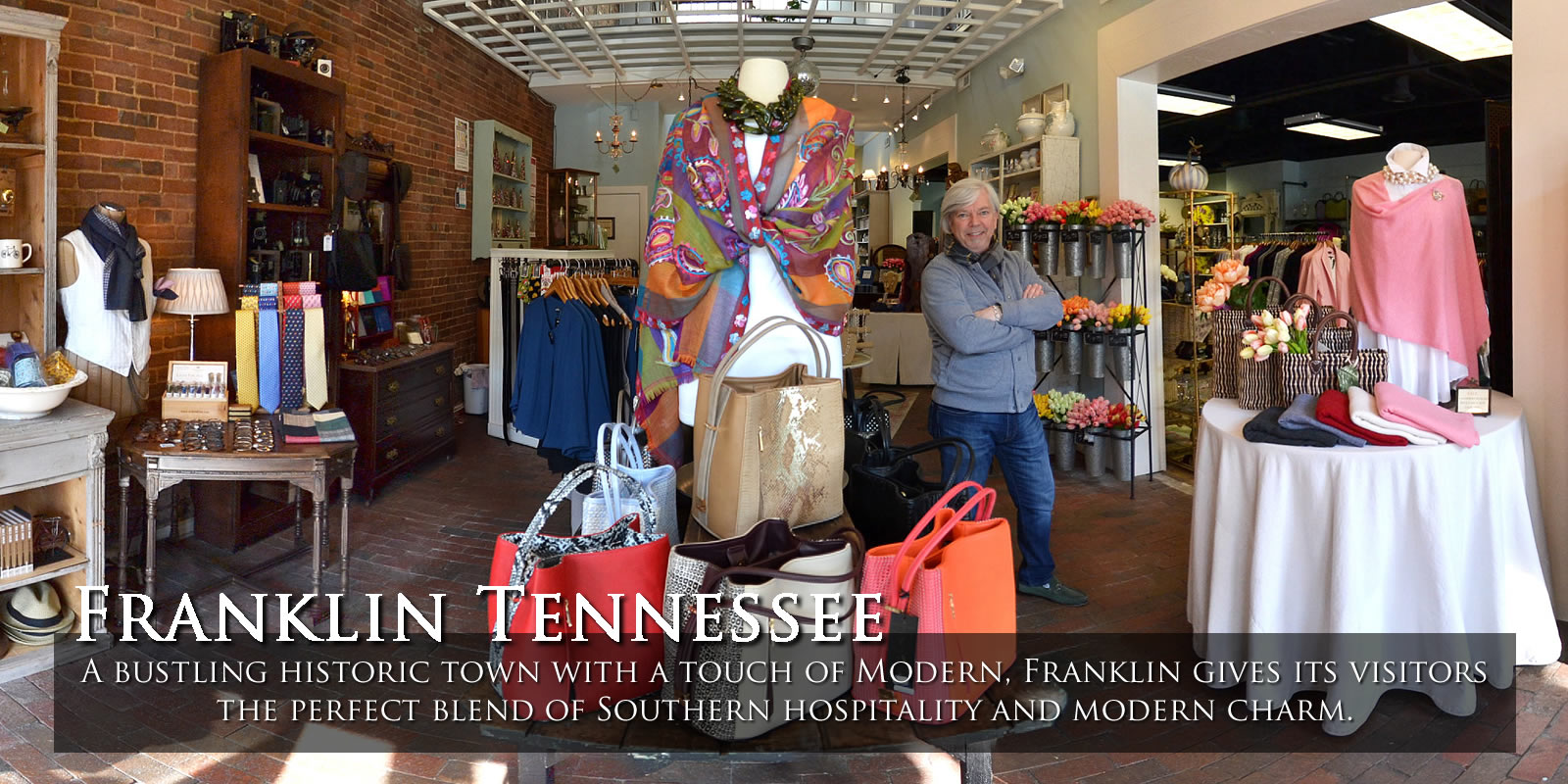 A bustling historic town with a touch of Modern, Franklin gives its visitors the perfect blend of Southern hospitality and modern charm.
Best Franklin TN Shopping & Restaurants Discover the best shopping and restaurants in downtown Franklin, TN. When it comes to shopping in Franklin, these local favorites offer a wide variety of fashion styles, jewelry, gifts, art and antiques to match [...]
Load More Posts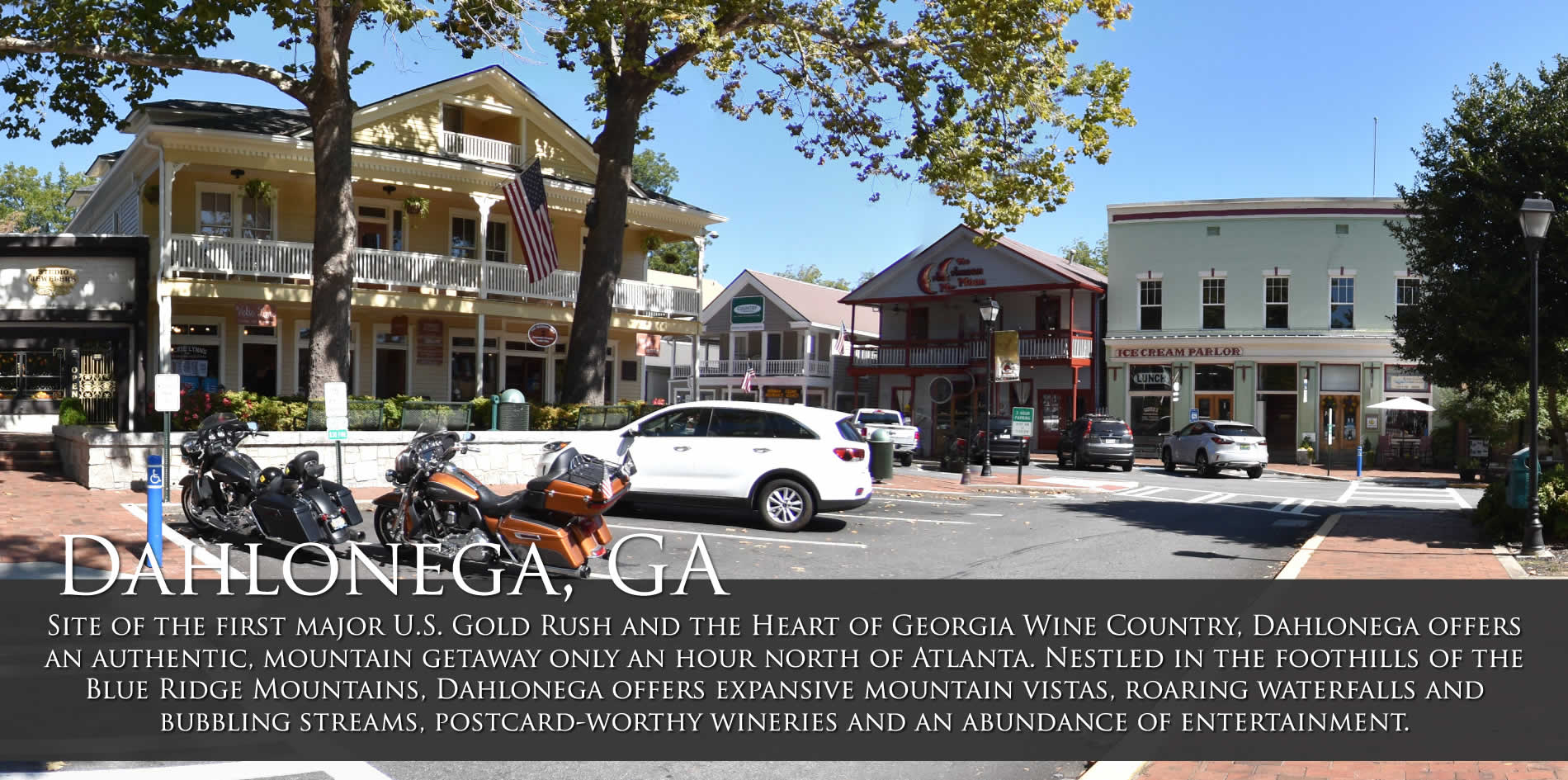 Site of the first major U.S. Gold Rush and the Heart of Georgia Wine Country, Dahlonega offers an authentic, mountain getaway only an hour north of Atlanta. Nestled in the foothills of the Blue Ridge Mountains, Dahlonega offers expansive mountain vistas, roaring waterfalls and bubbling streams, postcard-worthy wineries and an abundance of entertainment.
JERKY for your Active Life Style, at a price to fit every budget. Also hot sauces, Local jams & jellies, and healthy pet treats! ALLIGATOR, BEEF, BUFFALO, DUCK, ELK, KANGAROO, OSTRICH, PORK, PYTHON, [...]
Dahlonega gift shop Cranberry Corners proudly creates custom gift baskets and more in a historic North Georgia's gift shop that's located on the town's quaint square. In fact, our building used to be [...]
The Dahlonega Tasting Room Virtual Tour Introducing New eGift Cards! Our eGift Cards are great for Birthdays, Wedding and other Special Occassions.  It's Easy – select amount, write personal note, then send [...]
Holly Theatre The historic Holly Theatre celebrated seventy years of operations and 25 years as community theatre in the fall of 2018. Continuous operation in its early years and neglect of the 1948 [...]
Giggle Monkey Toys Virtual Tour Giggle Monkey Toys is the place to find quality toys, games, puzzles, and books for kids of all ages.  We stock classic games and toys as well as [...]
Canvas and Cork is a combination of wonderful things to see and taste. Our studio artists, Amy Sullivan of The Pig and the Poppy Folk Art and Beth Brightwell will be on site [...]
The 1888 House Virtual Tour The 1888 House is beautiful from the entrance to exit and certain to make your next event a showstopper. From corporate meetings to wedding receptions, this stunningly restored Colonial Revival home, [...]
You-nique Jewelry & Gifts You-nique Jewelry & Gifts offers a wide selection of name brand and local hand-crafted jewelry and gifts. Located in Carriage House Shoppes. 11 S Grove [...]
Carriage House Shoppes While in Downtown Dahlonega, make sure to drop-by Carriage House Shoppes.  Our shops include: Taste, a wine tasting shop with a wide selection of wines. You-nique, a local jewelry store [...]
Load More Posts
4. Black Mountain, North Carolina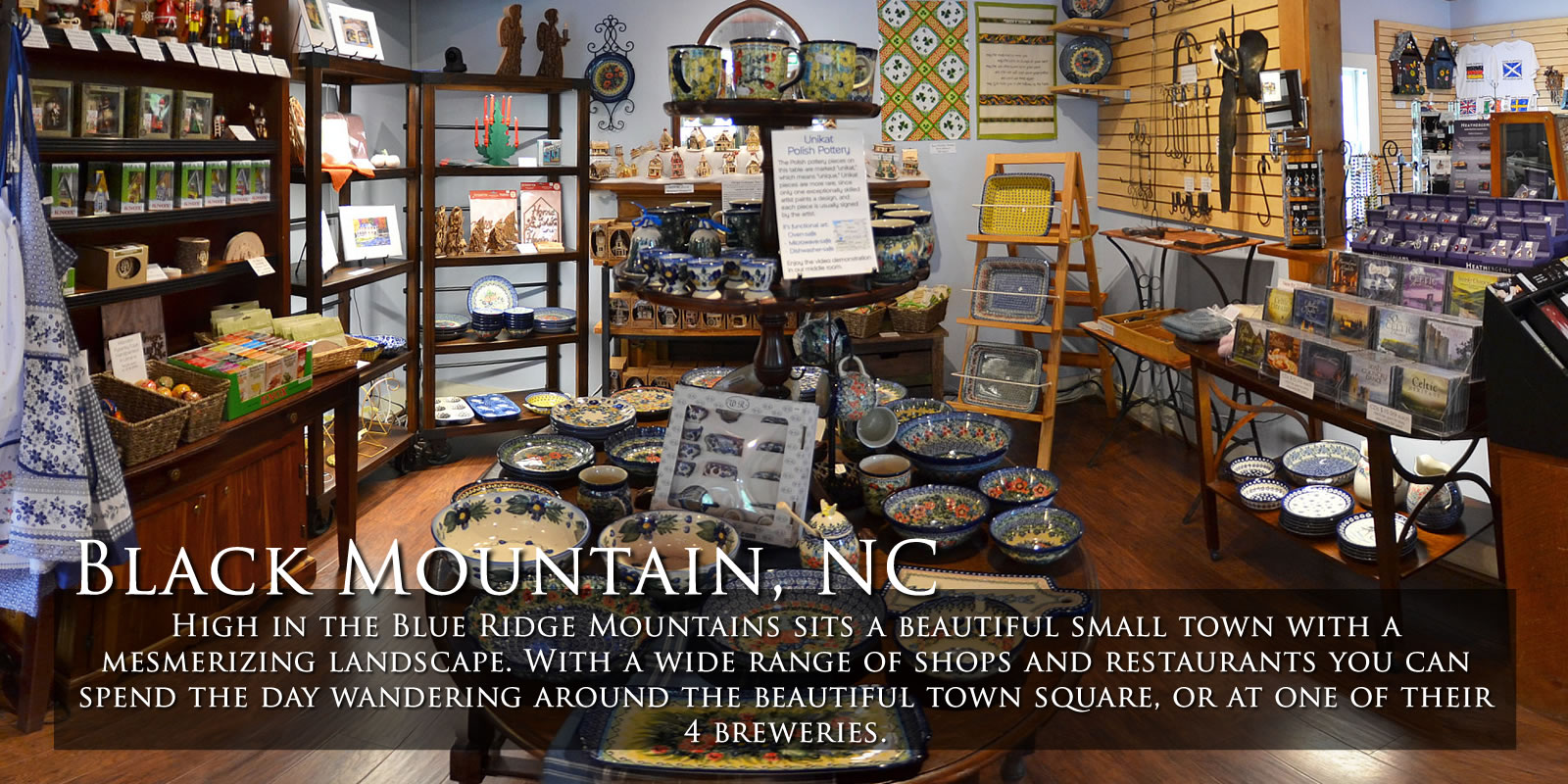 High in the Blue Ridge Mountains sits a beautiful small town with a mesmerizing landscape. Black Mountain town square has a wide range of shops and restaurants
you can spend the day wandering around.
A gracious Bed and Breakfast in a restored 1915 Victorian home. Open year-round, the Inn now features five spacious guest rooms and two large premium rooms, all with private baths. Guests are served [...]
WELCOME TO TOWN HARDWARE & GENERAL STORE Downtown Black Mountain NC We are located in downtown Black Mountain, NC, and occupy three historic buildings dating from the 1920s (one used to be the [...]
C. W. Moose is home to some the most unique, interesting and absolutely "amoosing" products available today. There is too "moose" to mention. Some of what you can find, T-Shirts,  Fun Apparel, Silver [...]
We are an independently owned and operated spice and tea shop. Spice it Up offers a great selection of certified organic spices, rubs and blends.  We have over 100 organic and fair trade [...]
Black Mountain Best Shopping Restaurants & Inn's Just east of Asheville, Black Mountain North Carolina is nestled in the Blue Ridge Mountains and offers some of the best local shopping and restaurants in the North Carolina mountains.  Tucked away in [...]
Downtown Black Mountain NC   VIRTUAL TOURS - Black Mountain, NC calls itself "The Little Town that Rocks," welcoming visitors to pull up a rocking chair on "The Front Porch of Western North Carolina," breathe deeply of the clear mountain air, and [...]
Load More Posts
5. Bryson City, North Carolina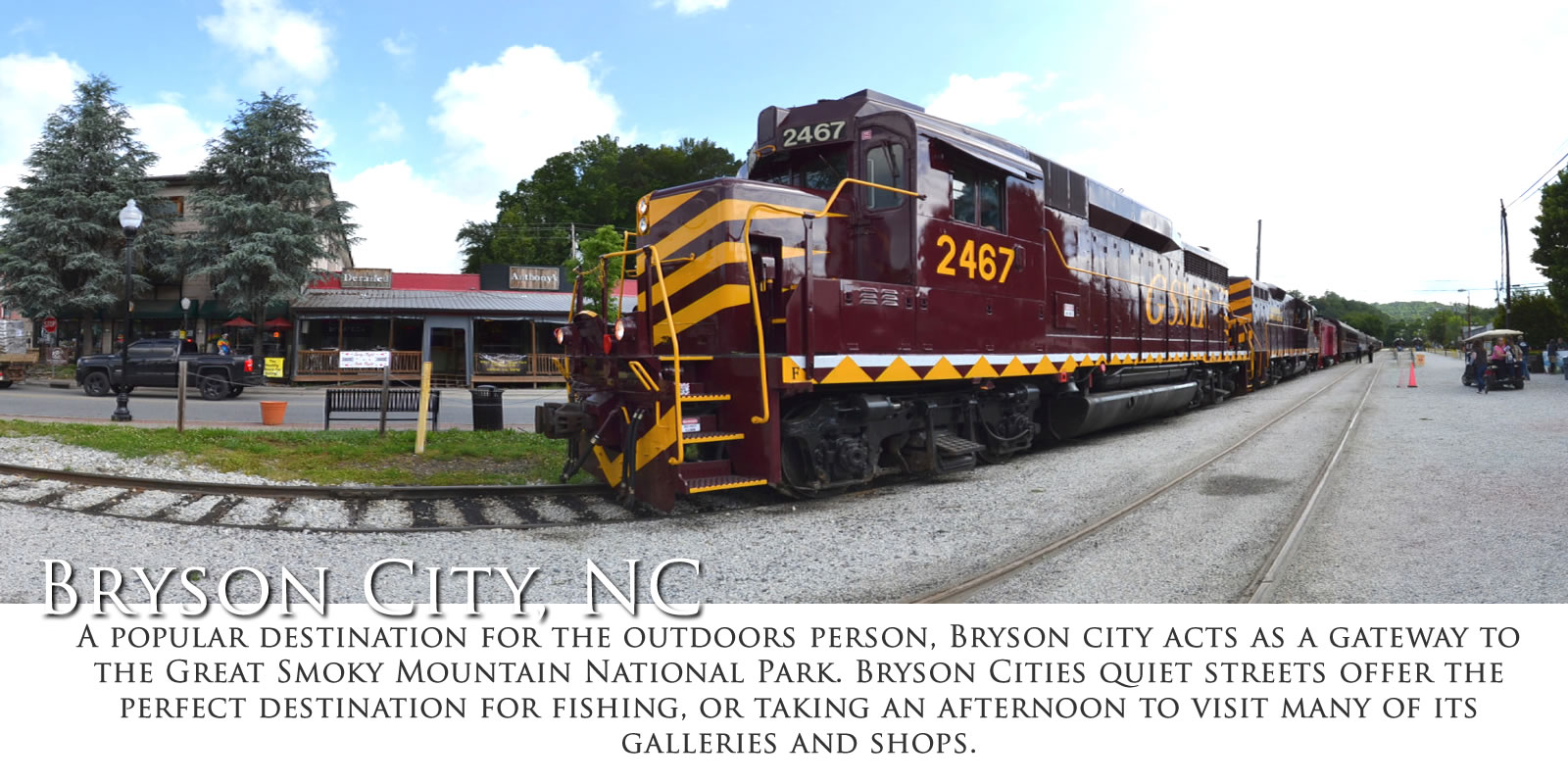 Madison's on Main is a family-owned store that features a large selection of upscale home accents, bath and body products, candles, specialty gifts, jewelry, baby items and gourmet chocolates. Shoppers will find exclusive [...]
Gallery Zella Downtown Bryson City WE ARE MOVING February 2019 to our new location at 166 Everett Street Bryson City, NC 28713 25 Artists in 5 Showrooms in the former Great Smoky Mountain [...]
Bryson City Best Shopping & Attractions In the Heart of the Great Smoky Mountains sits Bryson City.  Bryson City is home to the Great Smoky Mountain Railroad (GSMR) and to some of the best shopping in the Great Smoky Mountains.  [...]
APPALACHIAN MERCANTILE   Located in the center of inviting Bryson City, NC, just one mile from both Great Smoky Mountains National Park and 10,600 acre Fontana Lake and one block from the Great Smoky [...]
Through exhibits and videos you'll learn about legendary "Stream Blazers," the evolution of rods and reels, basic knots, fly-tying, types of gear, types of game fish, regional fishing waters, and the history of fly [...]
The Bistro at The Everett Hotel Ground Floor:  Suite 10 - Deluxe Two-Room Suite Second Floor Suites Rooftop Terrace Level The Everett Boutique [...]
Load More Posts
6. Collierville, Tennessee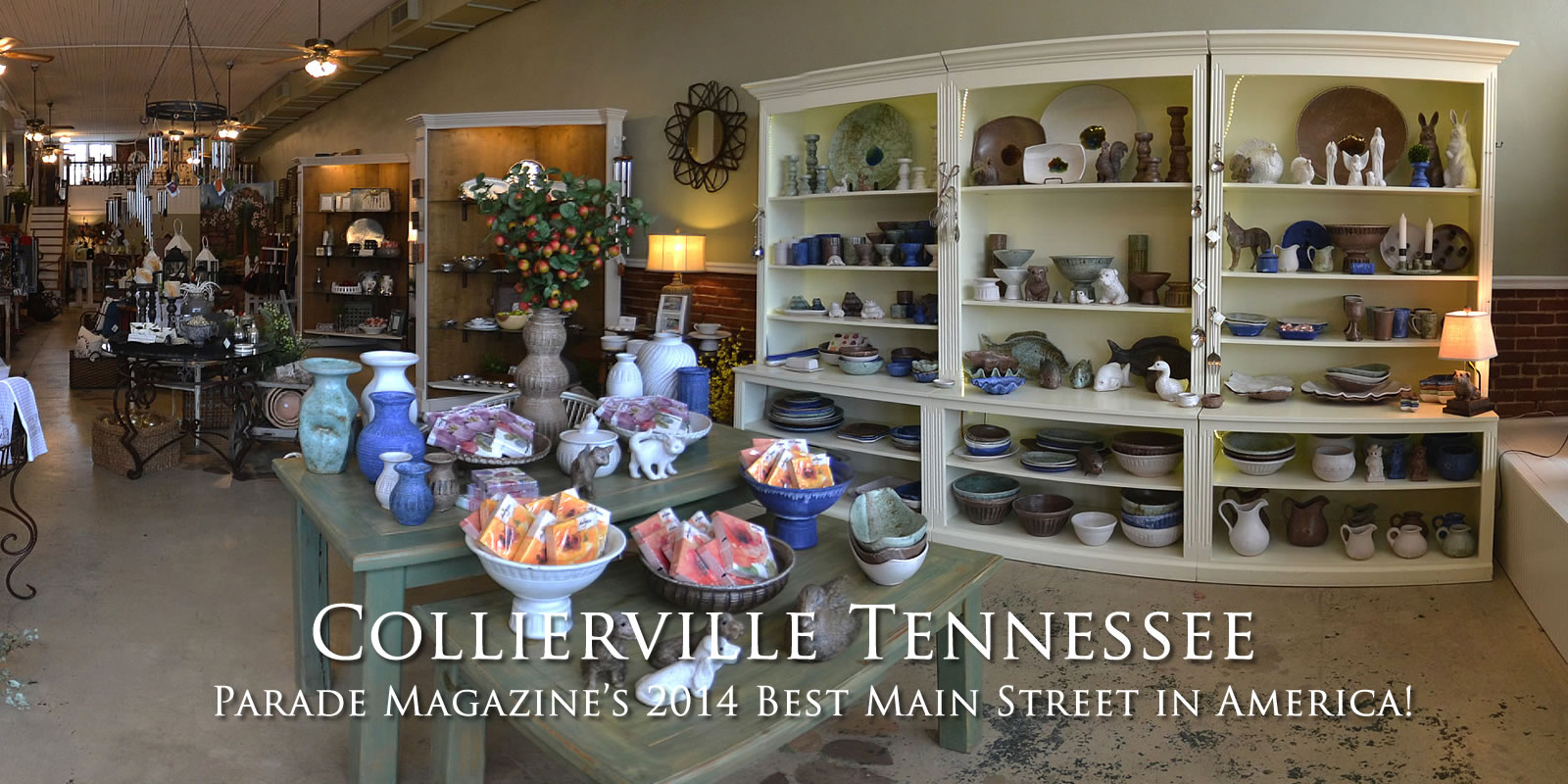 We now offer eGift Cards! They're an easy, just select the amount, add a special note, then send by email or text.  Create Your Custom eGift Card Come browse our [...]
Dee Larue Designs is located in the downtown square of Collierville, TN-named "Americas best Main Street" by Parade Magazine. Our home furnishings and accessories store is opened Wednesday-Saturday, 11am-4pm. Interior design can be [...]
The Silver Caboose is a family owned restaurant offering the finest quality of Southern American cuisine. The Silver Caboose is about tradition.  It is not about trendy restaurant dining.  It has no superstar [...]
Patricia's on the Square has been in business for 20 years. In 1995, Patricia began the store as an antique shop. By 2003, Patricia realized the need for an upscale specialty shop for [...]
Simply Done Catering & Events Collierville Tennessee Whether you are hosting a shower, planning a wedding reception, need a wonderful place for your rehearsal dinner or just want an elegant event - it can all be Simply [...]
Hewlett & Dunn strives to provide you with a shopping experience that leaves you completely satisfied. Located at 111 N. Center Street on the Historic Town Square in Collierville, Tenn., since 1961, our [...]
Load More Posts
7. Beaufort, South Carolina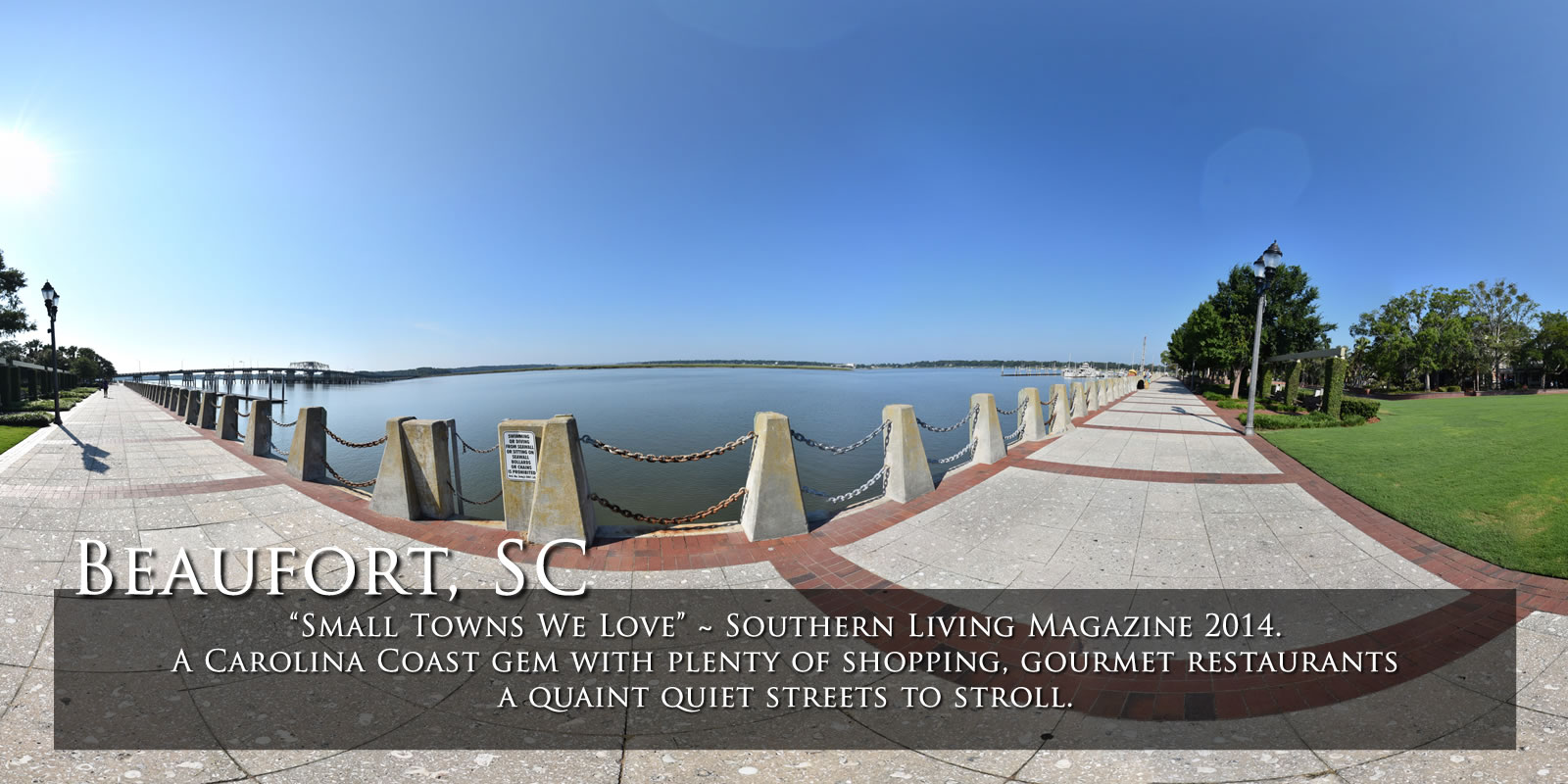 A Carolina Coast gem, Beaufort, South Carolina offers plenty of shopping, gourmet restaurants with a quaint quiet streets to stroll.
Downtown Beaufort SC Featured Merchants Tap on Merchant below to enjoy their Virtual Tour! Visit Beaufort SC "Small Towns We Love" ~ Southern [...]
WELCOME TO OLIVE THE ABOVE, WE ARE A UNIQUE TASTING STORE OF THE WORLD'S FINEST EXTRA VIRGIN OLIVE OILS AND BALSAMIC VINEGARS. OUR OLIVE OILS ARE CAREFULLY PRESSED FOR QUALITY, NOT QUANTITY SO THEIR FLAVOR PROFILES [...]
Though there were murmurings that she was quietly secreted out of New York due to an international incident involving a certain ambassador at the United Nations, in truth, Lulu had simply run out [...]
Since opening in 1941, Bay Street Jewelers' motto continues to be "Doing Business with Southern Hospitality" because we want everyone to feel at home when shopping here. We believe in building client relationships [...]
Thibault Gallery Thibault Gallery is a haven for talented artists to showcase their art, as well as an attraction for tourists and locals alike. Here you will find original art in a variety [...]
The Island Lavender Farm and Market kitchens and artisan workshops offer new and unique products. If you are nearby this season, we look forward to seeing you in person. The Island Lavender Farm [...]
Load More Posts
8. Cleveland, Mississippi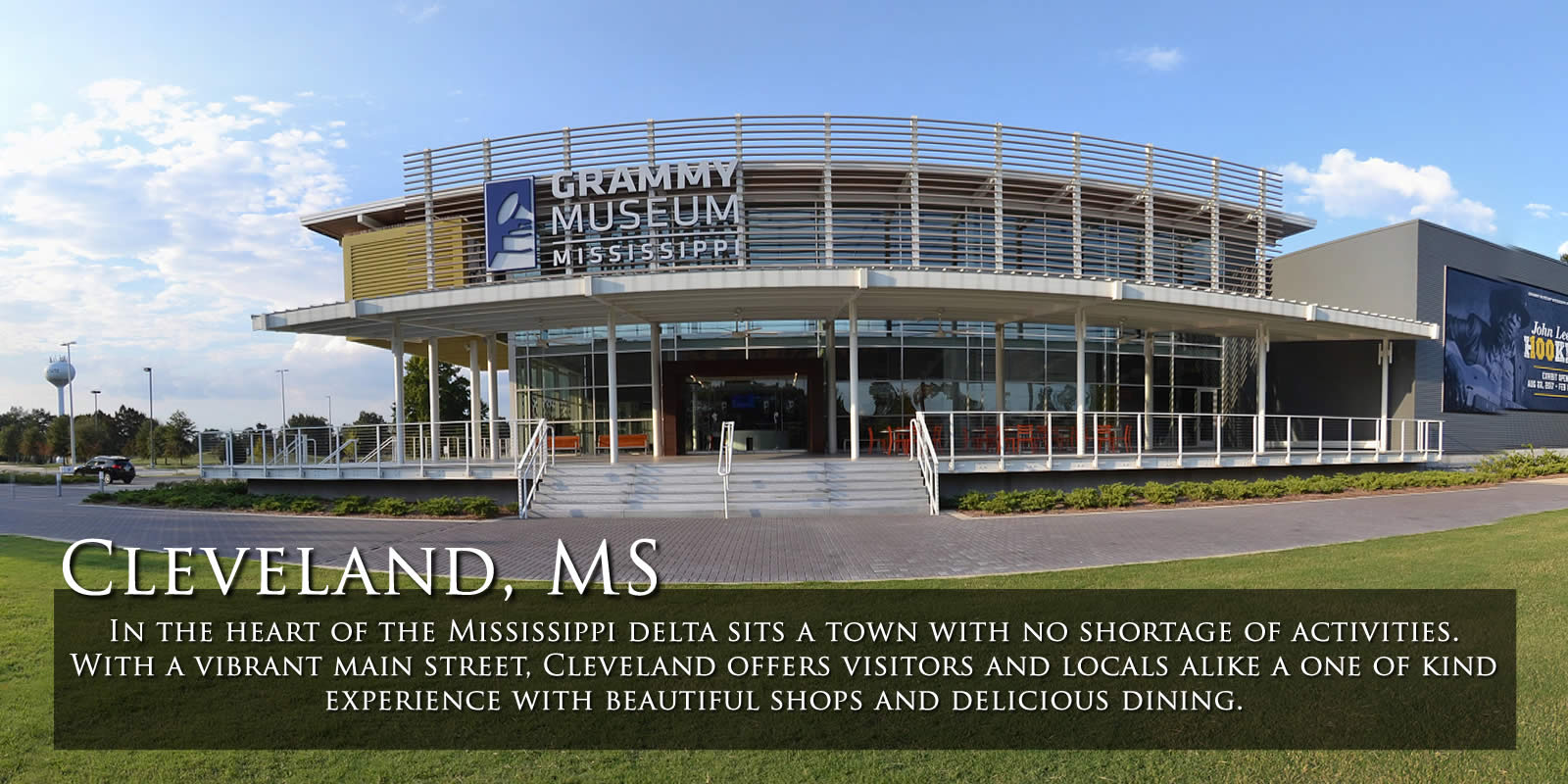 Downtown Cleveland MS
Punkin Patch Baby, Boys and Girls, Tweens and Teens - It's a fun place to shop for children's clothes! 134 North Sharpe Avenue Cleveland, MS 38732 [...]
Cleveland Fresh is your one stop shop for all your floral, bakery and gift needs. Everyone, young or old, is welcome to come experience a way to "freshen" up their day. Start your [...]
Ten Twenty Four is a new plus size boutique located in Historic Downtown Cleveland, MS Specializing in sizes 10-24, we believe style begins at a size 10. [...]
Downtown Cleveland MS   Cleveland Mississippi the home of the Delta Grammy Museum and the Delta Blues.  Find the best shopping, restaurants and things to do in Downtown Cleveland Mississippi with our virtual tours. Featured Merchants Tap [...]
Downtown Cleveland MS Jewelry store offering custom bridal rings and engagement rings, local jewelry and watches. 104 North Sharpe Avenue Cleveland, MS [...]
Load More Posts
9. Waynesville, North Carolina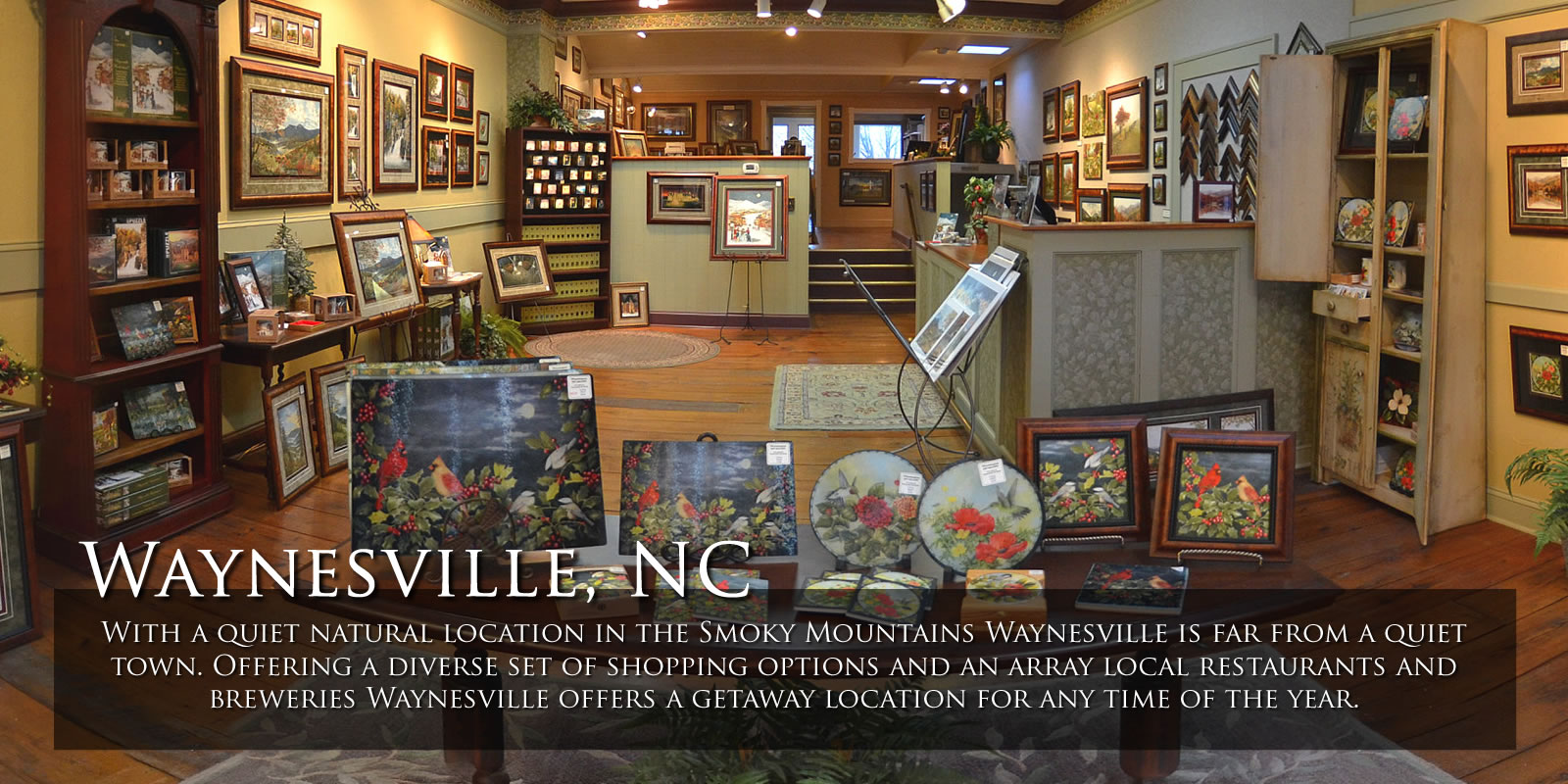 With a quiet natural location in the Smoky Mountains, Waynesville is far from a quiet town. Offering a diverse set of shopping options and an array local restaurants and breweries Waynesville offers a getaway location for any time of the year.
Jo Ridge Kelley Gallery & Teaching Studio Jo Ridge Kelley is a contemporary plein air oil painter and lives and works in Waynesville and Asheville, North Carolina.  Her studio-gallery,  is open to the [...]
Downtown Waynesville NC   Featured Merchants Tap on Merchant below to enjoy their Virtual Tour! Downtown Waynesville NC   Downtown Waynesville offers great shopping, wonderful restaurants and is located on [...]
Oak Park Inn - Step back in time, where old-fashioned, friendly service welcomes you to our mountain town. Located in beautiful downtown Waynesville, North Carolina, we are sure you will enjoy our convenient [...]
Twigs and Leaves Gallery 98 North Main Street Waynesville, NC 28786. Craft, Art and Furniture Gallery. Browse through an unforgettable collection of nature-inspired works by 170 primarily regional artists and crafts persons. [...]
Flawsome New & Preloved We are a sister store to Pocketsaver, also located in Waynesville. Formerly called Fifi's Consignment, we are a ladies apparel and accessories store offering new and pre-loved items. We [...]
Load More Posts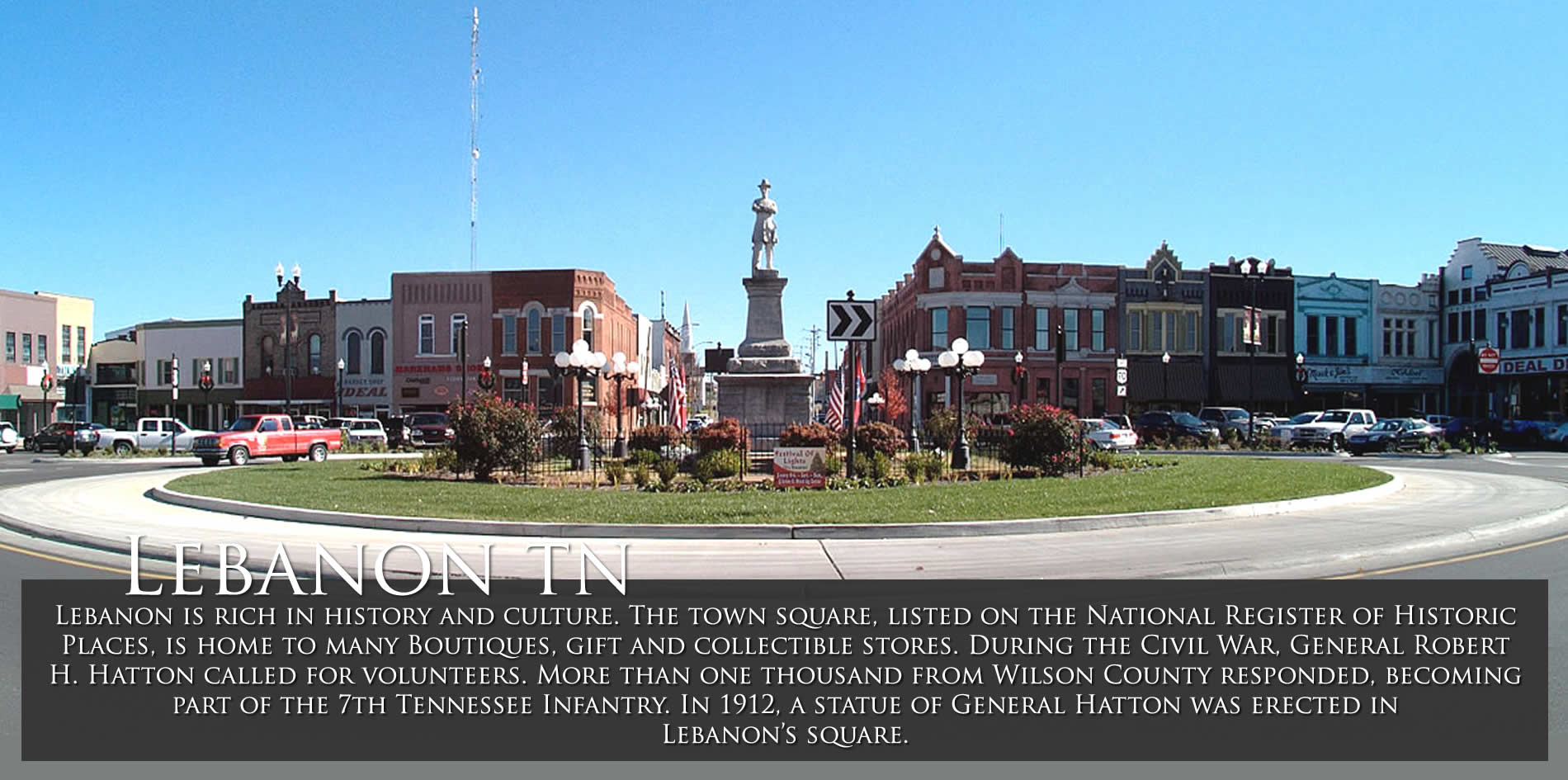 Main Street Mercantile & Creamery on the Downtown Lebanon Square. We aim to provide our customers with great taste in both gifts for every occasion and fantastic desserts to fulfill any sweet tooth! [...]
Dreams Boutique is on the Public Square in Lebanon, TN. Dreams is a Women's Active Wear, Lounge Wear, Intimates, and Trendy Apparel store. We offer specialty fit bras, lounge wear, work out clothing, [...]
Downtown Lebanon TN Featured Merchants Tap on Merchant below to enjoy their Virtual Tour! Downtown Lebanon Tennessee Shopping Restaurants and More Virtual Tours.
Based in Lebanon, Tennessee, Eden's Edge Boutique offers bohemian and chíc styles for women and children.  We carry many one of a kind pieces at a very limited quantity to keep you in [...]
Urban Mills Lebanon Do you happen to be looking for a cute new outfit or to personalize items with your logo? Take a moment to step out of the ordinary when you visit Urban [...]
Shop Online Iddy and Oscars. Be the change. So many of us want to see change in our world and So often times we hear the quote by Gandhi "be [...]
Load More Posts
Other great destinations in the south worth mentioning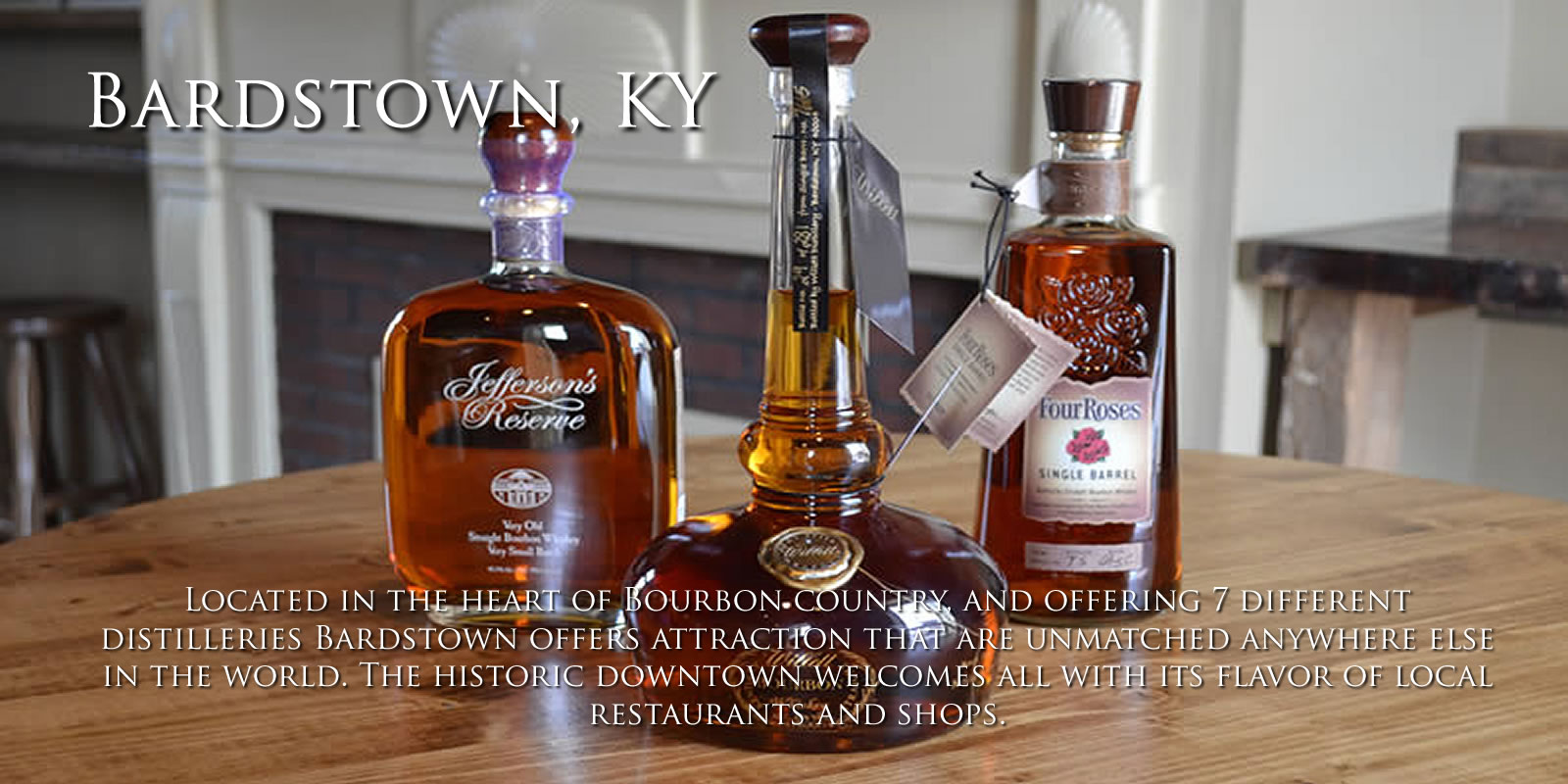 Step into the closet you wished you had. Our fashion boutique offers amazing statement jewelry at understated prices along with fabulous designer clothing. Our design consultants are here to make you look and [...]
Hurst Discount Drugs and Soda Shop Hurst Discount Drugs and Gifts Downtown Bardstown Pharmacy and Soda Shop. Hurst Discount Drugs is your old fashion soda fountain pharmacy in the 21st century!!! Bring the [...]
Pat's Place Family Style Restaurant offers breakfast, lunch and dinner is a relaxed, comfortable atmosphere that your whole family will enjoy. Home cooking is the name of the game at this great downtown [...]
Downtown Bardstown KY   VIRTUAL TOURS - Bardstown Kentucky "The Bourbon Capital of the World" Find great shopping, restaurants and don't forget to take the Bourbon Trail! Featured Merchants Tap on Merchant below to enjoy their Virtual Tour! [...]
Old Talbott Tavern Bed & Breakfast with Restaurant and Bourbon Bar in Downtown Bardstown KY and our New Addition to our facilities The Talbott Inn. [...]
Load More Posts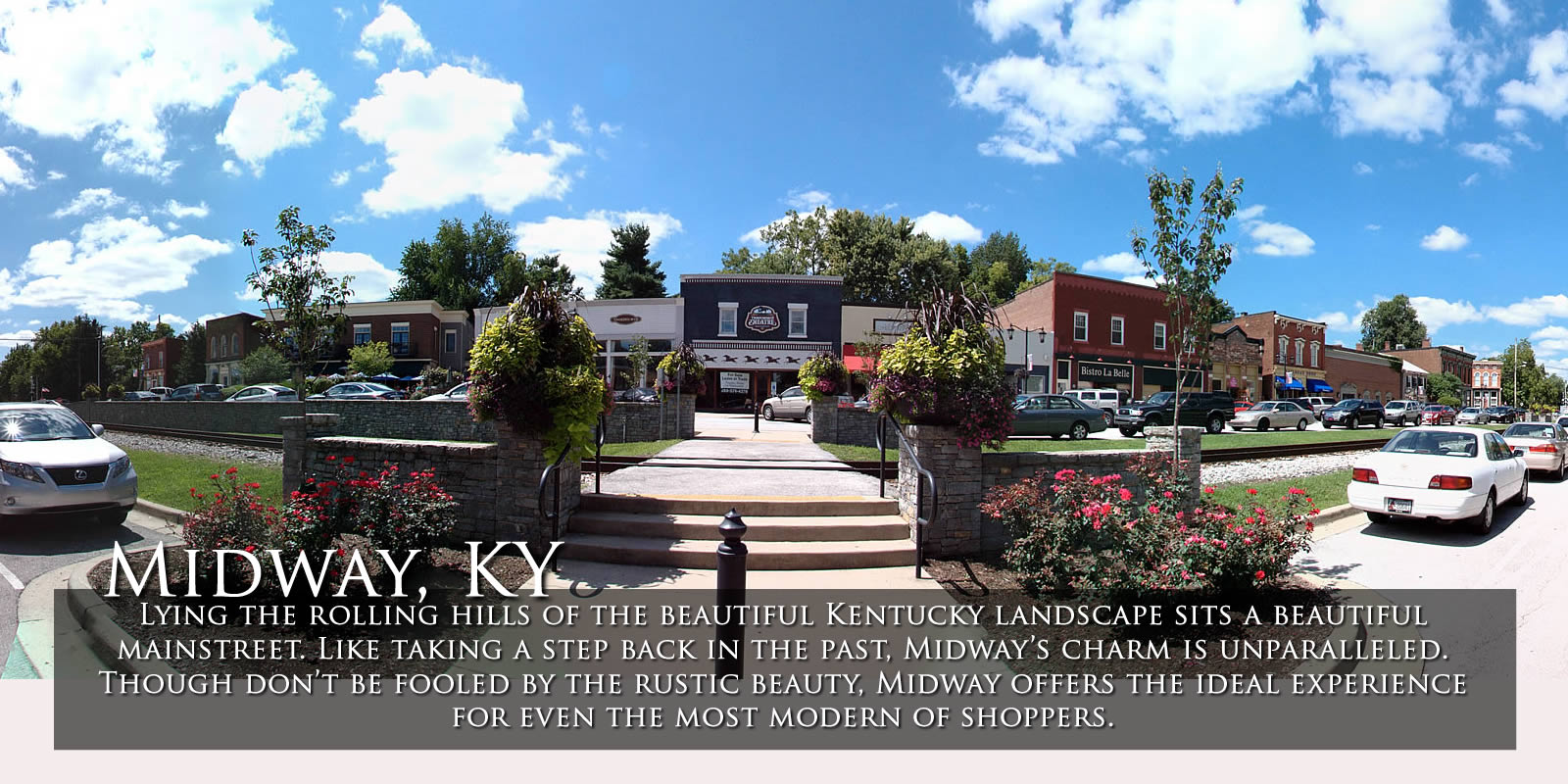 Mezzo Italian Cafe and Provisions is a family style restaurant boasting fresh ingredients in a cozy atmosphere. We are continuing our line of fine foods right in the heart of Kentucky. Mezzo features [...]
Heirloom Restaurant Midway KY "Owned by chef Mark Wombles and his father, Henry, the restaurant came out of the gate in 2006 to acclaim." See the entire article in the Lexington Herald Leader [...]
Fisher Antiques Midway KY Fisher Antiques is located in the small town of Midway, KY. We deal in "a little bit of everything" when it comes to antiques and collectibles. Your Midway Connection [...]
Calamity Jane Primitives Virtual Tour of Calamity Jane Primitives in downtown Midway Kentucky offering antiques, specialty candles and home accents. 107 East Main Street Midway, KY 40347 859-285-9501 [...]
Downtown Midway KY   Discover Midway KY Shopping Restaurants Lodging and More. Midway Kentucky is located in the heart of thoroughbred country. Featured Merchants Tap on Merchant below to enjoy their Virtual Tour! [...]
The Midway Boutique The Midway Boutique Kentucky Open the door to your new favorite place. The explosion of color, the sparkle of jewels, and the laughter of new friends will make your Midway [...]
Load More Posts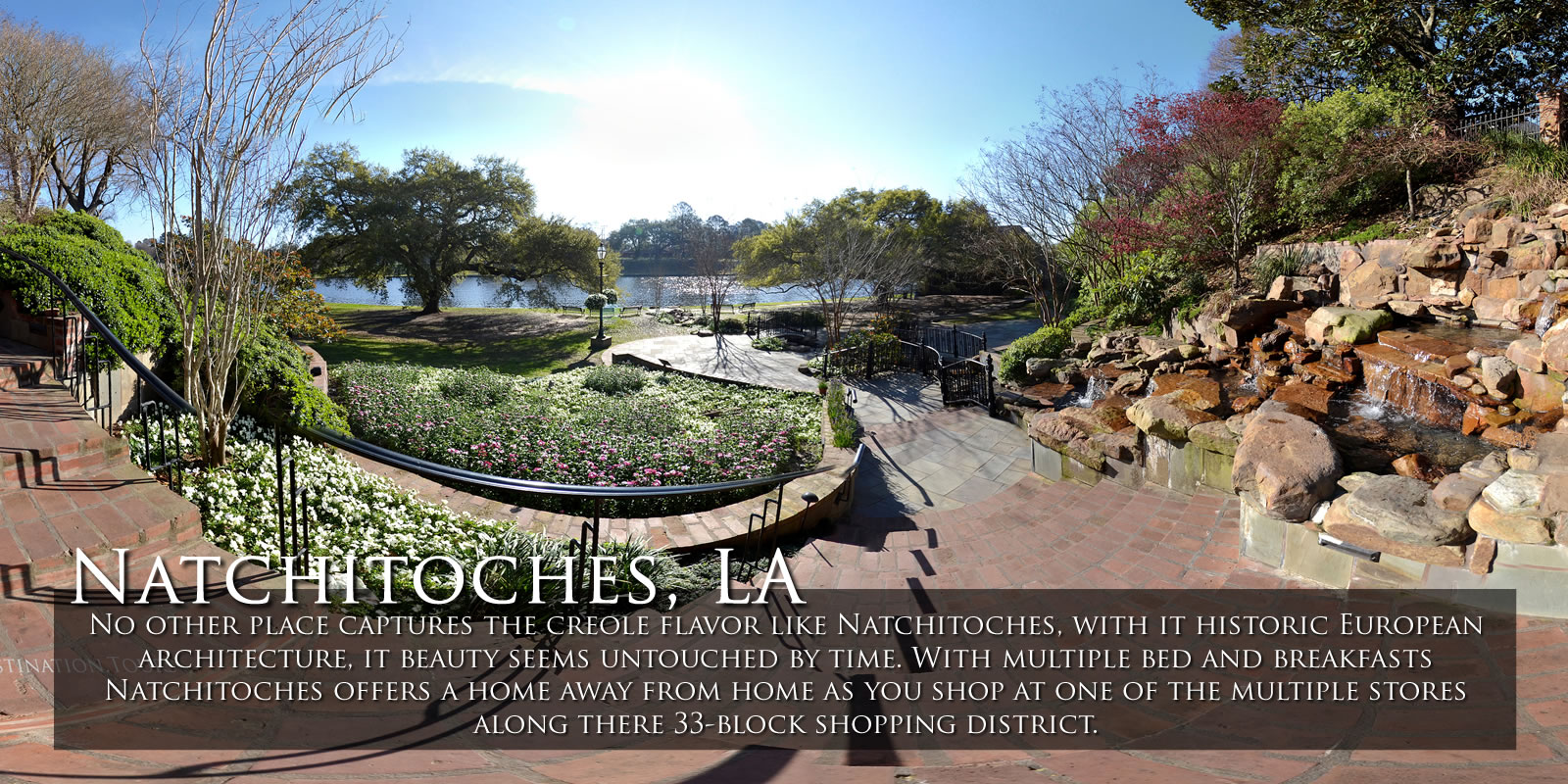 No other place captures the creole flavor like Natchitoches, with it historic European architecture, it beauty seems untouched by time. With multiple bed and breakfasts Natchitoches offers a home away from home as you shop at one of the multiple stores along there 33-block shopping district.
Downtown Natchitoches Gift Shop offering Jewelry, Gifts for the home, Cooking spices and Olive Oils and More... VisitNatchitochesLA.com 524 Front Street Natchitoches, LA 71457 318-352-1993 Hours: Monday - Saturday: [...]
Fort St. Jean Baptiste State Historic Site Natchitoches was founded by a French Canadian, Louis Antoine Juchereau de St. Denis, in 1714 while he was en route to Mexico from Mobile, Alabama, on [...]
Parc Natchitoches Parc Natchitoches Virtual Tour. 4515 University Pkwy Natchitoches, LA 71457 (318) 357-3892 Hours: Seasonal Hours - Please call for times. Our Website [...]
The Best Natchitoches Shopping & Attractions Nestled on the Cane River and a National Landmark Historic District, Natchitoches LA boasts some of the best local shopping, restaurants and attractions in Louisiana.  There is plenty to do for the entire family [...]
More than a half-century after inducting its first class of sports legends, the Louisiana Sports Hall of Fame is realizing its fondest dreams and greatest aspirations. In a Grand Opening on Friday night, [...]
Load More Posts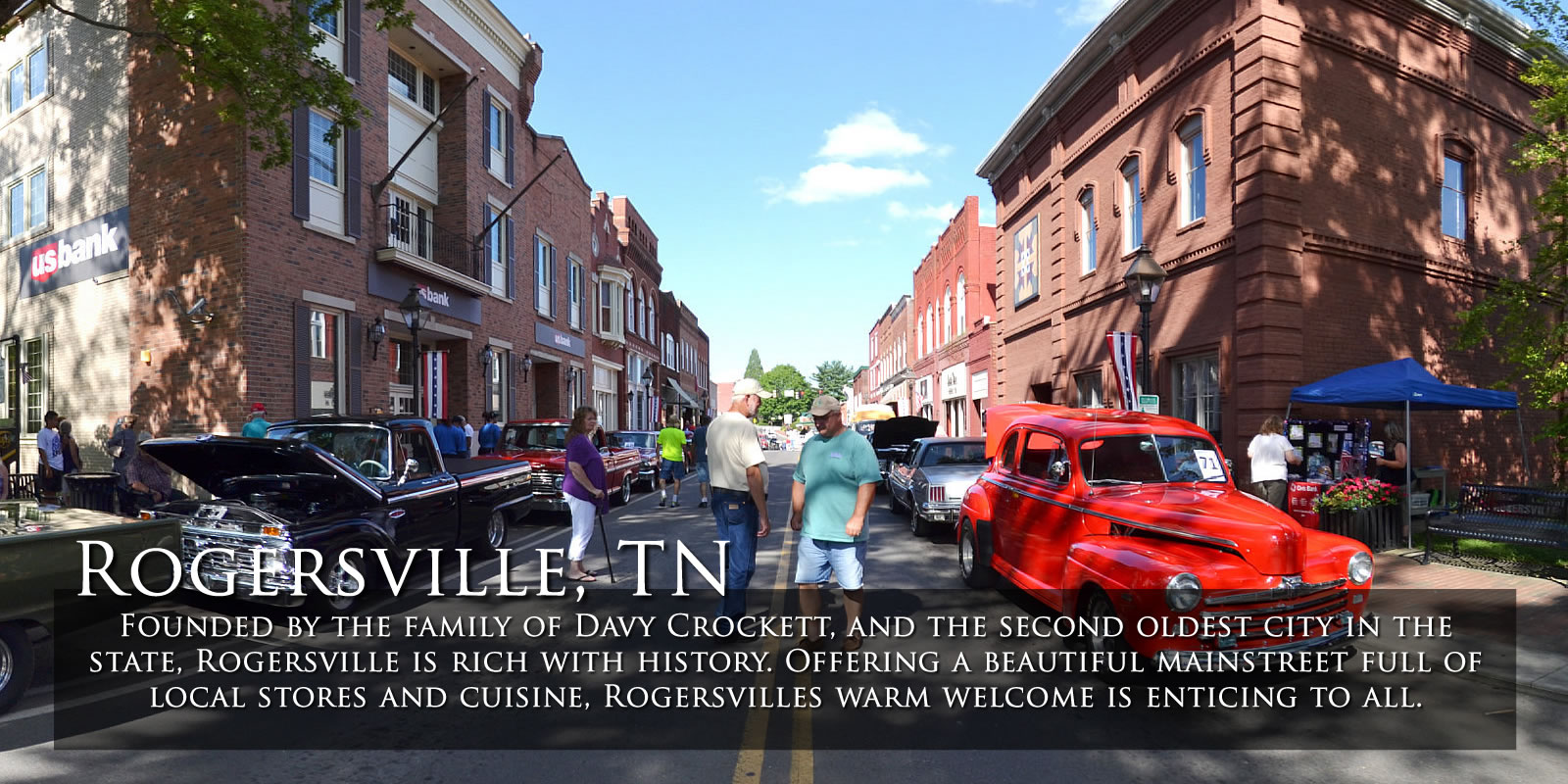 Red Dog on Main Taproom & Eatery Taproom and eatery. American flare with a unique flare of flavors and foods to create a fun family food experience. Ben McGrew/Randy [...]
The Looking Glass Salon The Looking Glass Salon in Downtown Rogersville, we are a complete hair care and beauty salon. 207 East Main Street Rogersville, TN 37857 423-272-5031 [...]
Green Boomerang Natural Health Green Boomerang Natural Health is a mom and pop shop. Located in the picturesque city of Rogersville, TN. We believe in prevention of illness through good nutritional choices. [...]
Swift Museum Rogersville TN Swift Memorial Junior College and Swift College was founded in 1883 by the Rev. Dr. William Henderson Franklin of Knoxville, the first black graduate of Maryville College. The [...]
Occasions On The Square Occasions on the Square is an event facility for all occasions. From reunions to weddings and meetings to birthday parties. 101 [...]
Oh Henry's Restaurant Downtown Rogersville Tennessee. 201 East Main Street Rogersville, TN 37857 423-272-0980 Hours: Monday - Saturday: 7:00am - 10:00pm Our Website [...]
Load More Posts