Top 10 Best Shopping Destinations in the South
for 2020
 Take virtual tours of these great local businesses and discover great new
Main Streets to explore and enjoy.
Our "South's Best" features 10 of our top picks for 2020:
 Ocean Springs, Mississippi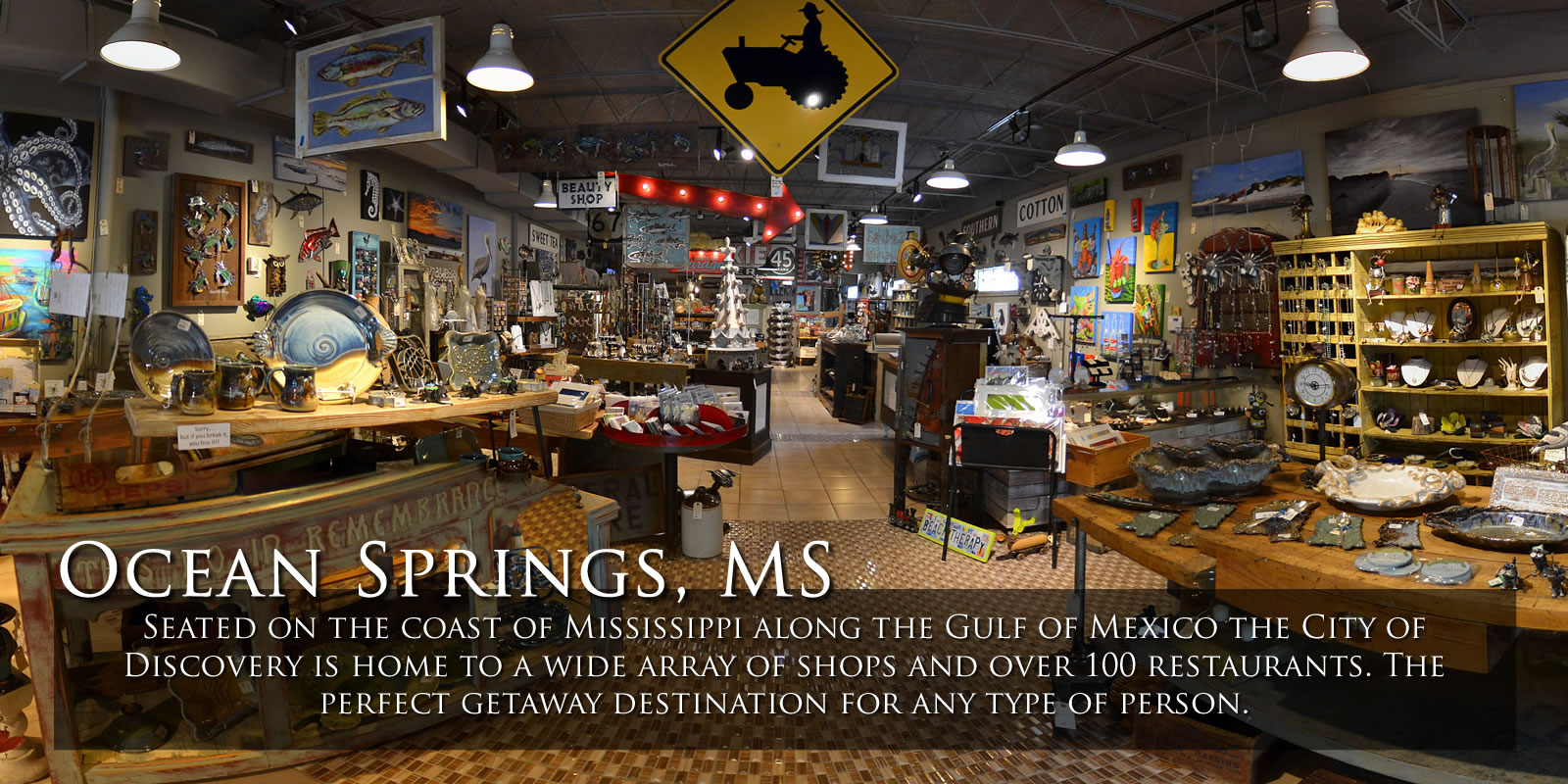 Seated on the coast of Mississippi along the Gulf of Mexico the City of Discovery is home to a wide array of shops and over 100 restaurants.
The perfect getaway destination for any type of person.
Shearwater Pottery Jim Anderson Throwing A Pot Shearwater Pottery was founded in 1928 by Peter Anderson with the support of his parents, George Walter Anderson and Annette McConnell Anderson. From the 1920s through [...]
Load More Posts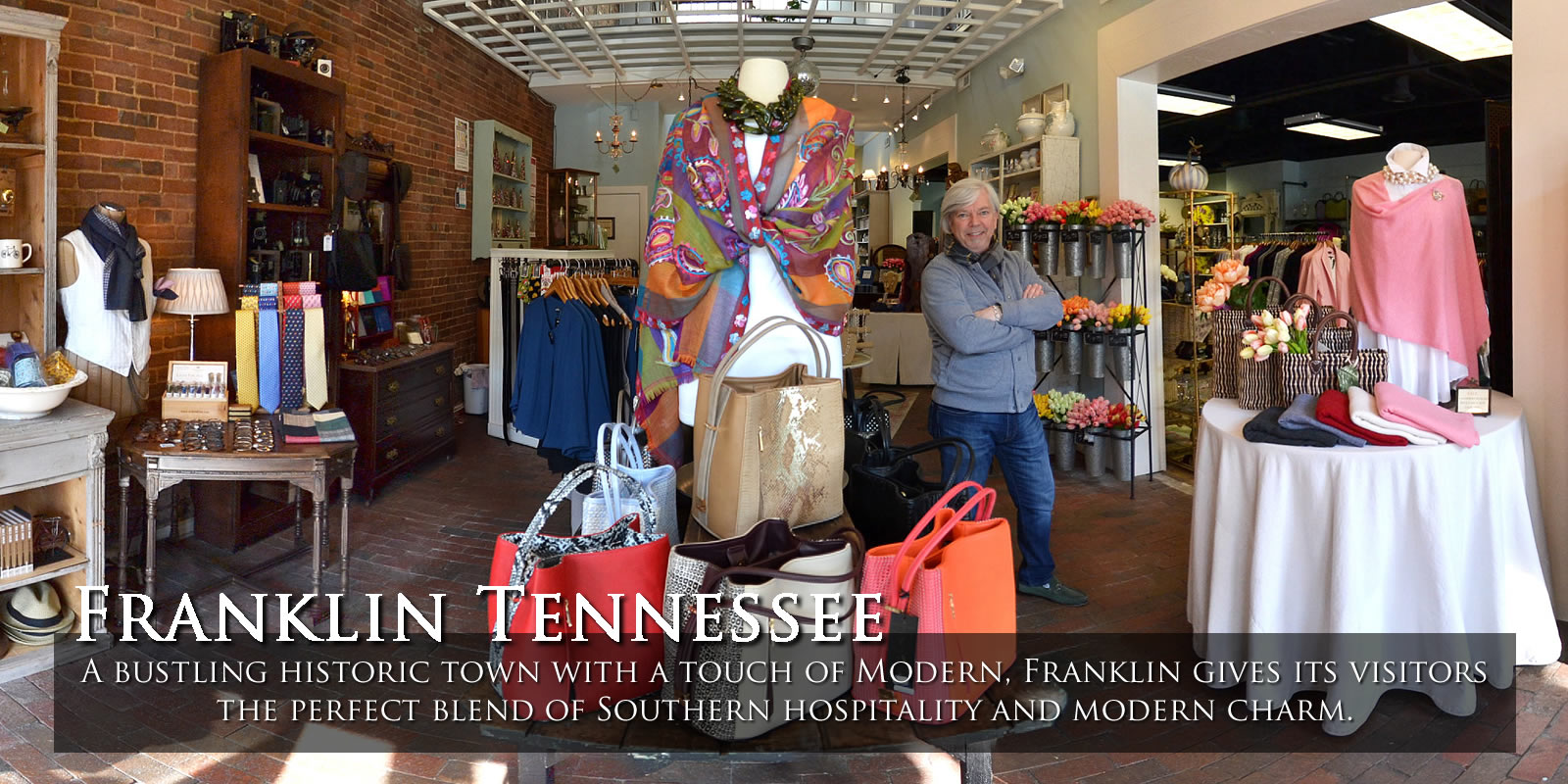 A bustling historic town with a touch of Modern, Franklin gives its visitors the perfect blend of Southern hospitality and modern charm.
Gallery 202 Franklin TN Art Gallery - What We Offer: Art Gallery, Fine Art, Custom Jewelry, Sculpture, Art Events, and now Exquisite Antiques. We are an available Event Venue for Special Occasions. Gallery [...]
Avec Moi Franklin TN features a unique blend of gifts, home decor, accessories, and more including: K. Hall scented candles, Glassware and stemware, Reading glasses, Gift books, Sterling silver jewelry, One-of-a-kind treasures. Avec [...]
We cater to your child and your inner child with apparel, shoes, gifts, toys, books and much more. A Personal Touch: Add a truly personal touch to your child's wardrobe! The Purple Butterfly offers the [...]
Harpeth True Value Hardware Franklin TN - Under the sink, against the wall and over the edge when it comes to home improvement? You've come to the right place. Start your projects off [...]
Upholstered furniture, rugs, art, framed art, lighting, ladies apparel, jewlery, gift items, home accessories, antique finds, throw pillows, prepackages food products, candles, florals, lamps, and more! 301 Lewisburg Avenue [...]
Organic Dreams Coming To Franklin TN Your sleep oasis has arrived in Tennessee. Nestled in the beautiful town of Franklin you will find our luxurious store waiting to accept you into its warmth [...]
Load More Posts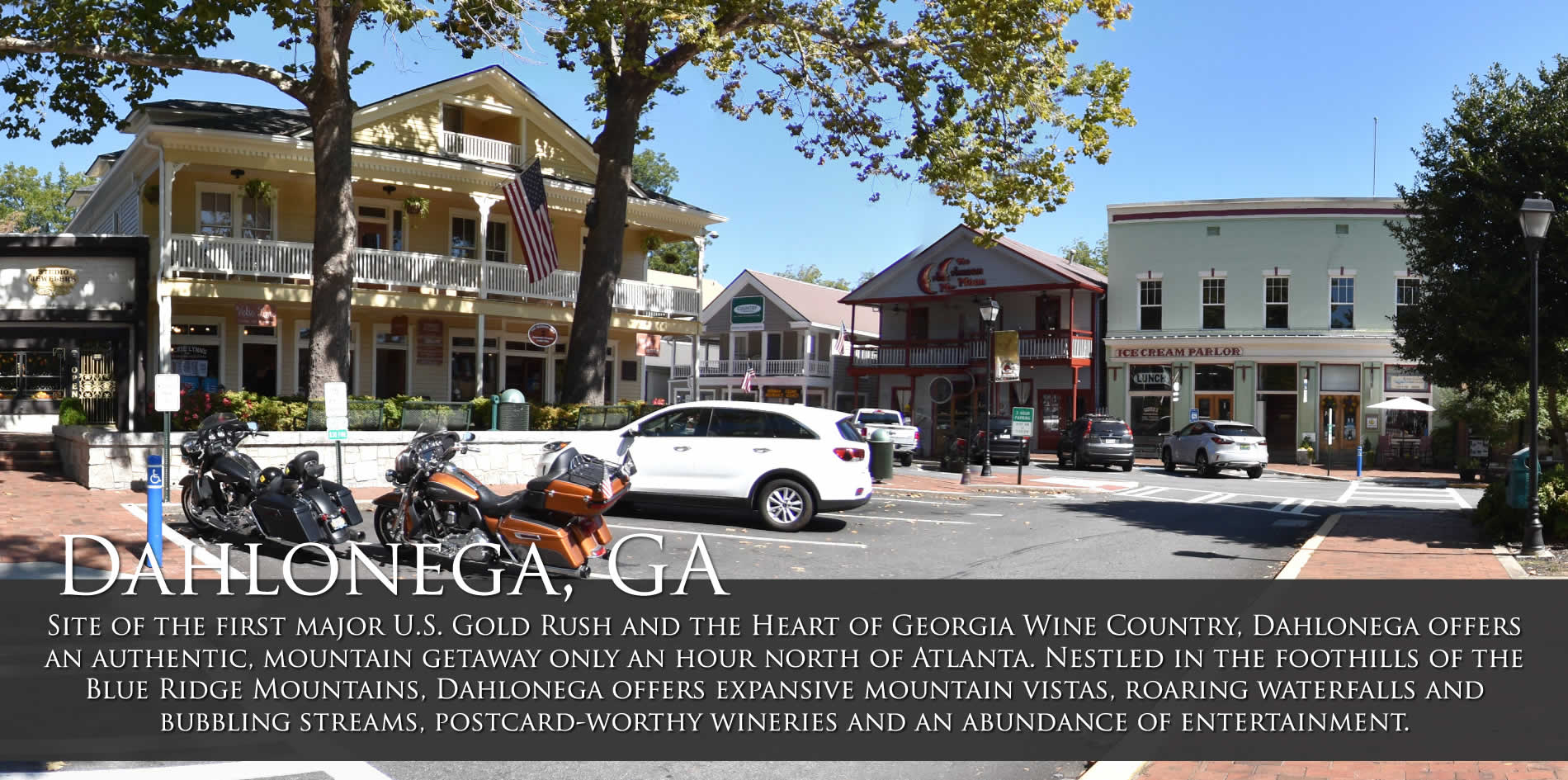 Site of the first major U.S. Gold Rush and the Heart of Georgia Wine Country, Dahlonega offers an authentic, mountain getaway only an hour north of Atlanta. Nestled in the foothills of the Blue Ridge Mountains, Dahlonega offers expansive mountain vistas, roaring waterfalls and bubbling streams, postcard-worthy wineries and an abundance of entertainment.
The Dahlonega Tasting Room Virtual Tour Introducing New eGift Cards! Our eGift Cards are great for Birthdays, Wedding and other Special Occassions.  It's Easy – select amount, write personal note, then send [...]
Holly Theatre The historic Holly Theatre celebrated seventy years of operations and 25 years as community theatre in the fall of 2018. Continuous operation in its early years and neglect of the 1948 [...]
Carriage House Shoppes While in Downtown Dahlonega, make sure to drop-by Carriage House Shoppes.  Our shops include: Taste, a wine tasting shop with a wide selection of wines. You-nique, a local jewelry store [...]
Kaya Cottages - Featured Cottage - Elohi Kaya Vineyard & Winery Dining Options Join us for a light lunch menu Tuesday through Sunday. We encourage guests to [...]
Taste Wine & Gourmet Foods Taste Wine & Gourmet Foods Dahlonega: We are passionate about wine and proud of the fine wines produced right here in Georgia by some of the best farm [...]
Montaluce Winery & Restaurant Montaluce Winery & Restaurant is a breathtaking destination that uses wine, food, and events to create experiences you'll want to have again and again. Nestled in the North Georgia [...]
Montaluce Events and Weddings WEDDINGS & CELEBRATIONS Montaluce Winery is the ideal venue for your wedding celebration-accommodating groups up to 200 for relaxing wedding getaways. From the rehearsal dinner to the send-off brunch, [...]
Southern Soles Footwear & Fineries Southern Soles has one goal in mind – bringing unique, quality products together that have a timeless, classic style. Currently we feature Ariat boots, SlideBelts, Original Grain watches [...]
JERKY for your Active Life Style, at a price to fit every budget. Also hot sauces, Local jams & jellies, and healthy pet treats! ALLIGATOR, BEEF, BUFFALO, DUCK, ELK, KANGAROO, OSTRICH, PORK, PYTHON, [...]
Load More Posts
4. Black Mountain, North Carolina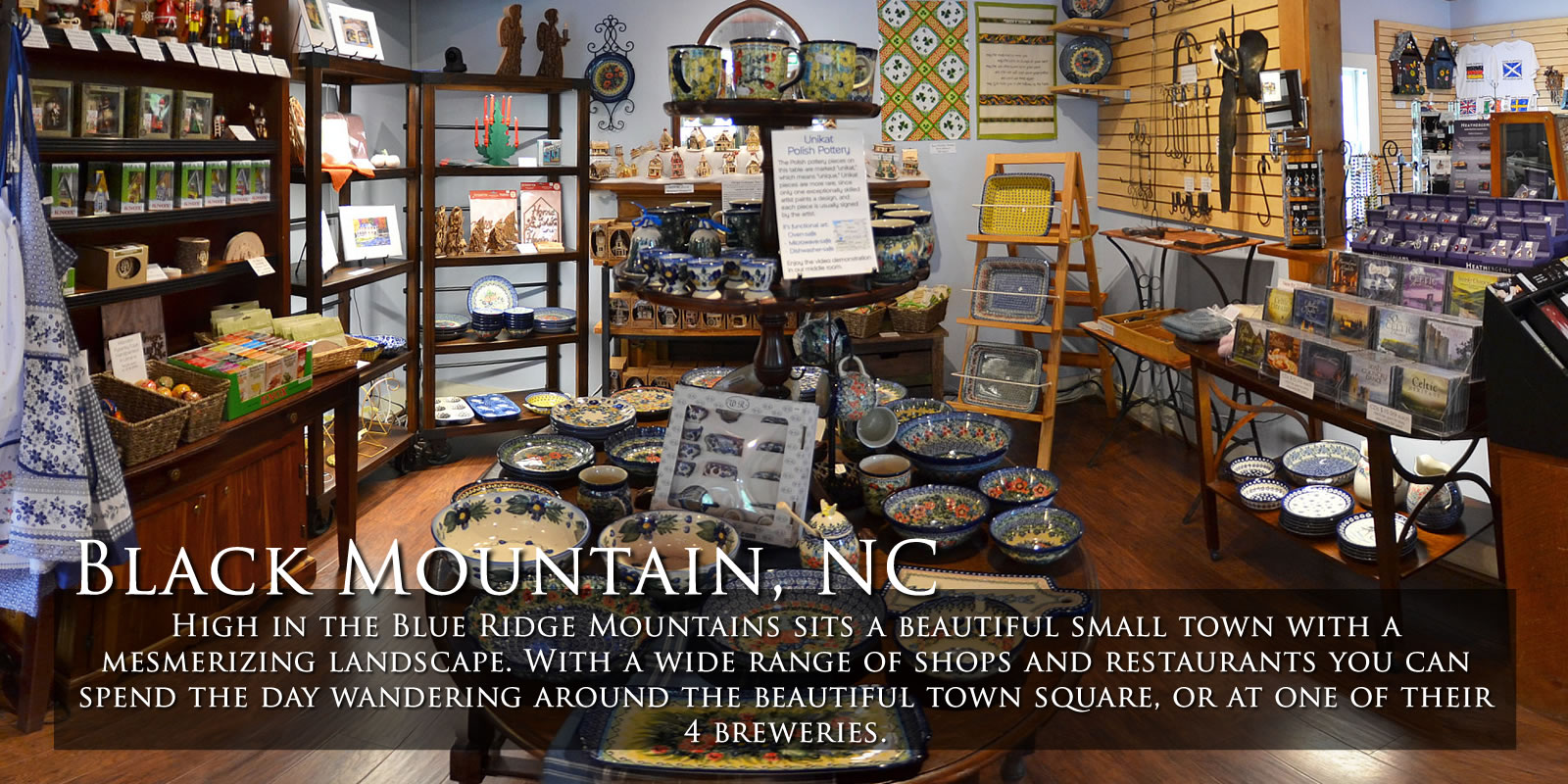 High in the Blue Ridge Mountains sits a beautiful small town with a mesmerizing landscape. Black Mountain town square has a wide range of shops and restaurants
you can spend the day wandering around.
A family owned and operated restaurant serving Black Mountain since 1990, we offer mouthwatering fresh pizza, pasta, subs, salads, and a choice beer and wine selection.  All of our sauces, dough, meatballs, hummus, [...]
Premier destination shop dressed in 100 percent reclaimed materials offering regional handcrafted gifts, home and garden decor,  jewelry and hand poured, soy candles. The Dancing Dragonfly features a gallery of fine canvas and [...]
C. W. Moose is home to some the most unique, interesting and absolutely "amoosing" products available today. There is too "moose" to mention. Some of what you can find, T-Shirts,  Fun Apparel, Silver [...]
Black Mountain Best Shopping Restaurants & Inn's Just east of Asheville, Black Mountain North Carolina is nestled in the Blue Ridge Mountains and offers some of the best local shopping and restaurants in the North Carolina mountains.  Tucked away in [...]
Mountain Me in Downtown Black Mountain is a specialty Gift shop, carrying candles, bath , home decor, t-shirts, jewelry and Gifts for the Good Life; everything mountain. 114 W [...]
Load More Posts
5. Bryson City, North Carolina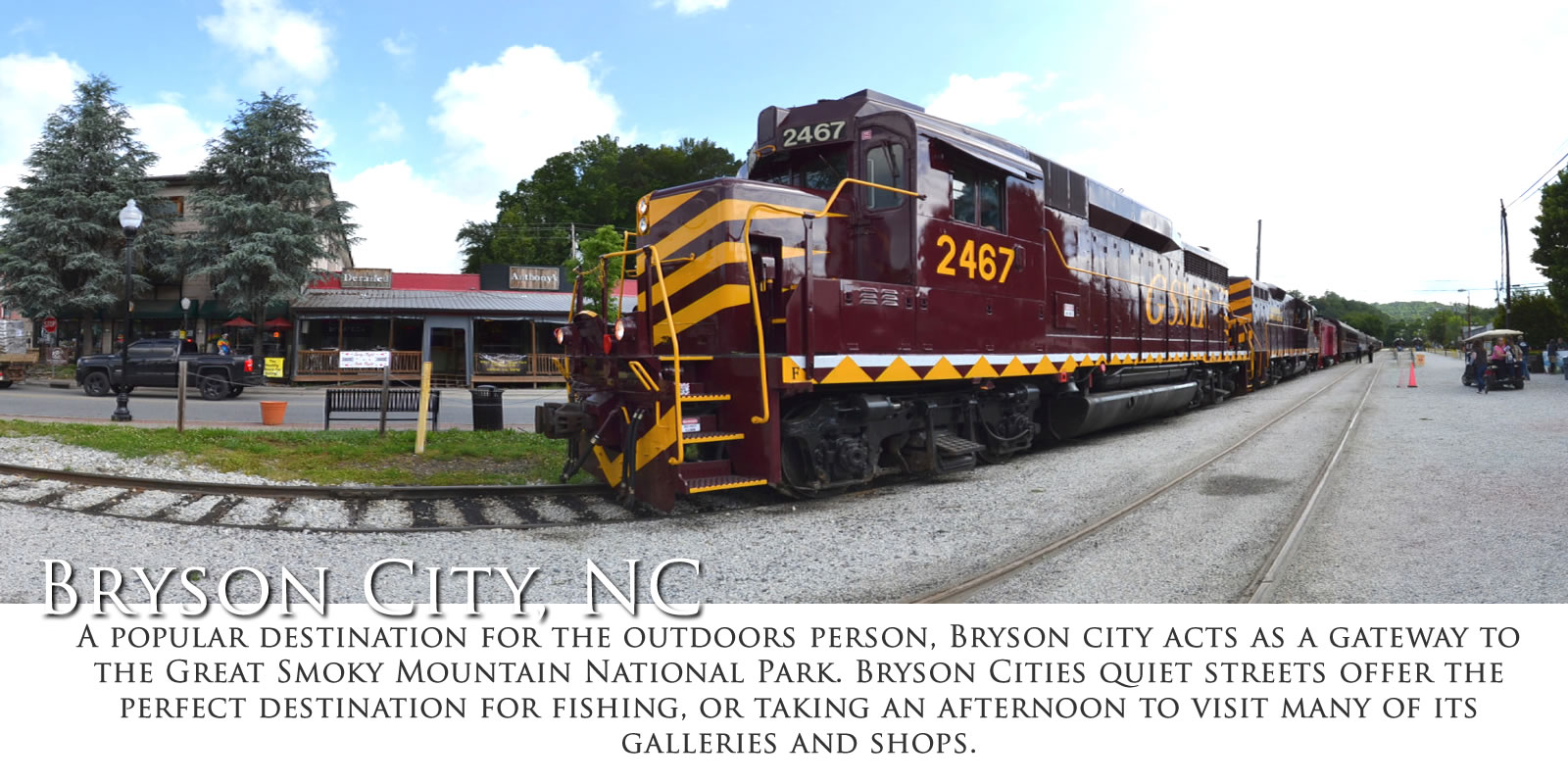 Folkestone Inn Bryson City Main Entrance Lights & Shadows Boats & Paddles Tunnels & Tressels Wrens & Warblers Falls & Creeks Backrooms & Overlooks [...]
Swain County Heritage Museum On the second floor of the courthouse, the Swain County Heritage Museum tells the story of the County and its people. Through photos, exhibits and video you will learn [...]
Fryemont Inn Downtown Bryson City From the moment you enter the historic Fryemont Inn you will feel transported back in time to the warmth and friendly charm of a rustic Adirondack mountain lodge [...]
Bryson City Best Shopping & Attractions In the Heart of the Great Smoky Mountains sits Bryson City.  Bryson City is home to the Great Smoky Mountain Railroad (GSMR) and to some of the best shopping in the Great Smoky Mountains.  Bryson City also boasts [...]
Southbound Marketplace & Mobile Boutique Southbound Marketplace & Mobile Boutique in the Heart of Bryson City offers gifts, jewelry, specialty candles, lotions and cute fashions for women. 261 Everett [...]
Through exhibits and videos you'll learn about legendary "Stream Blazers," the evolution of rods and reels, basic knots, fly-tying, types of gear, types of game fish, regional fishing waters, and the history of fly [...]
Load More Posts
6. Collierville, Tennessee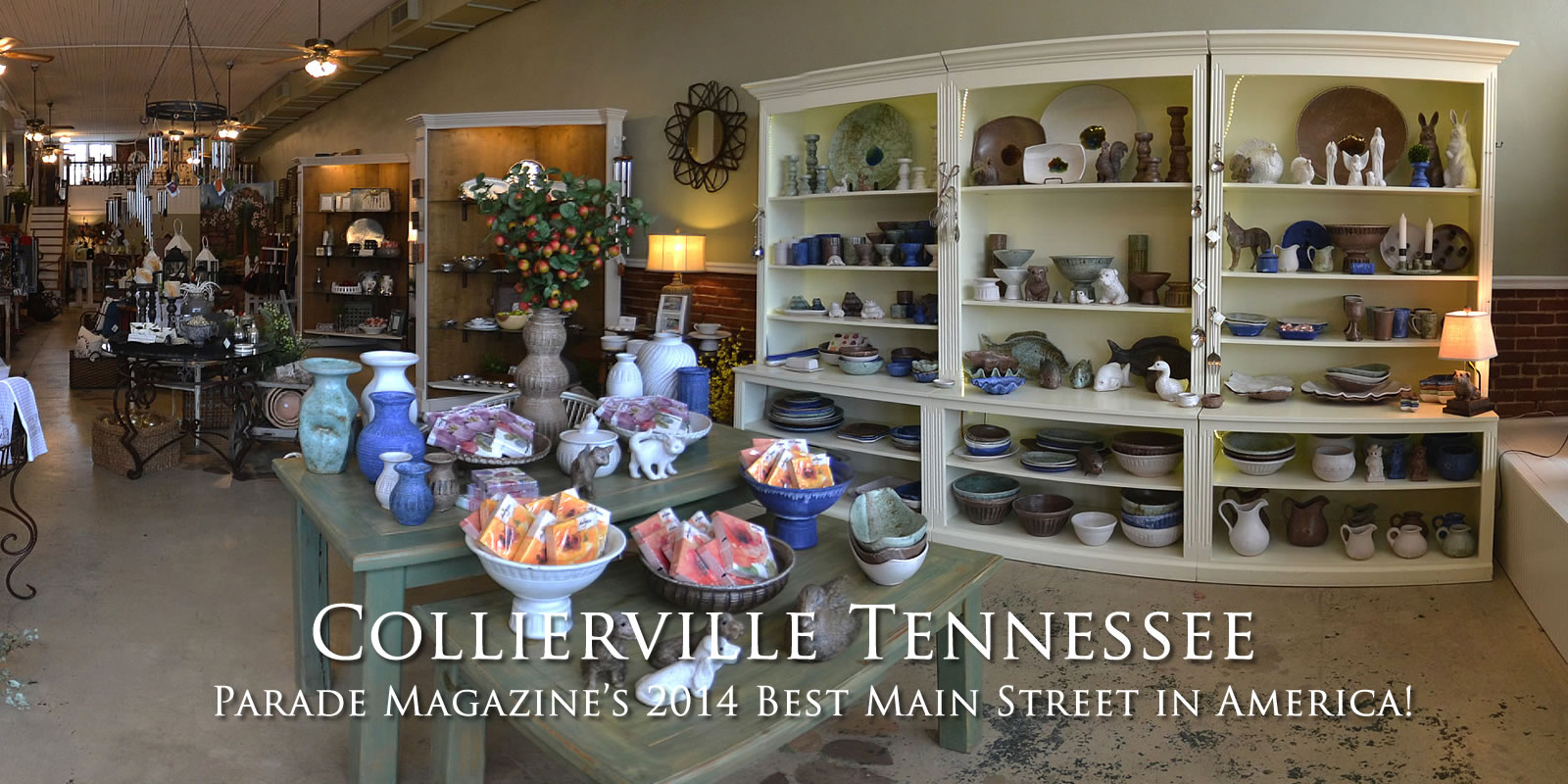 Since opening the doors in July of 1999, The Brooks Collection goes to market with you in mind. By selecting unique and collectible treasures, we feature distinctive gifts, accessories, furnishings and accents for [...]
Downtown Collierville TN   Collierville TN shopping restaurants and more. Find great shopping, wonderful places to dine in a relaxing and beautiful setting in Collierville Tennessee. Located just east of metropolitan Memphis, nestled in the Heart of Tennessee's Delta, historic Downtown [...]
Hewlett & Dunn strives to provide you with a shopping experience that leaves you completely satisfied. Located at 111 N. Center Street on the Historic Town Square in Collierville, Tenn., since 1961, our [...]
Since 1979, John Green has worked as a real estate agent in the greater Memphis area. Even from the beginning of his career, John was dedicated to top customer service and ensuring that all [...]
Patricia's on the Square has been in business for 20 years. In 1995, Patricia began the store as an antique shop. By 2003, Patricia realized the need for an upscale specialty shop for [...]
Simply Done Catering & Events Collierville Tennessee Whether you are hosting a shower, planning a wedding reception, need a wonderful place for your rehearsal dinner or just want an elegant event - it can all be Simply [...]
Load More Posts
7. Beaufort, South Carolina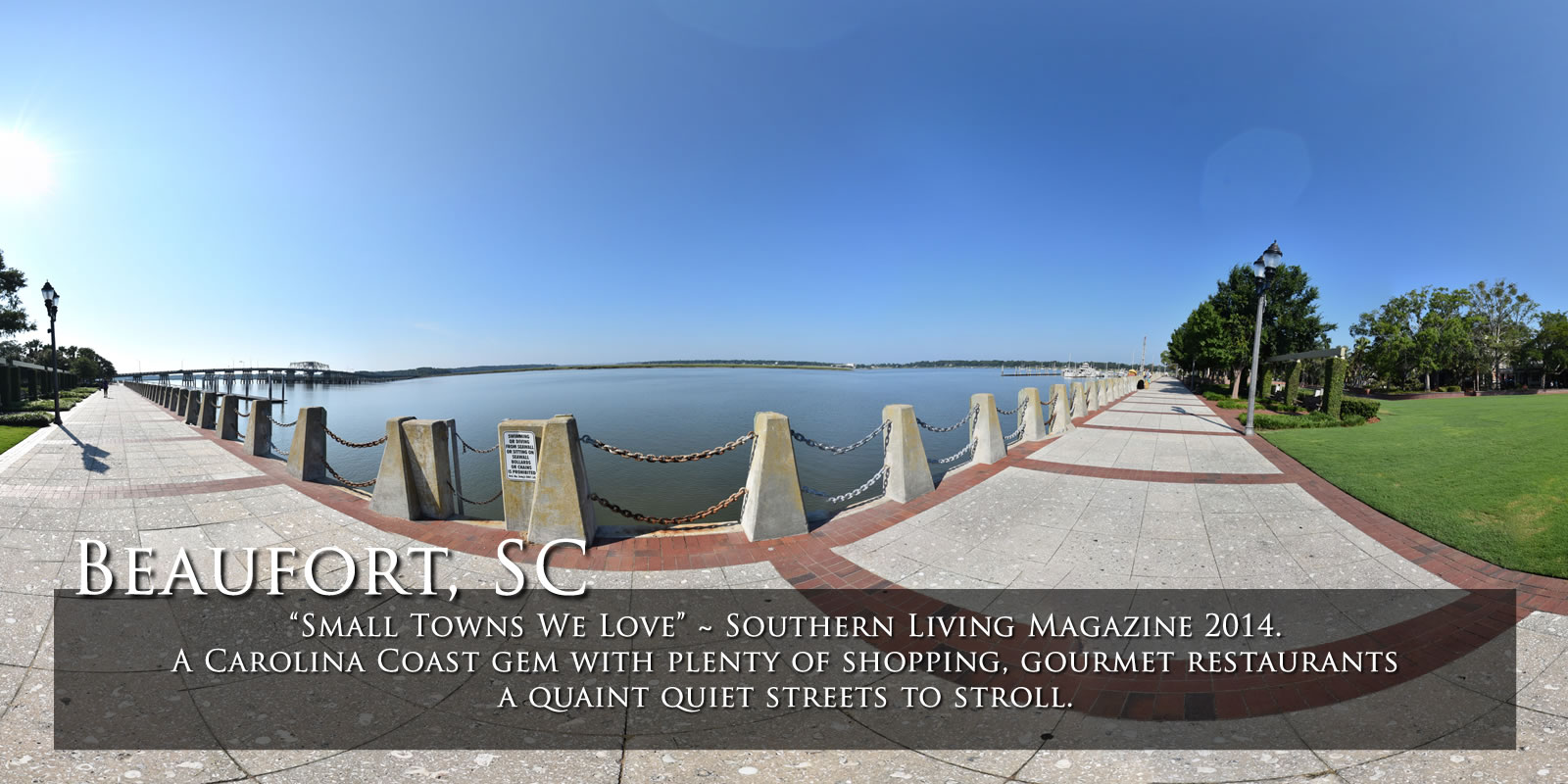 A Carolina Coast gem, Beaufort, South Carolina offers plenty of shopping, gourmet restaurants with a quaint quiet streets to stroll.
WELCOME TO OLIVE THE ABOVE, WE ARE A UNIQUE TASTING STORE OF THE WORLD'S FINEST EXTRA VIRGIN OLIVE OILS AND BALSAMIC VINEGARS. OUR OLIVE OILS ARE CAREFULLY PRESSED FOR QUALITY, NOT QUANTITY SO THEIR FLAVOR PROFILES [...]
For more than 21 years, Bay Street has made sure that we have the staff that has the experience and knowledge to assist each customer. We have staff and guides that have fished [...]
Beaufort Emporium offers gifts, souvenirs, dry goods, women's fashions, art, quilts and much more. Come visit us in Downtown Beaufort, South Carolina. [...]
Downtown Beaufort SC Featured Merchants Tap on Merchant below to enjoy their Virtual Tour! Visit Beaufort SC "Small Towns We Love" ~ Southern [...]
Downtown Beaufort SC Featured Merchants Tap on Merchant below to enjoy their Virtual Tour! Visit Beaufort SC "Small Towns We Love" ~ Southern [...]
Thibault Gallery Thibault Gallery is a haven for talented artists to showcase their art, as well as an attraction for tourists and locals alike. Here you will find original art in a variety [...]
Load More Posts
8. Cleveland, Mississippi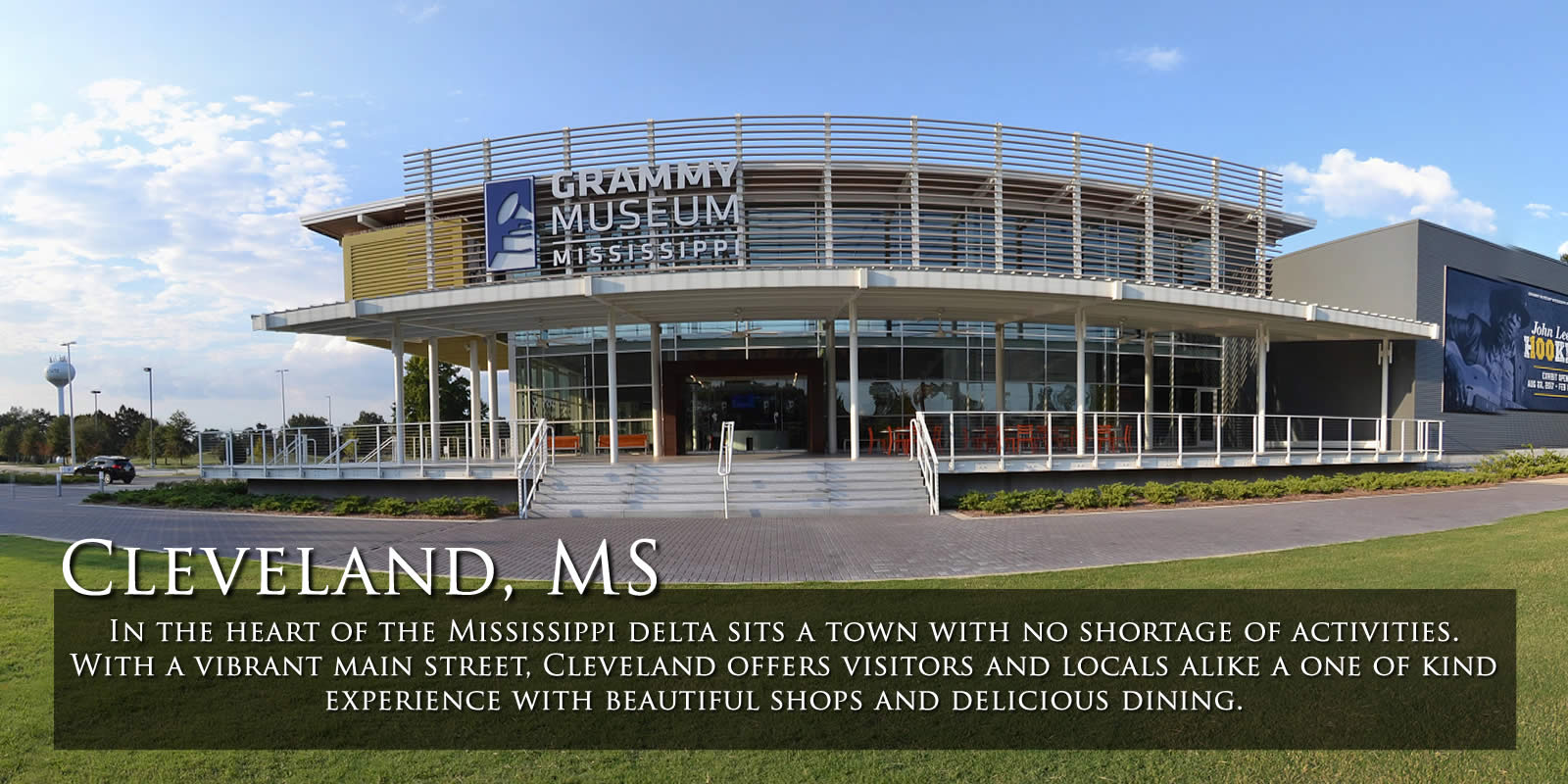 Downtown Cleveland MS
Abraham's Abrahams Men's & Women's Shop in Downtown Cleveland Mississippi Clothing by Polo Ralph Lauren, Southern Tide, Big Star Jeans, True Religion, Cole Haan, Ike Behar, Patagonia, The North Face and many more! [...]
Located in the heart of Cleveland Mississippi on Sharpe Street, Rosson Co. carries over 80 years of the finest jewelry, watches, and table ware into the next generation. [...]
Heidi's Cleveland MS The Monogram Store - Embroidery, Screen Printing, Promotional Items and More! We also offer Collegiate Gear, Toys, Baby, Jewelry, Purses and More! 110 North [...]
Punkin Patch Baby, Boys and Girls, Tweens and Teens - It's a fun place to shop for children's clothes! 134 North Sharpe Avenue Cleveland, MS 38732 [...]
Downtown Cleveland MS   Cleveland Mississippi the home of the Delta Grammy Museum and the Delta Blues.  Find the best shopping, restaurants and things to do in Downtown Cleveland Mississippi with our virtual tours. Featured Merchants Tap [...]
Downtown Cleveland MS Jewelry store offering custom bridal rings and engagement rings, local jewelry and watches. 104 North Sharpe Avenue Cleveland, MS [...]
Load More Posts
9. Waynesville, North Carolina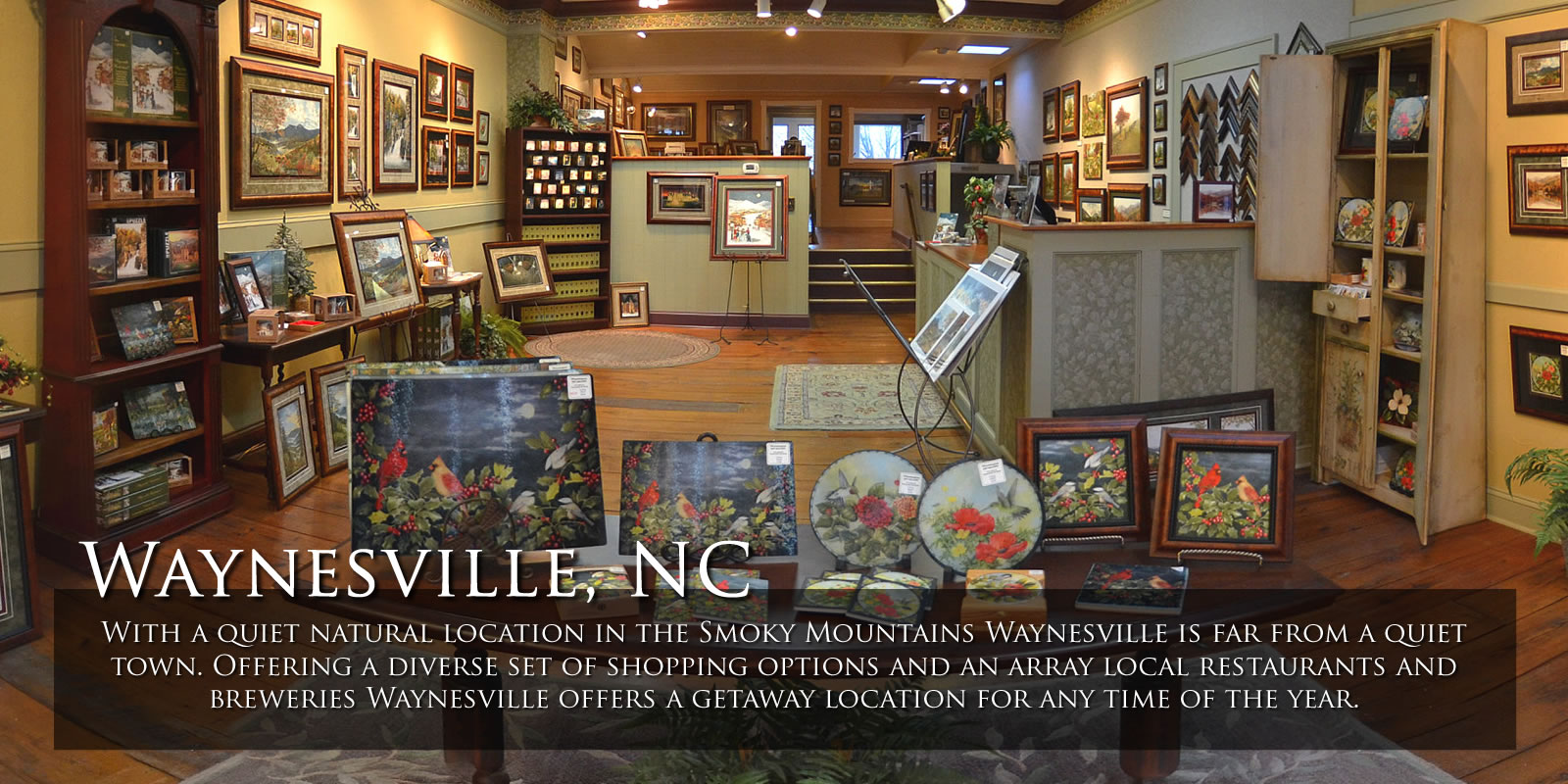 With a quiet natural location in the Smoky Mountains, Waynesville is far from a quiet town. Offering a diverse set of shopping options and an array local restaurants and breweries Waynesville offers a getaway location for any time of the year.
The philosophy behind Green Orchid Soap Co. is to help you find and keep confidence in your well-being. To enable you to find and encourage beauty from the inside out. Sometimes, that starts from [...]
Spenceberry Antiques At Spenceberry Antiques, our one of a kind items keep customers coming back to discover what new pieces we have to offer. Our helpful staff are always on hand to point out new arrivals and [...]
Sutton & Sons Sutton and Sons antique shop is located near downtown Waynesville, North Carolina, in the foothills of the Great Smoky Mountains, and our commitment to preserving the culture and community of [...]
Fine furniture, bedding, carpeting, interior design, appliances and more! We are a home town, family owned business. Our store has been in Waynesville for over 100 years and we have offered the same [...]
Pleasant Places Pleasant Places Waynesville's Bird and Garden Supply Shop! Shop in a relaxed atmosphere in downtown's own wildbird supply. From seed, feeders and houses to garden accessories, we'll help you with your [...]
T. Pennington Gallery Teresa Pennington is a self-taught colored pencil artist with a talent she says is God-given. Often spending as much as four months on one drawing, she meticulously renders the scenery, [...]
Load More Posts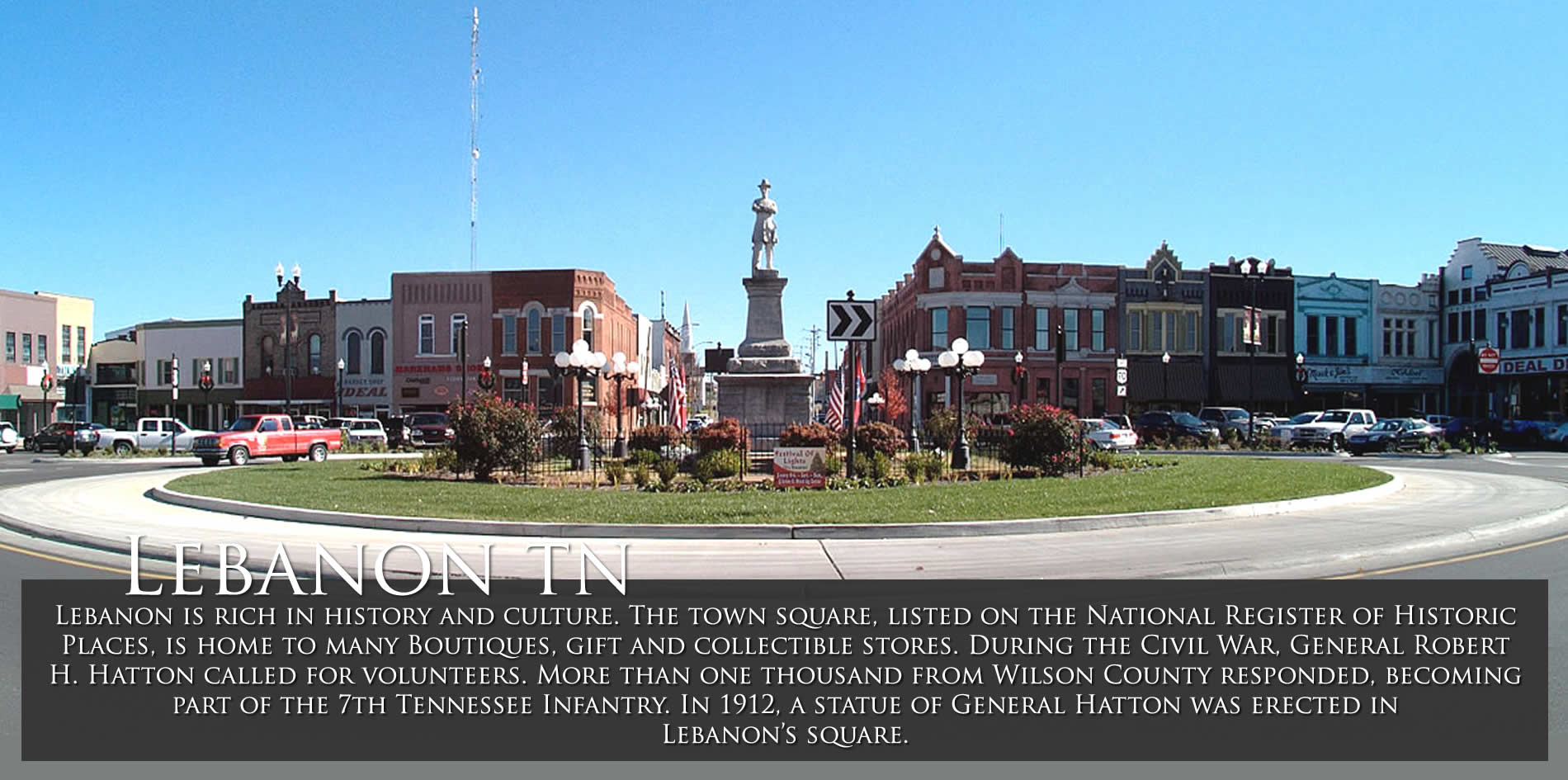 Shop Online Wilkie's Outfitters is a family owned business located in Lebanon, TN. We carry top brands of high quality, trusted products for the outdoor experience. Whether it's fishing, hiking, hunting, climbing, kayaking, or exploring [...]
The Best Shopping Lebanon TN Just outside Nashville Tennessee, Lebanon boasts a great selection of local shops that offer everything from antiques to the latest fashions. Come spend the day with us on the Downtown Lebanon Square and you're sure [...]
Main Street Mercantile & Creamery on the Downtown Lebanon Square. We aim to provide our customers with great taste in both gifts for every occasion and fantastic desserts to fulfill any sweet tooth! [...]
Facebook Online Shop Dreams Boutique is on the Public Square in Lebanon, TN. Dreams is a Women's Active Wear, Lounge Wear, Intimates, and Trendy Apparel store. We offer specialty fit bras, lounge wear, [...]
The Best Shopping Lebanon TN Just outside Nashville Tennessee, Lebanon boasts a great selection of local shops that offer everything from antiques to the latest fashions. Come spend the day with us on the Downtown Lebanon Square and you're sure to want to visit [...]
Based in Lebanon, Tennessee, Eden's Edge Boutique offers bohemian and chíc styles for women and children.  We carry many one of a kind pieces at a very limited quantity to keep you in [...]
Load More Posts
Other great destinations in the south worth mentioning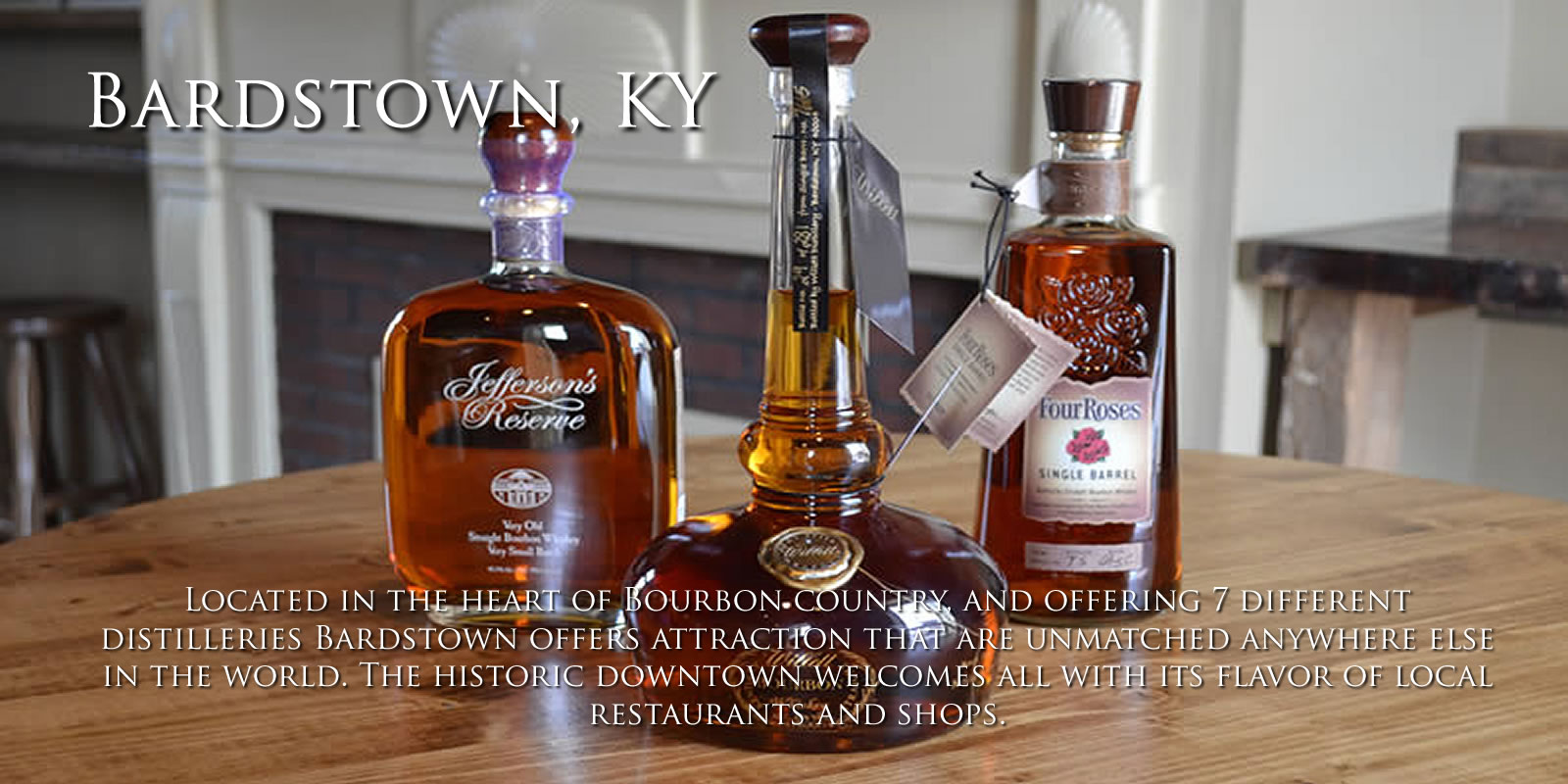 Old Talbott Tavern Bed & Breakfast with Restaurant and Bourbon Bar in Downtown Bardstown KY and our New Addition to our facilities The Talbott Inn. [...]
Gartland's Art Sales and Custom FramingSince 1974: 46 Years Serving Kentucky Gartland's Art Sales Bardstown KY, a unique one-of-kind family owned business, has continued to serve central KY for over 38 years and is [...]
The Best Shopping in Bardstown KY Named "The Bourbon Capital of the World", Bardstown not only has some of the best distilleries, in it's downtown district , boasts some of the best local shopping in Kentucky. We invite you to explore some featured shops [...]
All our rooms include refrigerator, microwave, dry bar, 43″ smart TV, coffee maker, hair dryer, and access to the common area with internet access. Choose from Queen, King, and Double-Queen sized rooms. A visitor [...]
Hurst Discount Drugs and Soda Shop Hurst Discount Drugs and Gifts Downtown Bardstown Pharmacy and Soda Shop. Hurst Discount Drugs is your old fashion soda fountain pharmacy in the 21st century!!! Bring the [...]
Load More Posts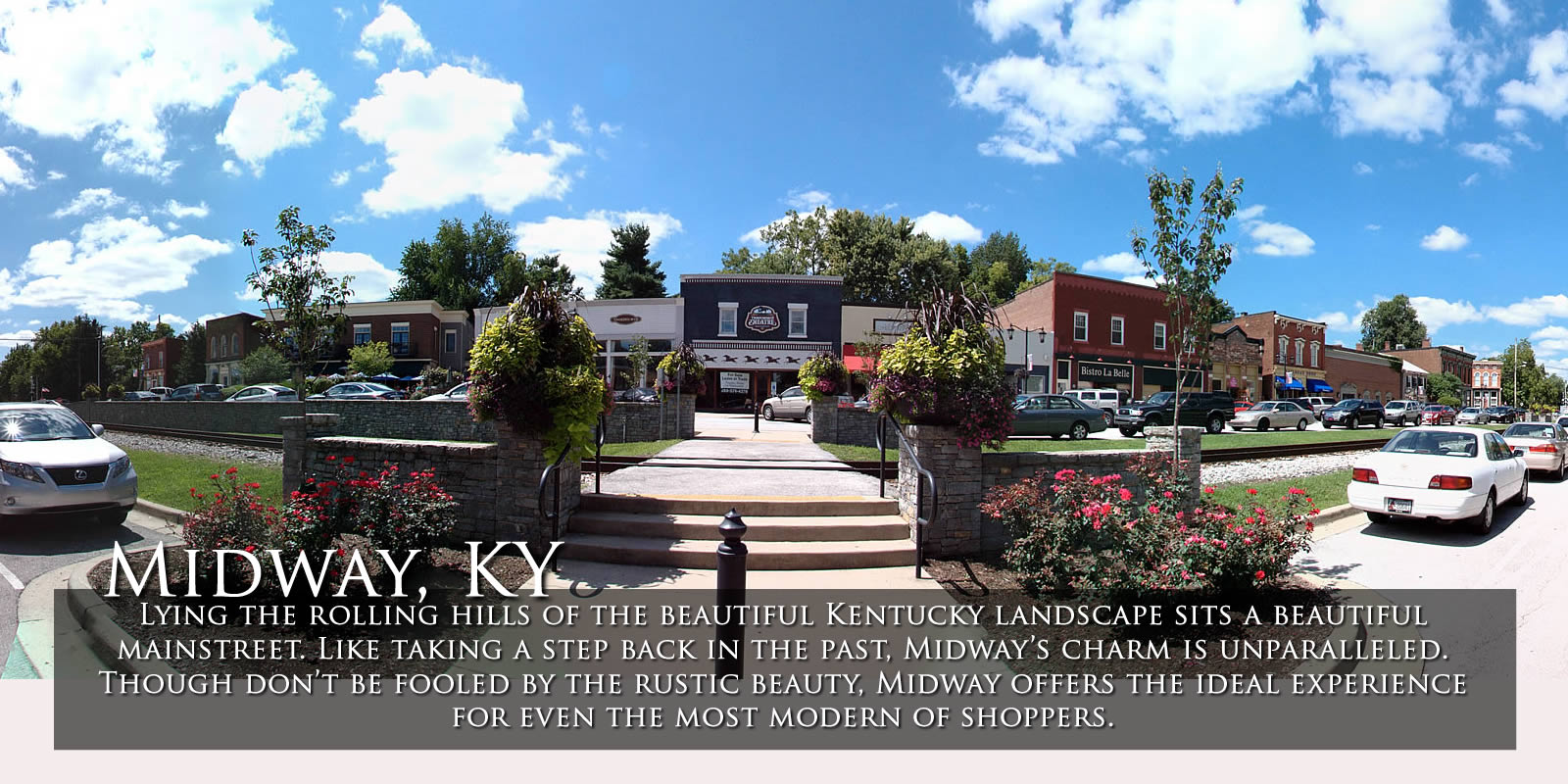 Best Midway KY Shopping & Restaurants Tucked in the Heart of Thoroughbred country, Midway offers a great selection of local shops and restaurants. We have selected the best shops and restaurants in Midway and invite you to explore Midway for your next trip to [...]
Heirloom Restaurant Midway KY "Owned by chef Mark Wombles and his father, Henry, the restaurant came out of the gate in 2006 to acclaim." See the entire article in the Lexington Herald Leader [...]
The Brown Barrel & Blind Harry's A unique dining experience Join us for a unique, "casual-yet-classy" dining experience in Historic Midway - the Heart of Kentucky Horse Country! Our traditional setting belies the [...]
Welcome to Southern Sunday! Combining a love for fun, fashion and southern hospitality, Southern Sunday is the boutique that gives back! After browsing through our offerings of the latest styles, choose one from [...]
Mezzo Italian Cafe and Provisions is a family style restaurant boasting fresh ingredients in a cozy atmosphere. We are continuing our line of fine foods right in the heart of Kentucky. Mezzo features [...]
Best Midway KY Shopping & Restaurants Tucked in the Heart of Thoroughbred country, Midway offers a great selection of local shops and restaurants. We have selected the best shops and restaurants in Midway and invite you to explore Midway for [...]
Load More Posts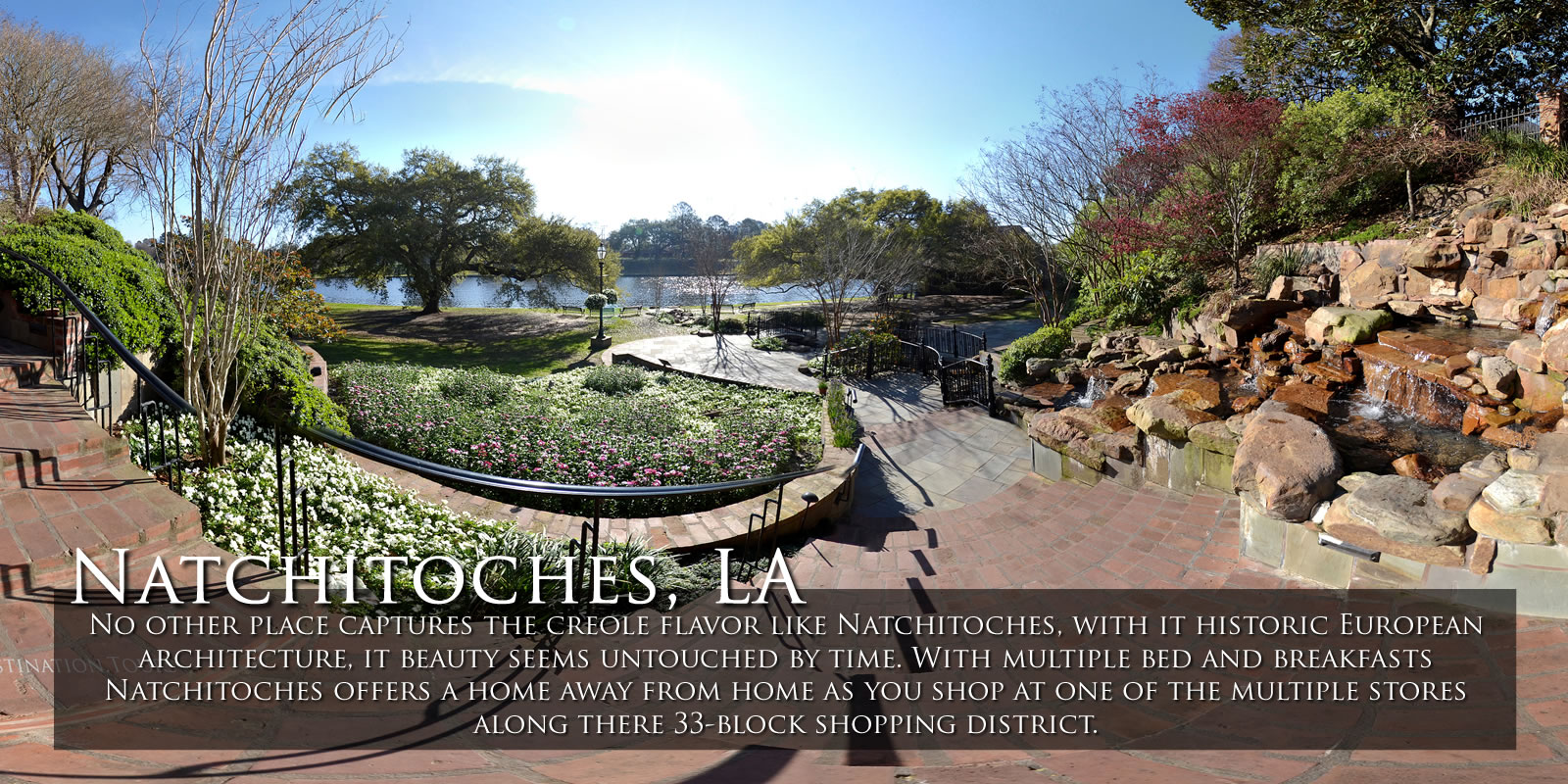 No other place captures the creole flavor like Natchitoches, with it historic European architecture, it beauty seems untouched by time. With multiple bed and breakfasts Natchitoches offers a home away from home as you shop at one of the multiple stores along there 33-block shopping district.
An idyllic retreat on Cane River Lake in the Natchitoches Historic District.  From beautifully appointed king-sized bedrooms complete with private baths, to a sumptuous gourmet breakfast, Jefferson House Bed & Breakfast is within walking [...]
Fort St. Jean Baptiste State Historic Site Natchitoches was founded by a French Canadian, Louis Antoine Juchereau de St. Denis, in 1714 while he was en route to Mexico from Mobile, Alabama, on [...]
Parc Natchitoches Parc Natchitoches Virtual Tour. 4515 University Pkwy Natchitoches, LA 71457 (318) 357-3892 Hours: Seasonal Hours - Please call for times. Our Website [...]
Beau Jardin is the City of Natchitoches' newly-constructed water feature and garden area on the downtown riverbank, located within the Natchitoches Historic District.  Beau Jardin is the perfect venue for weddings, rehearsal dinners, [...]
Plantation Treasures Located in the Historic District of Natchitoches on the banks of the Cane River on Front Street. We offer gifts for the home and soul. Christian Based gift shop offering jewelry, [...]
Load More Posts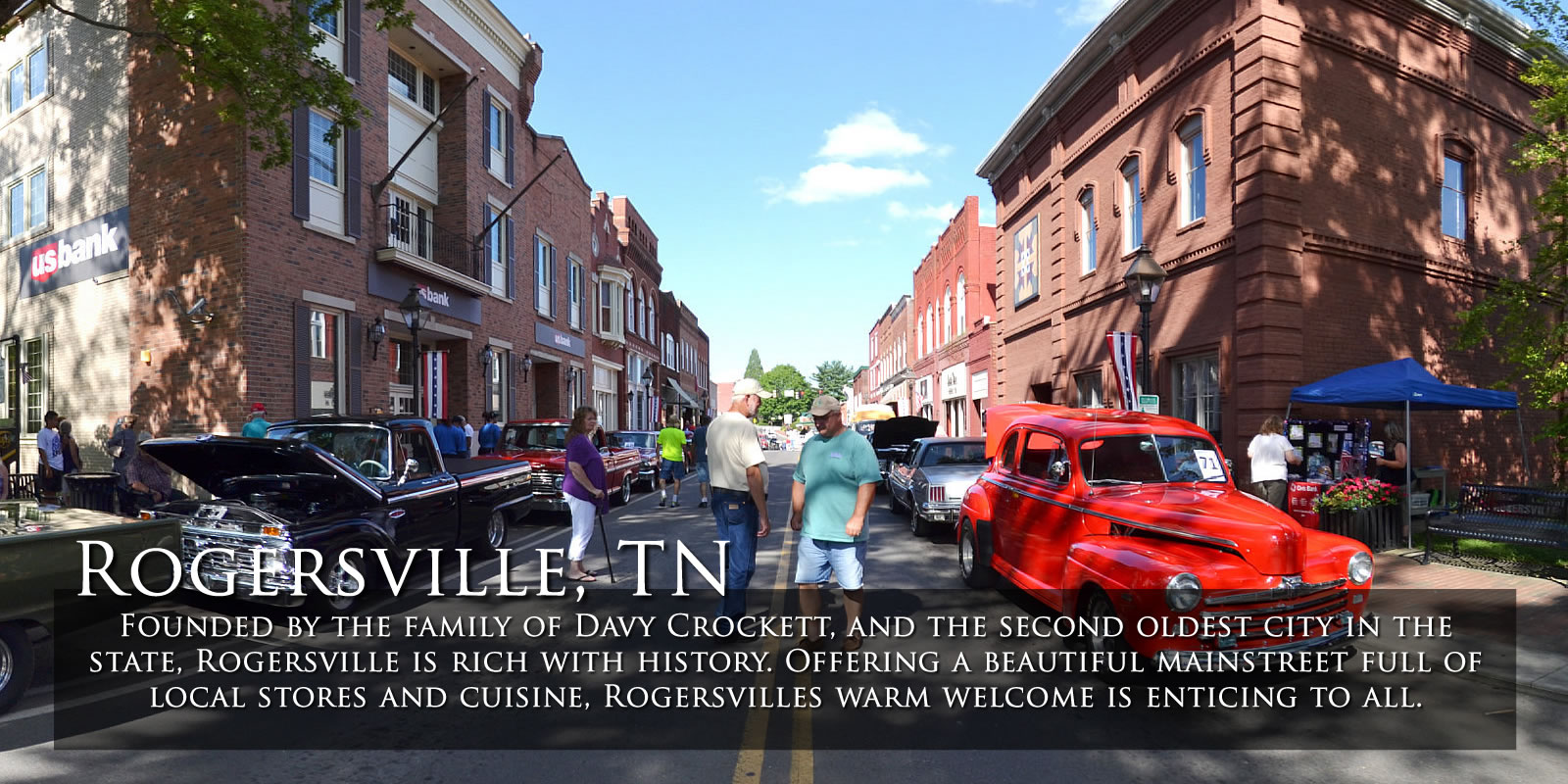 LuElla's Gift Market LuElla's Gift Market offers a personal shopping experience right in the heart of historic downtown Rogersville, TN. With unique gifts and friendly service, finding the perfect gift has never been [...]
The Rustic Fig is a hometown boutique with modern fashion + vintage decor. We carry several locally made items along with clothing, unique gifts, and gift baskets. We also ship worldwide! [...]
Salt & Light is a trendy boutique that carries women's & children's clothes & accessories as well as home decor & unique gifts. 207 E Main Street Rogersville, TN 37857 [...]
Welcome to Hale Springs Inn! The historic Hale Springs Inn was built in 1824 by John A. McKinney and is nestled in the heart of historic downtown Rogersville, Tennessee. The inn features 9 [...]
Amis Mill Eatery: Join us at the Historic Amis Grounds for Events, Great Food, Weddings, Tours and Our Visitor Center, all with wonderful views of our TN Mt's. THOMAS AMIS was born in Halifax, [...]
Load More Posts