The Best Road Trips in the South for 2020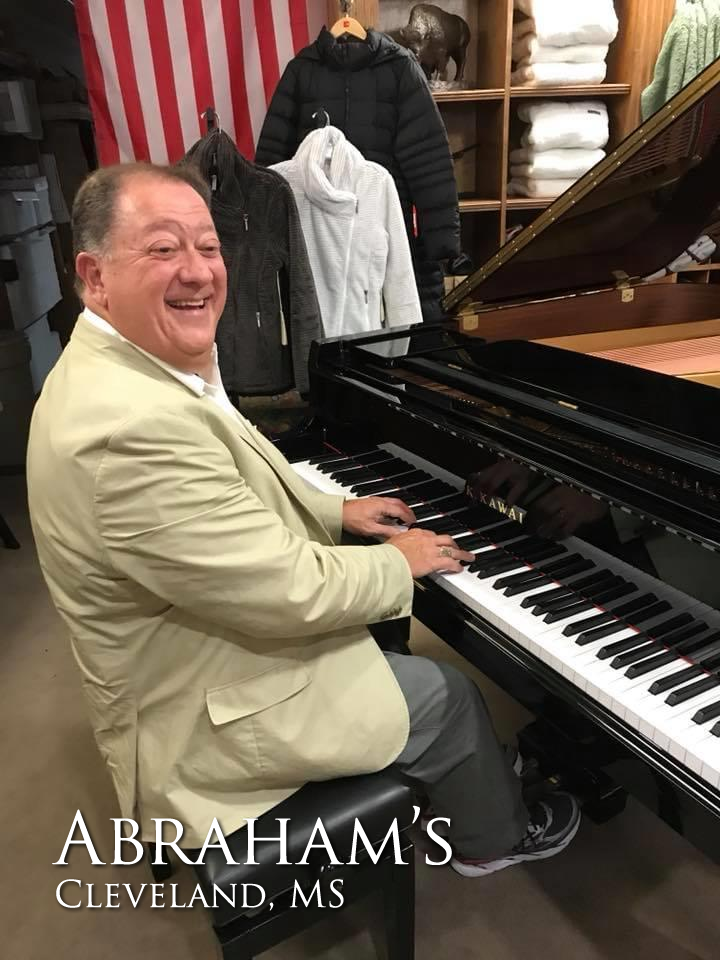 We have created a list of great destinations in the Southern United States that are an easy drive and great for weekend getaways offering one-of-a-kind shopping, local restaurants and fun attractions.
These Downtown Destinations offer safe shopping and dining options and because of their size typically have less people strolling thru their streets and shops.
 Ocean Springs, Mississippi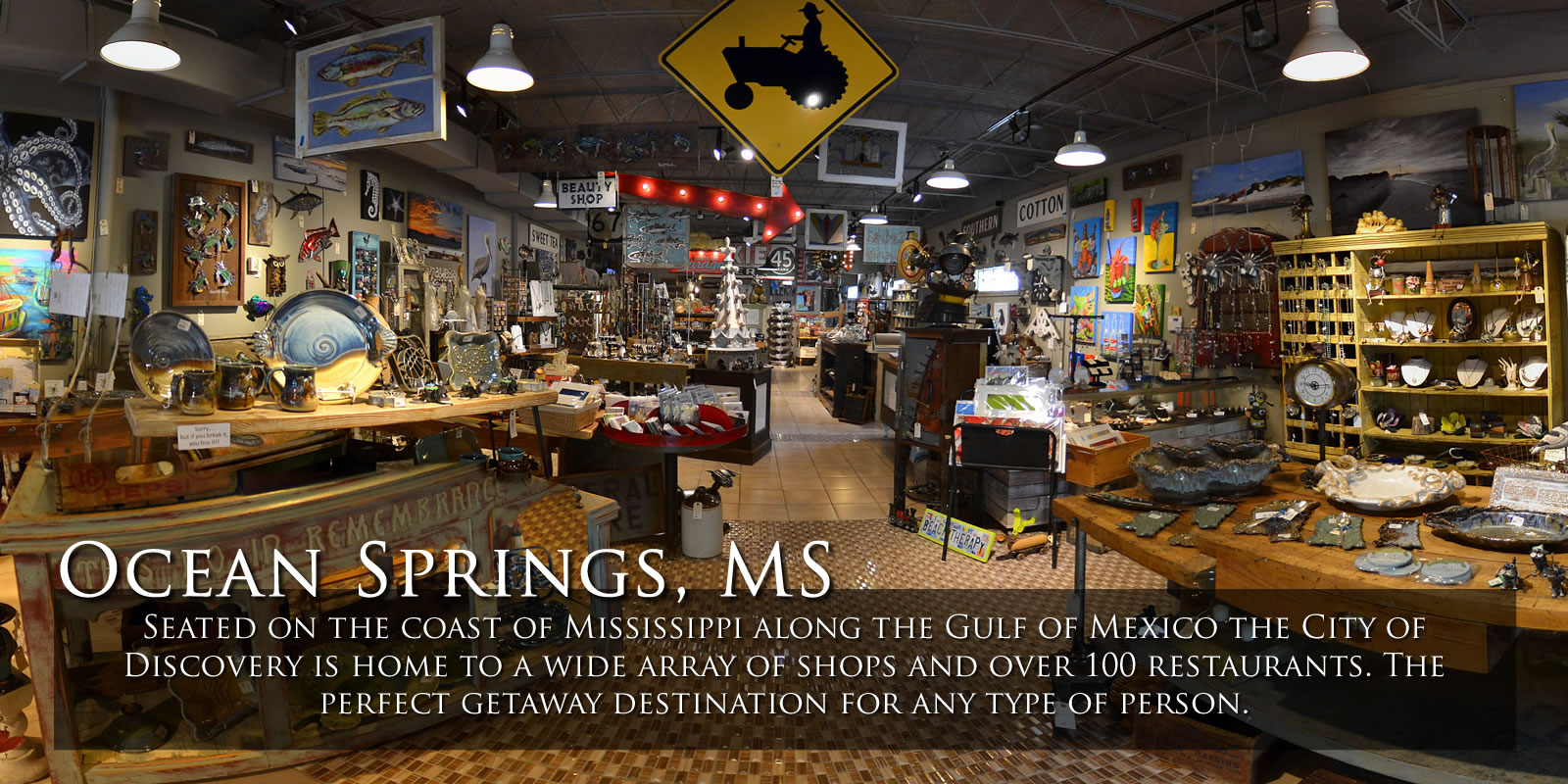 Seated on the coast of Mississippi along the Gulf of Mexico the City of Discovery is home to a wide array of shops and over 100 restaurants.
The perfect getaway destination for any type of person.
Sugar & Spice Childen's Apparel & Gifts We are a children's boutique. Our clothing ranges from newborn to size 14. However we have much more then just clothing, come and see some of [...]
Deedy's Formals & Tuxedos We offer a variety of formal wear for many different occasions from Mardi Gras, homecoming, prom, pageants, college graduation, mother of the bride dresses and tuxedos. Serving the Gulf [...]
A favorite among locals with appreciation of fine cuisine, Phoenicia Gourmet Restaurant sits in the renowned artisan city of Ocean Springs on the gulf coast of Mississippi. A sterling reputation draws patrons from [...]
Franko's Clothing Company in the heart of Downtown Ocean Springs offers one-of-a-kind fashions for women. 900 Washington Avenue Ocean Springs, MS (228) 215-0788 Hours: Monday - Saturday: 10 - [...]
Hillyer House Downtown Ocean Springs Mississippi As you pass through the doors of our gallery in Ocean Springs, you will be surrounded by the allure of radiant colors of hand-blown glass, enticing shapes [...]
Load More Posts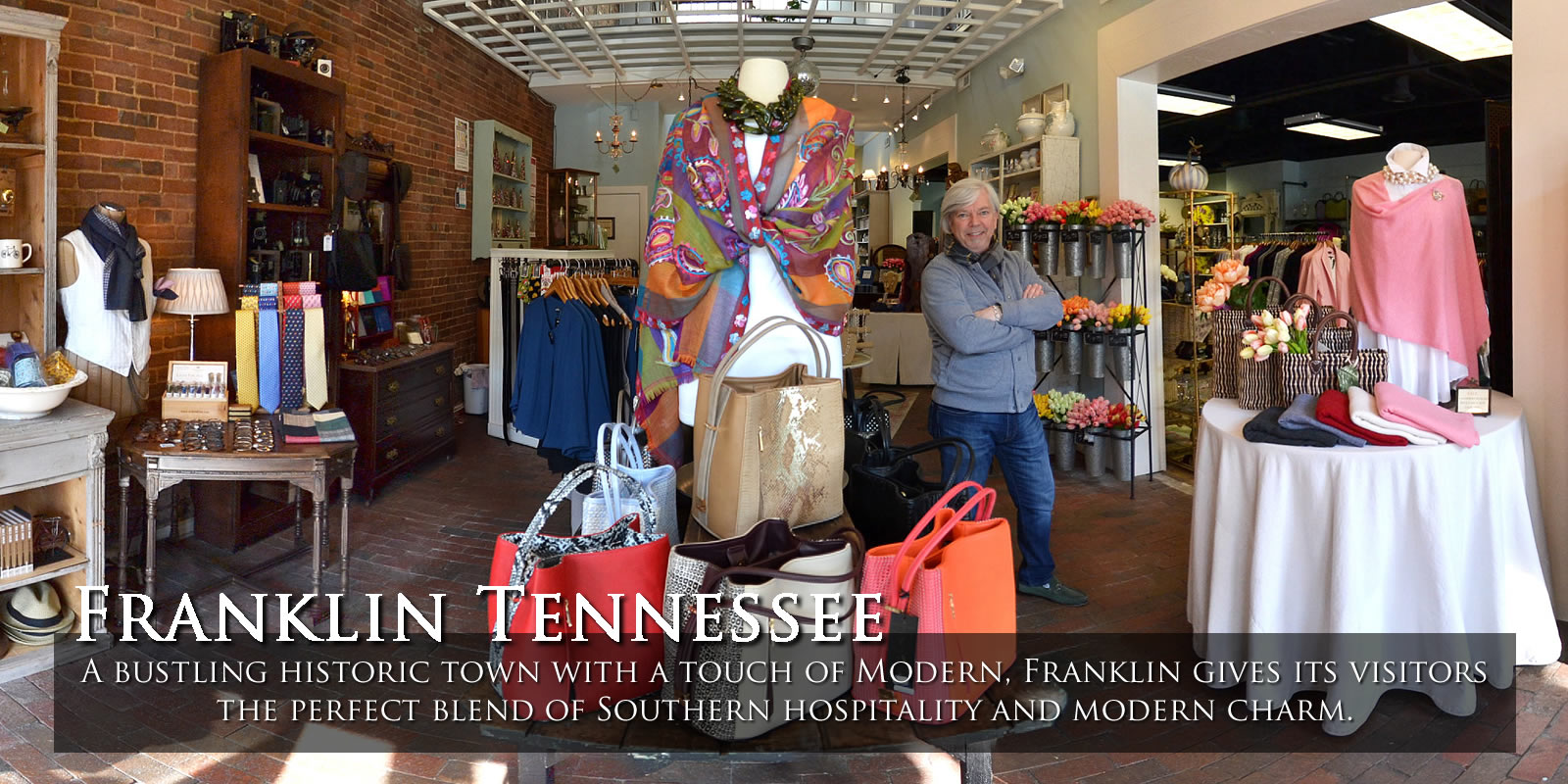 A bustling historic town with a touch of Modern, Franklin gives its visitors the perfect blend of Southern hospitality and modern charm.
Organic Dreams Coming To Franklin TN Your sleep oasis has arrived in Tennessee. Nestled in the beautiful town of Franklin you will find our luxurious store waiting to accept you into its warmth [...]
Load More Posts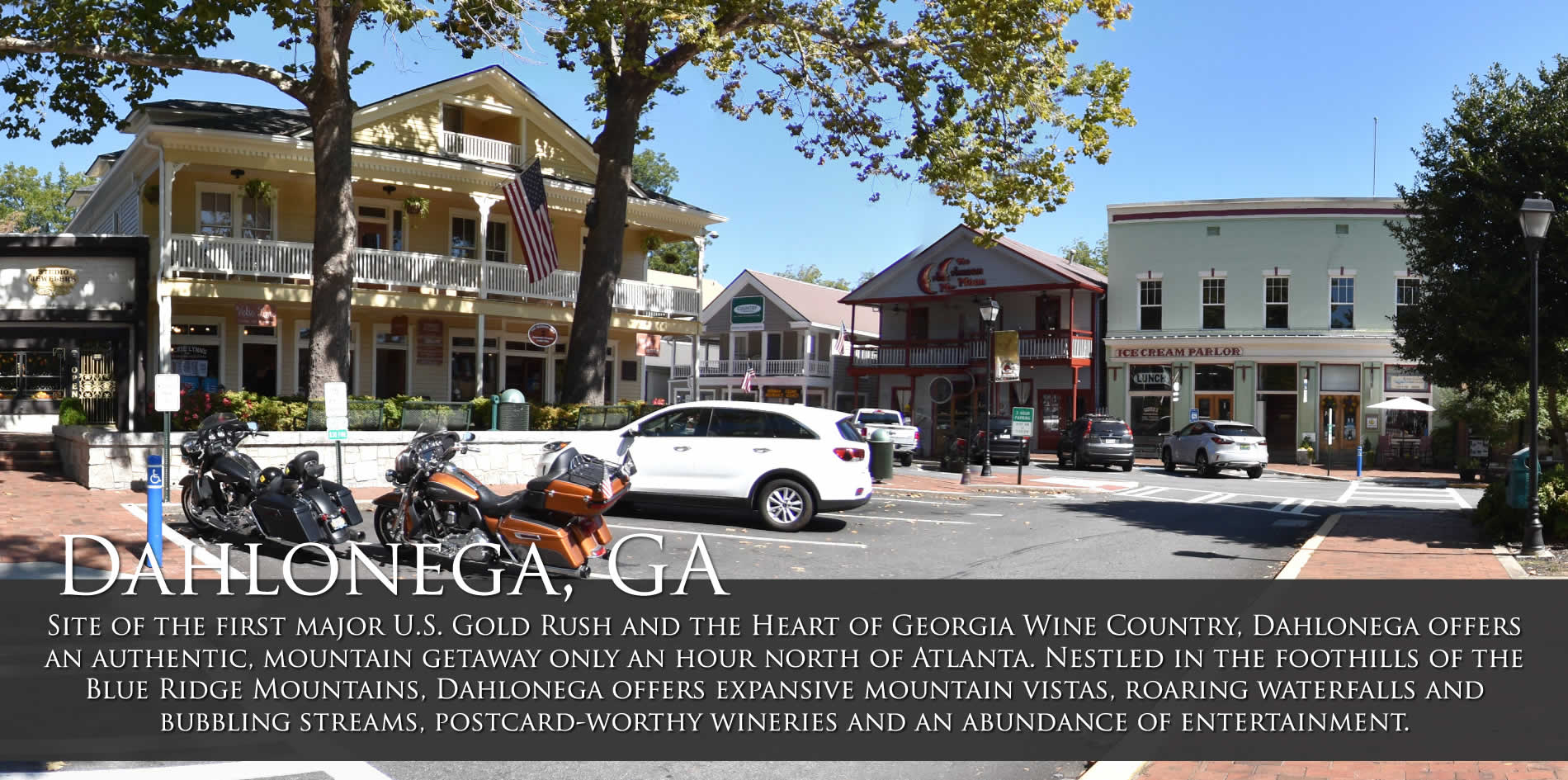 Site of the first major U.S. Gold Rush and the Heart of Georgia Wine Country, Dahlonega offers an authentic, mountain getaway only an hour north of Atlanta. Nestled in the foothills of the Blue Ridge Mountains, Dahlonega offers expansive mountain vistas, roaring waterfalls and bubbling streams, postcard-worthy wineries and an abundance of entertainment.
Montaluce Events and Weddings WEDDINGS & CELEBRATIONS Montaluce Winery is the ideal venue for your wedding celebration-accommodating groups up to 200 for relaxing wedding getaways. From the rehearsal dinner to the send-off brunch, [...]
Ivy's Gifts from the Vine We're a local Dahlonega, Georgia florist delivering courteous, professional service and the highest quality floral and gift items around since 1998. Our talented designers can create floral designs [...]
Dahlonega gift shop Cranberry Corners proudly creates custom gift baskets and more in a historic North Georgia's gift shop that's located on the town's quaint square. In fact, our building used to be [...]
The Best Dahlonega Shopping & Attractions Discover Dahlonega's best shopping, attractions and restaurants. We welcome you to one of Georgia's best Shopping experiences! Our featured local shops offer a wide variety of fashions, local art, and gifts.  Dahlonega's surrounding county boasts a number of [...]
Historic Dahlonega Shuttle & Trading Post WITH LOVE FOR OUR BEAUTIFUL HISTORIC SQUARE, WE PROUDLY LAUNCH DAHLONEGA'S FIRST SHUTTLE SERVICE! RIDE FREE WITH US FROM THE OUTER PARKING LOTS INTO THE SQUARE. ENJOY [...]
Montaluce Winery & Restaurant Montaluce Winery & Restaurant is a breathtaking destination that uses wine, food, and events to create experiences you'll want to have again and again. Nestled in the North Georgia [...]
Carriage House Shoppes While in Downtown Dahlonega, make sure to drop-by Carriage House Shoppes.  Our shops include: Taste, a wine tasting shop with a wide selection of wines. You-nique, a local jewelry store [...]
With a profoundly haunted and historical presence, Dahlonega, nestled in the foothills of the North Georgia mountains, has become a town known for its captivating stories of the inexplicable. Its past with gold-mining, [...]
The Dahlonega Tasting Room Virtual Tour Introducing New eGift Cards! Our eGift Cards are great for Birthdays, Wedding and other Special Occassions.  It's Easy – select amount, write personal note, then send [...]
Load More Posts
4. Black Mountain, North Carolina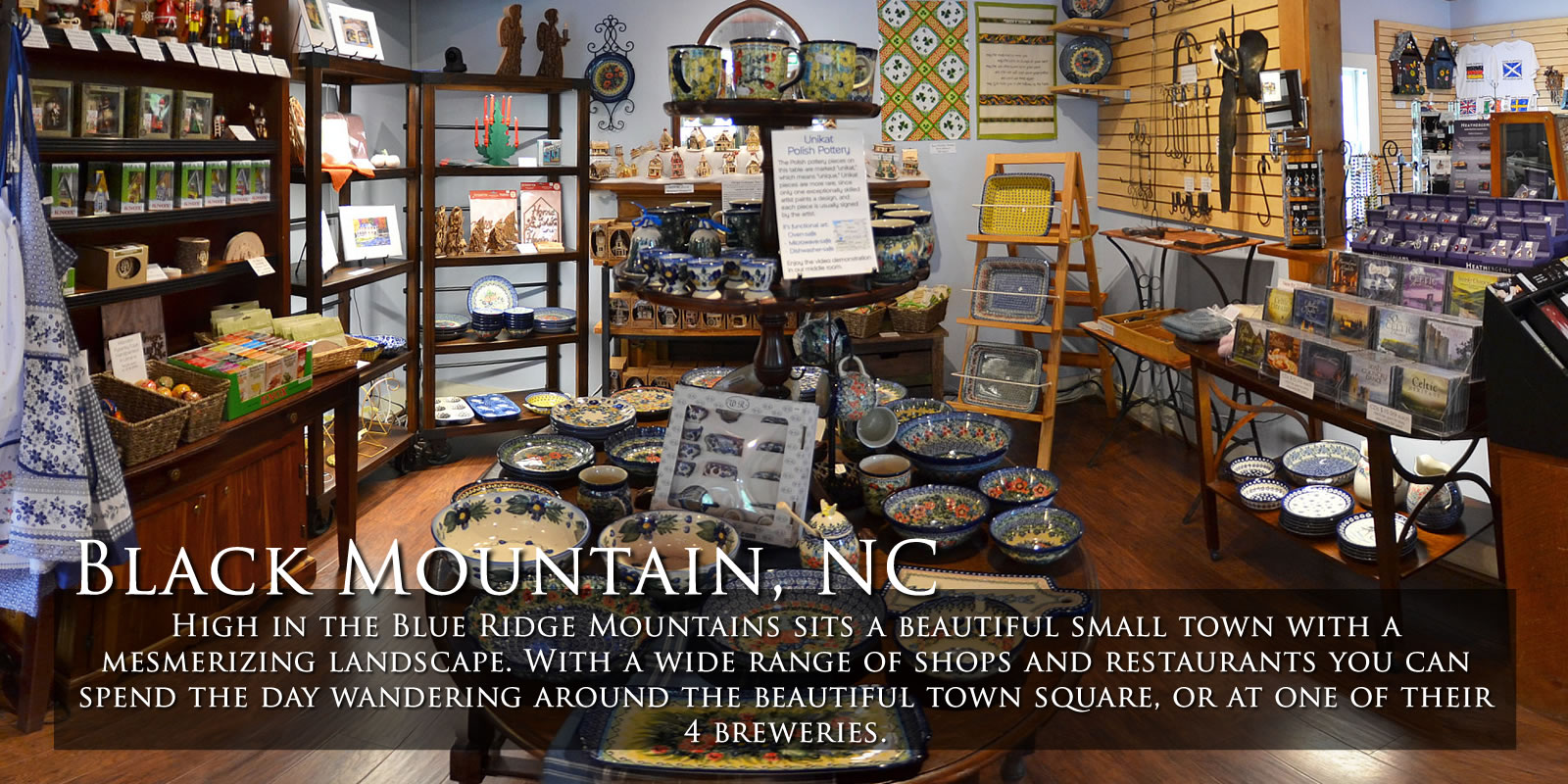 High in the Blue Ridge Mountains sits a beautiful small town with a mesmerizing landscape. Black Mountain town square has a wide range of shops and restaurants
you can spend the day wandering around.
WELCOME TO TOWN HARDWARE & GENERAL STORE Downtown Black Mountain NC We are located in downtown Black Mountain, NC, and occupy three historic buildings dating from the 1920s (one used to be the [...]
Visions of Creation Gallery and Studio features the Avant-Garde collection of one of Western NC's premier jewelry designers, ROBERTO VENGOECHEA.  His designs showcase futuristic and contemporary fine jewelry, specializing in custom work (bring your own [...]
Premier destination shop dressed in 100 percent reclaimed materials offering regional handcrafted gifts, home and garden decor,  jewelry and hand poured, soy candles. The Dancing Dragonfly features a gallery of fine canvas and [...]
The Red Rocker Inn Newly renovated to bring alive her classic beauty, The Red Rocker Inn warmly invites you to "step inside". This 1896 Victorian bed and breakfast and casual fine dining restaurant [...]
A gracious Bed and Breakfast in a restored 1915 Victorian home. Open year-round, the Inn now features five spacious guest rooms and two large premium rooms, all with private baths. Guests are served [...]
A family owned and operated restaurant serving Black Mountain since 1990, we offer mouthwatering fresh pizza, pasta, subs, salads, and a choice beer and wine selection.  All of our sauces, dough, meatballs, hummus, [...]
Load More Posts
5. Bryson City, North Carolina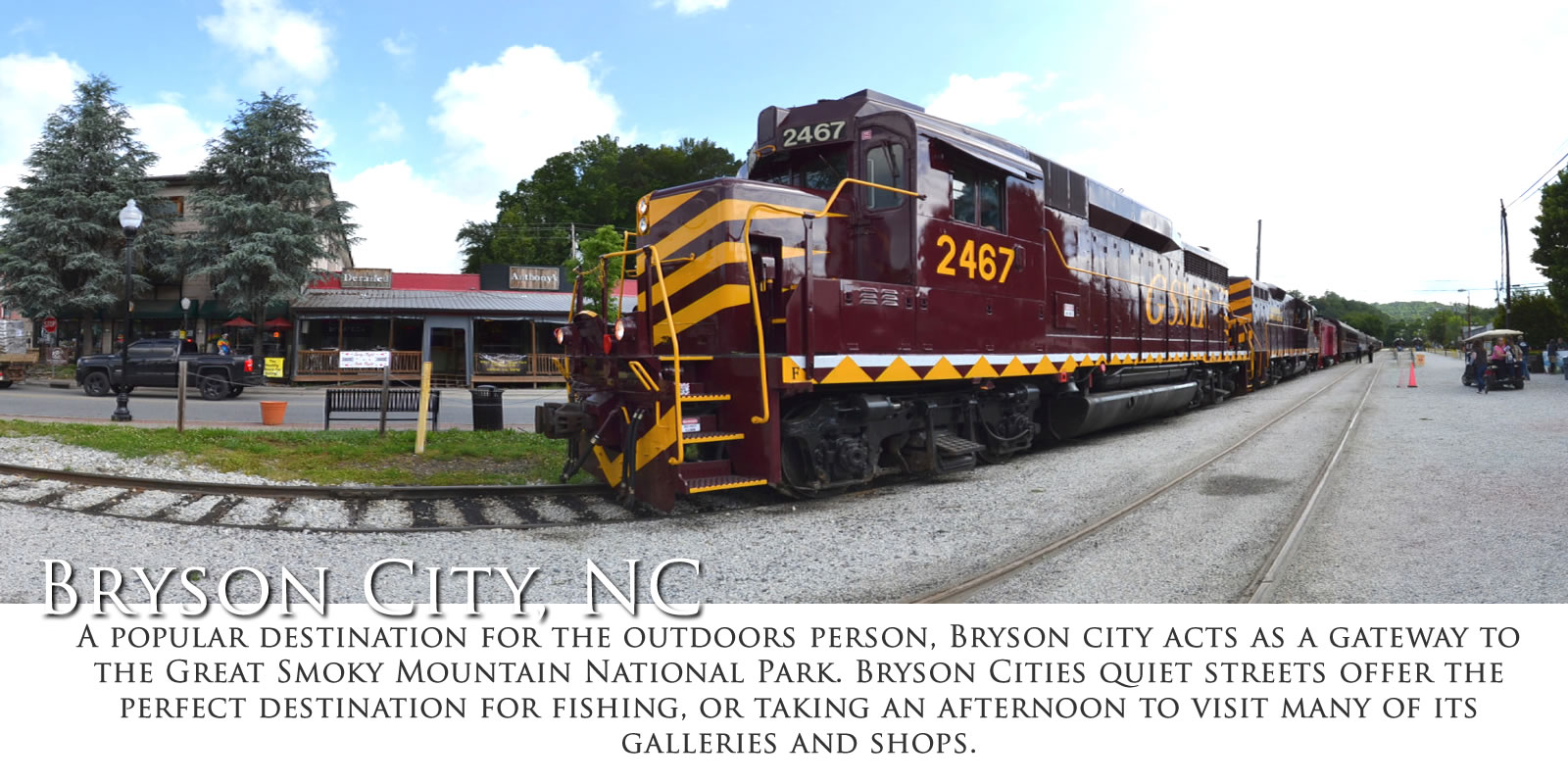 Bryson City Best Shopping & Attractions In the Heart of the Great Smoky Mountains sits Bryson City.  Bryson City is home to the Great Smoky Mountain Railroad (GSMR) and to some of the best shopping in the Great Smoky Mountains.  [...]
Gallery Zella Downtown Bryson City WE ARE MOVING February 2019 to our new location at 166 Everett Street Bryson City, NC 28713 25 Artists in 5 Showrooms in the former Great Smoky Mountain [...]
Fryemont Inn Downtown Bryson City From the moment you enter the historic Fryemont Inn you will feel transported back in time to the warmth and friendly charm of a rustic Adirondack mountain lodge [...]
The McKinley Edwards Inn is located on Schoolhouse Hill, is located on Schoolhouse Hill, overlooking Bryson City with a view of the Great Smoky Mountains. The Inn offers pet-friendly, upscale boutique hotel lodging [...]
Folkestone Inn Bryson City Main Entrance Lights & Shadows Boats & Paddles Tunnels & Tressels Wrens & Warblers Falls & Creeks Backrooms & Overlooks [...]
Swain County Heritage Museum On the second floor of the courthouse, the Swain County Heritage Museum tells the story of the County and its people. Through photos, exhibits and video you will learn [...]
Load More Posts
6. Collierville, Tennessee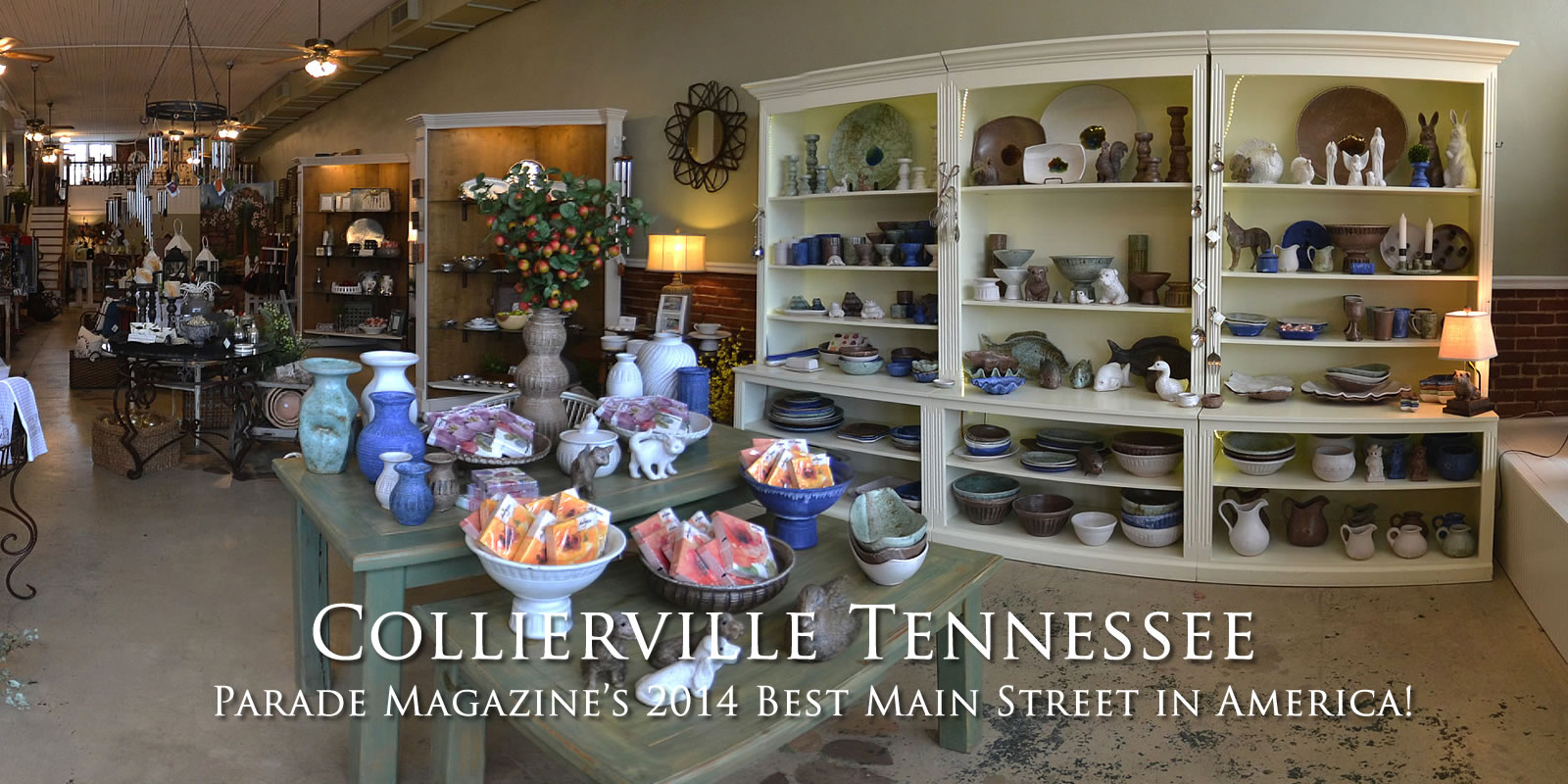 Patricia's on the Square has been in business for 20 years. In 1995, Patricia began the store as an antique shop. By 2003, Patricia realized the need for an upscale specialty shop for [...]
Dee Larue Designs is located in the downtown square of Collierville, TN-named "Americas best Main Street" by Parade Magazine. Our home furnishings and accessories store is opened Wednesday-Saturday, 11am-4pm. Interior design can be [...]
Since opening the doors in July of 1999, The Brooks Collection goes to market with you in mind. By selecting unique and collectible treasures, we feature distinctive gifts, accessories, furnishings and accents for [...]
We now offer eGift Cards! They're an easy, just select the amount, add a special note, then send by email or text.  Create Your Custom eGift Card Come browse our [...]
The Silver Caboose is a family owned restaurant offering the finest quality of Southern American cuisine. The Silver Caboose is about tradition.  It is not about trendy restaurant dining.  It has no superstar [...]
Situated in Collierville's Historic Downtown, the Morton Museum invites visitors to explore Collierville's rich heritage. Permanent and changing exhibitions engage friends, families, and children in interactive learning opportunities. The Visitor Center offers [...]
Load More Posts
7. Beaufort, South Carolina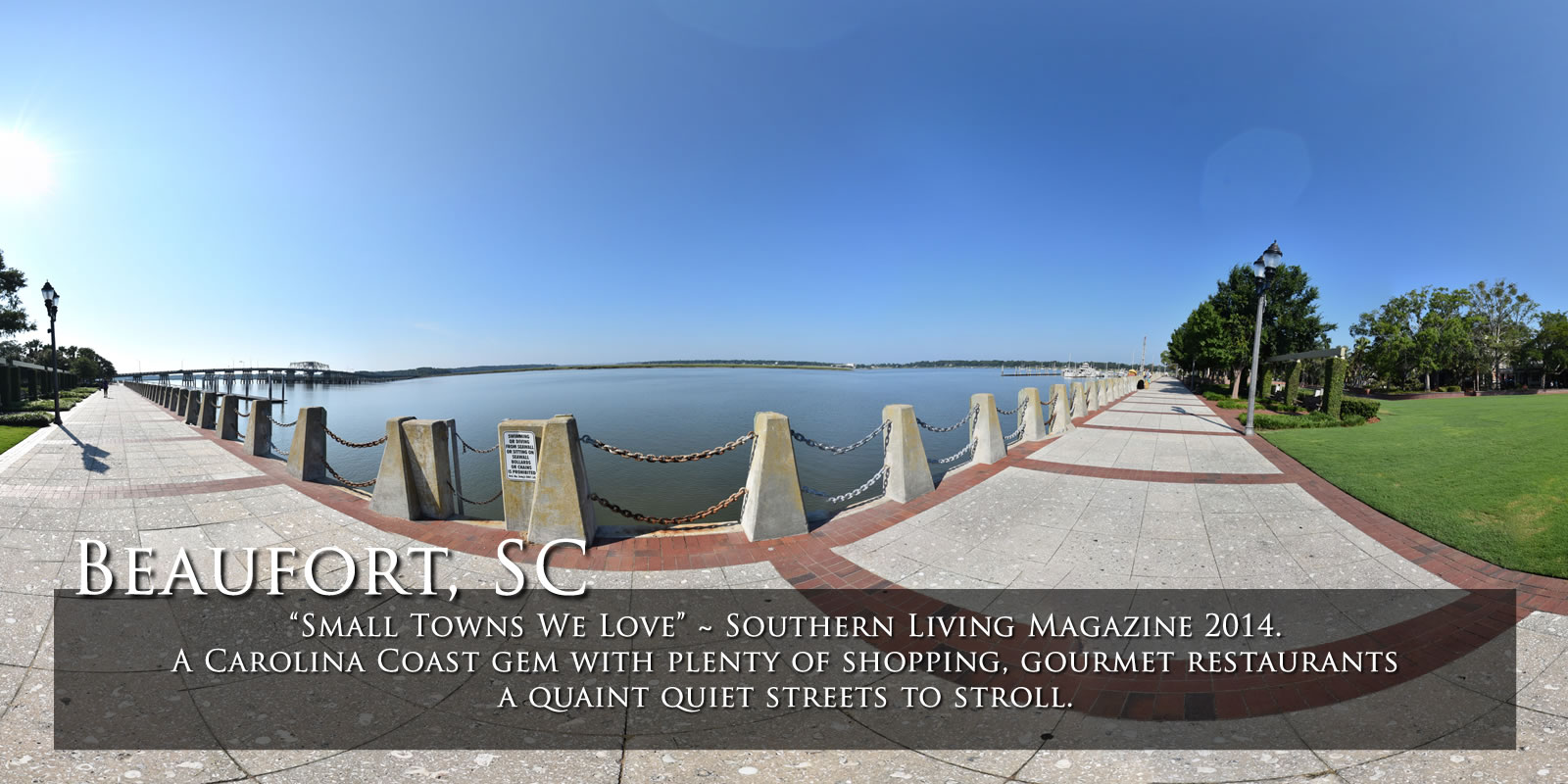 A Carolina Coast gem, Beaufort, South Carolina offers plenty of shopping, gourmet restaurants with a quaint quiet streets to stroll.
We get our name - and our character - from Scout Finch, the feisty, intelligent, and thoughtful narrator of Harper Lee's To Kill A Mockingbird. Strong-willed and confident, Scout takes no bull from anyone; [...]
WELCOME TO OLIVE THE ABOVE, WE ARE A UNIQUE TASTING STORE OF THE WORLD'S FINEST EXTRA VIRGIN OLIVE OILS AND BALSAMIC VINEGARS. OUR OLIVE OILS ARE CAREFULLY PRESSED FOR QUALITY, NOT QUANTITY SO THEIR FLAVOR PROFILES [...]
Beaufort SC Best Shopping & Restaurants Discover some of the best local shopping on the Carolina coast in Beaufort SC. Nestled between Charleston and Hilton Head South Carolina, Beaufort boasts an eclectic mix of local fashion boutiques, art galleries, gift shops and award winning [...]
Downtown Beaufort SC Featured Merchants Tap on Merchant below to enjoy their Virtual Tour! Visit Beaufort SC "Small Towns We Love" ~ Southern [...]
Though there were murmurings that she was quietly secreted out of New York due to an international incident involving a certain ambassador at the United Nations, in truth, Lulu had simply run out [...]
Modern Jewelers is proud of our third generation heritage of providing a full service jewelry store in historic Beaufort, South Carolina. Our jewelers, engravers and appraisers specialize in prompt and efficient service and [...]
Load More Posts
8. Cleveland, Mississippi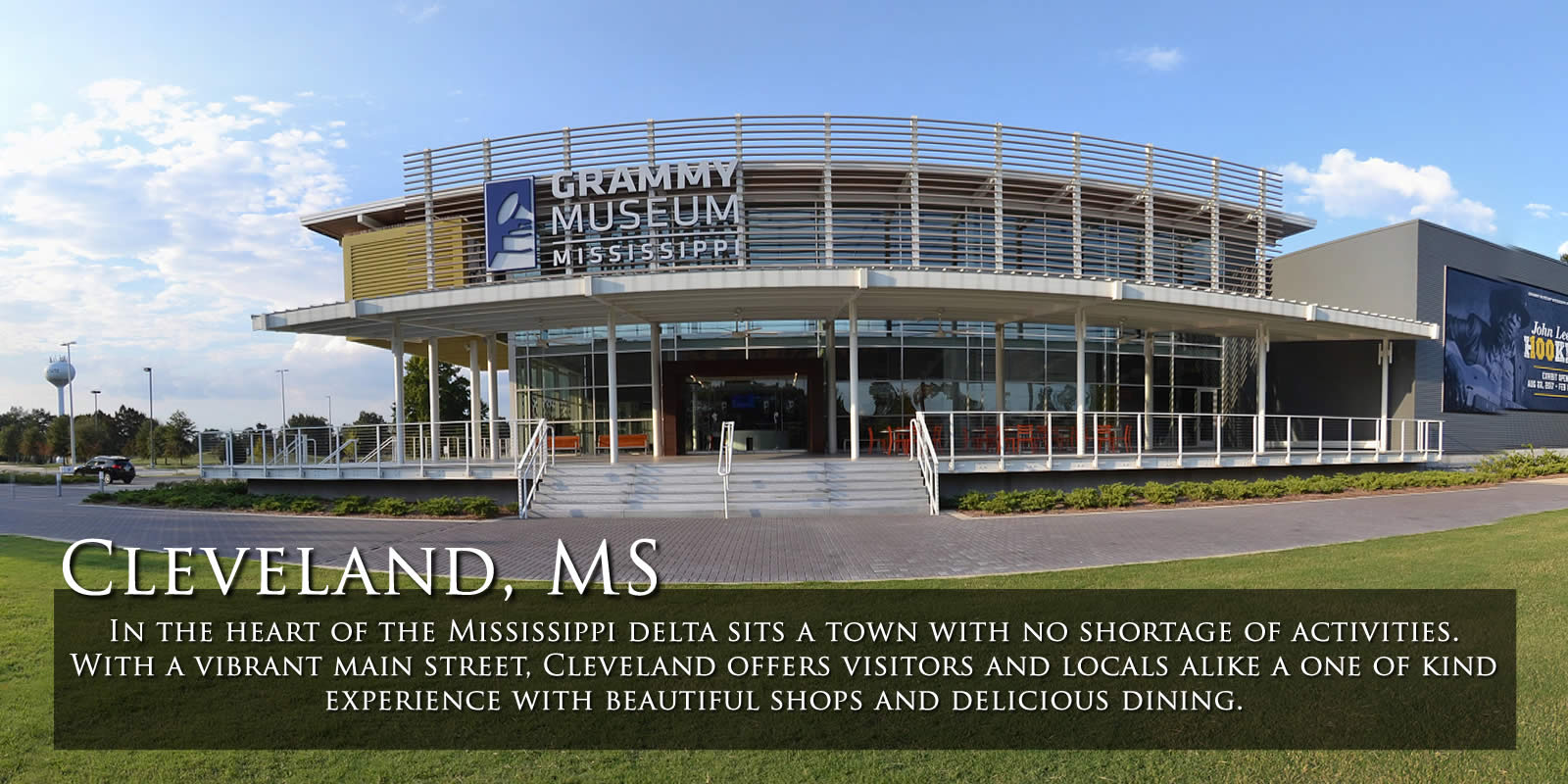 Downtown Cleveland MS
The Best Shopping in Cleveland MS Home to the Grammy Museum, Cleveland Mississippi boasts some of the best local shopping on the Mississippi Delta.  With a wide variety of local shops from jewelry stores, fashion boutiques, gift shops to antiques, [...]
Heidi's Cleveland MS The Monogram Store - Embroidery, Screen Printing, Promotional Items and More! We also offer Collegiate Gear, Toys, Baby, Jewelry, Purses and More! 110 North [...]
The Wishing Well Boutique The Wishing Well Cleveland MS In 1987, young entrepreneurs, Susan Wiggins & Jo Parker purchased The Wishing Well in Shelby, Mississippi, Both were determined to start a retail business, [...]
Downtown Cleveland MS   Cleveland Mississippi the home of the Delta Grammy Museum and the Delta Blues.  Find the best shopping, restaurants and things to do in Downtown Cleveland Mississippi with our virtual tours. Featured Merchants Tap [...]
Cleveland Fresh is your one stop shop for all your floral, bakery and gift needs. Everyone, young or old, is welcome to come experience a way to "freshen" up their day. Start your [...]
Load More Posts
9. Waynesville, North Carolina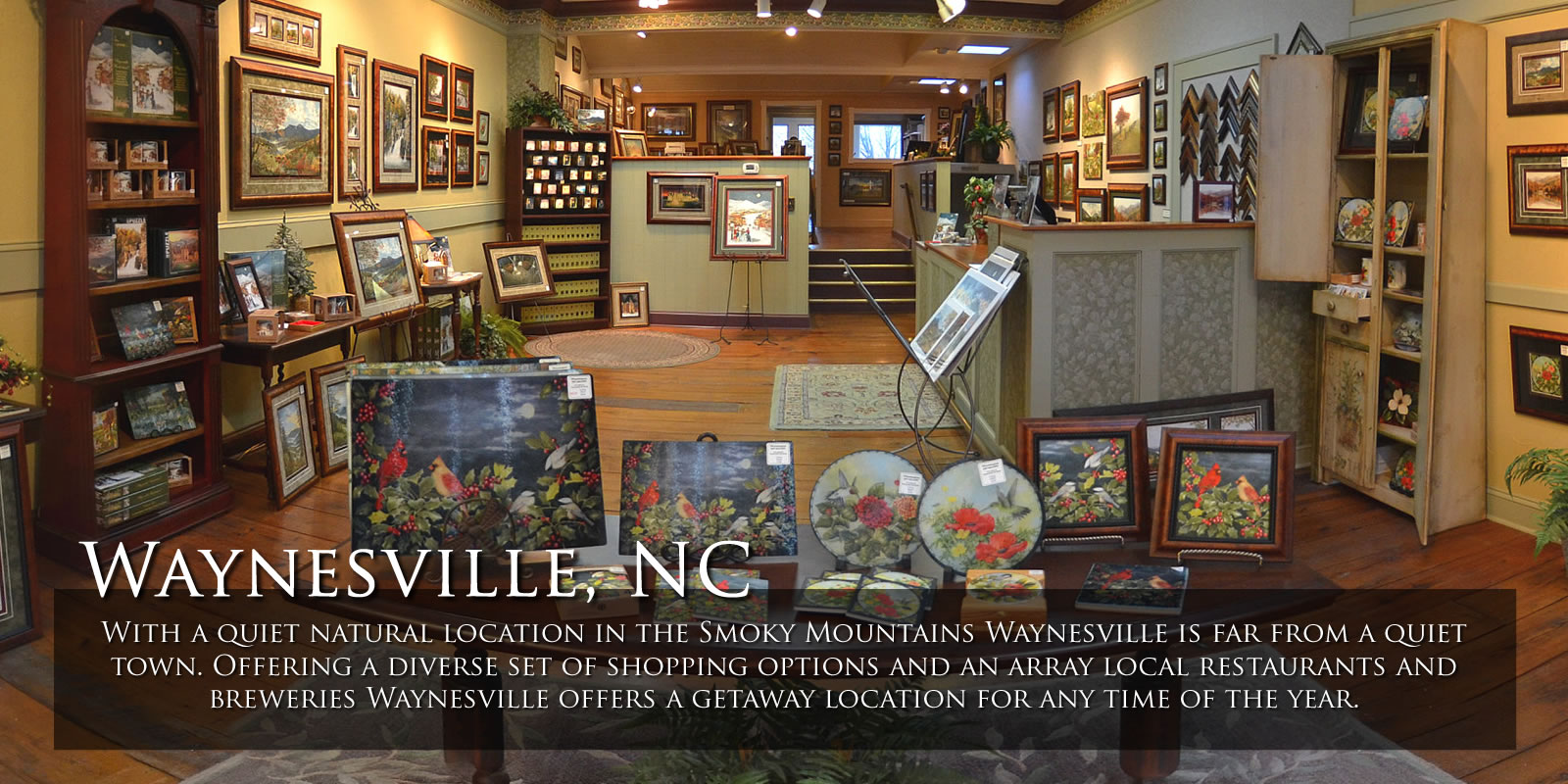 With a quiet natural location in the Smoky Mountains, Waynesville is far from a quiet town. Offering a diverse set of shopping options and an array local restaurants and breweries Waynesville offers a getaway location for any time of the year.
We now offer eGift Cards. Great for Birthdays, Weddings, and other Special Events! There Easy to Use - select amount, add personal note, email or text to yourself or a friend [...]
Pleasant Places Pleasant Places Waynesville's Bird and Garden Supply Shop! Shop in a relaxed atmosphere in downtown's own wildbird supply. From seed, feeders and houses to garden accessories, we'll help you with your [...]
Twigs and Leaves Gallery 98 North Main Street Waynesville, NC 28786. Craft, Art and Furniture Gallery. Browse through an unforgettable collection of nature-inspired works by 170 primarily regional artists and crafts persons. [...]
The Best Shopping in Waynesville NC Tucked in the Western North Carolina mountains is Waynesville. Waynesville has one of the best local shopping districts in the Great Smoky Mountains. From art galleries, local artisan shops, jewelry, gift shops and specialty [...]
Affairs of the Heart Affairs of the Heart is fun, eclectic and surprising. When folks walk into the store, they will find everything from heartfelt cards to beautiful jewelry to bear poop. Yes, [...]
Load More Posts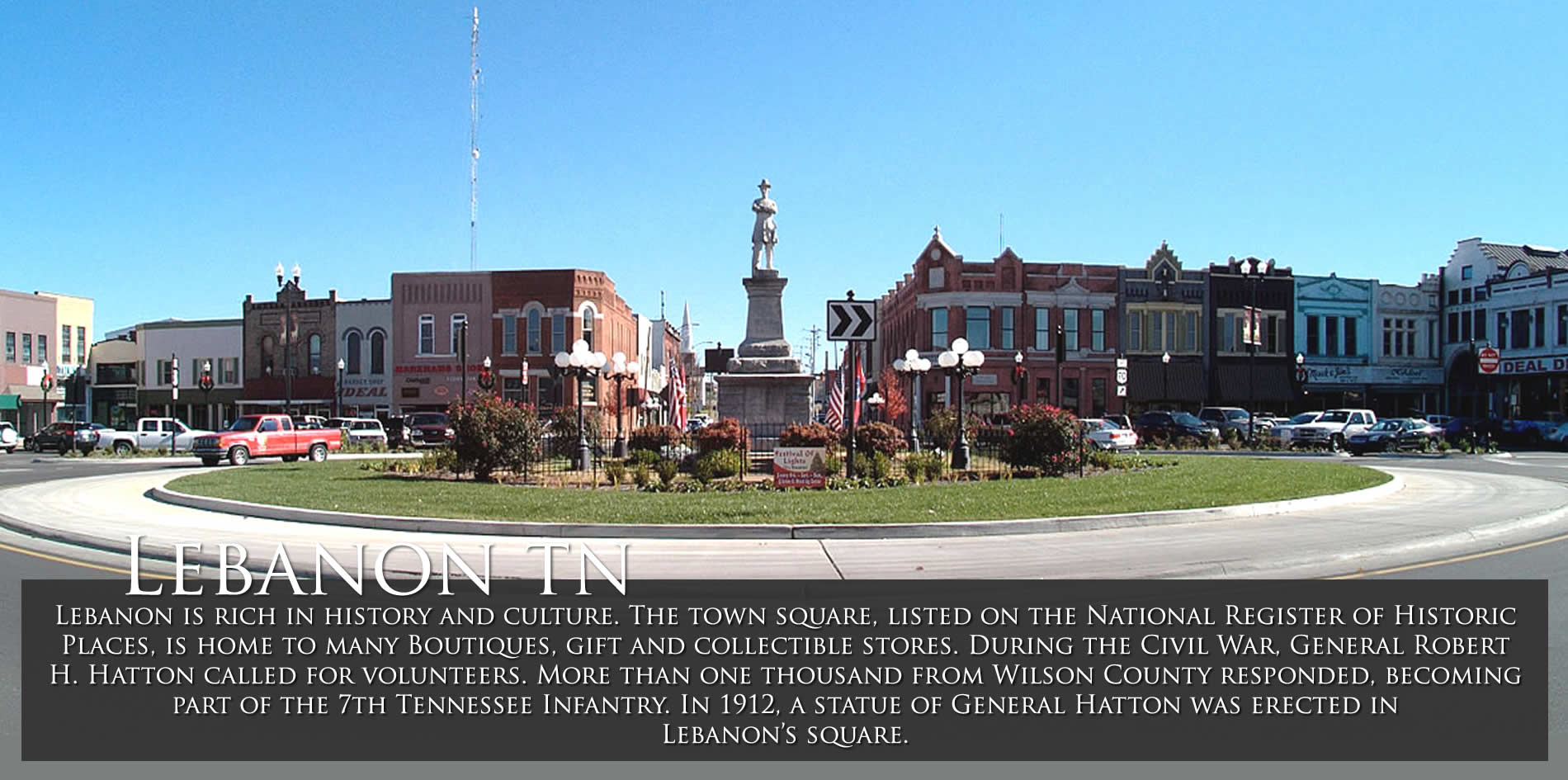 Shop Online Wilkie's Outfitters is a family owned business located in Lebanon, TN. We carry top brands of high quality, trusted products for the outdoor experience. Whether it's fishing, hiking, hunting, climbing, kayaking, or exploring [...]
Urban Mills Lebanon Do you happen to be looking for a cute new outfit or to personalize items with your logo? Take a moment to step out of the ordinary when you visit Urban [...]
Facebook Online Shop Dreams Boutique is on the Public Square in Lebanon, TN. Dreams is a Women's Active Wear, Lounge Wear, Intimates, and Trendy Apparel store. We offer specialty fit bras, lounge wear, [...]
Downtown Lebanon TN Featured Merchants Tap on Merchant below to enjoy their Virtual Tour! Downtown Lebanon Tennessee Shopping Restaurants and More Virtual Tours.
Shop Online Iddy and Oscars. Be the change. So many of us want to see change in our world and So often times we hear the quote by Gandhi "be [...]
Trendz Hair and Boutique Downtown Lebanon Tennessee's premiere Salon! 107 Public Square Lebanon, TN 615-449-1555 Our Website [...]
Load More Posts
Other great destinations in the south worth mentioning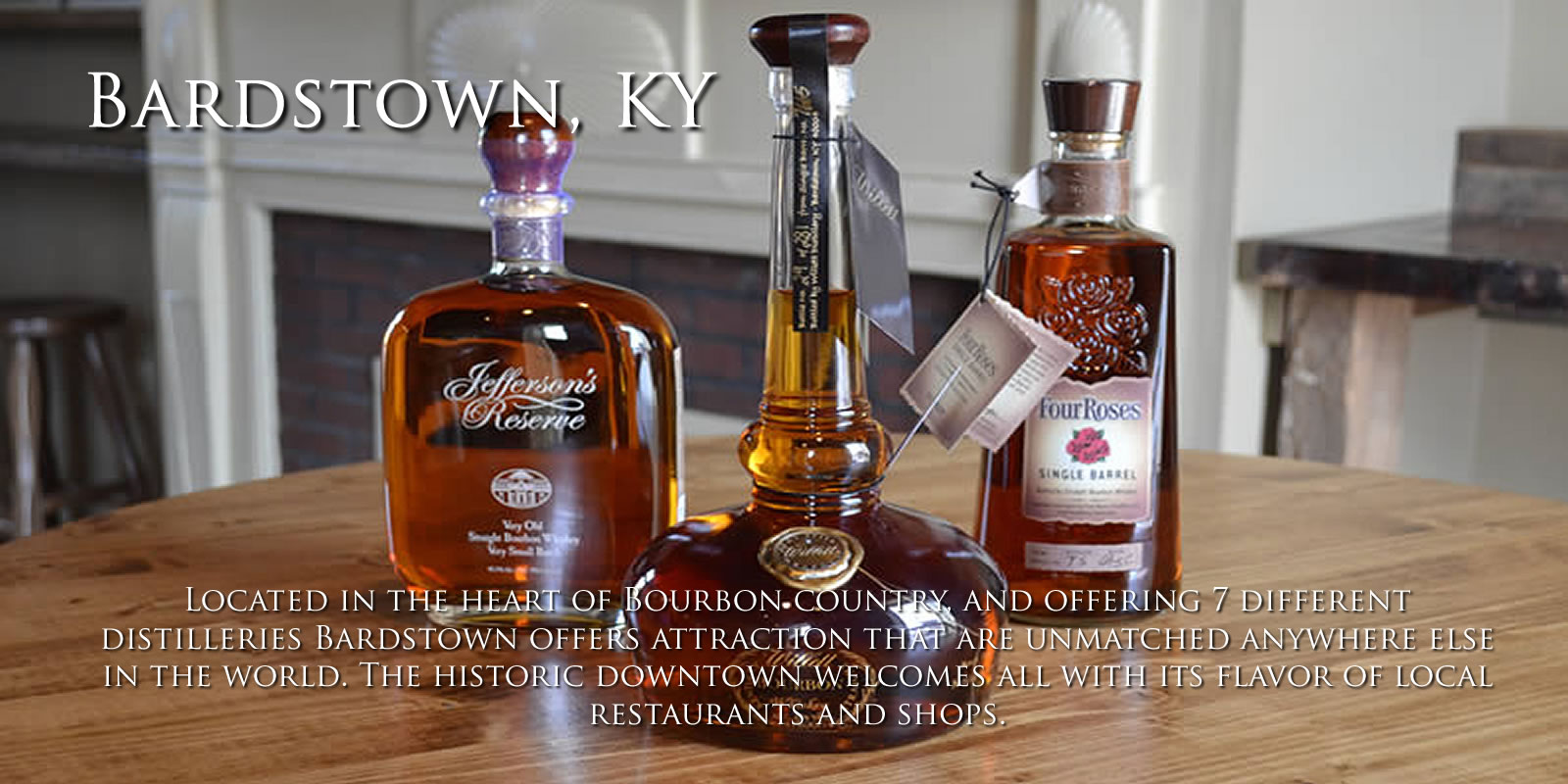 Old Talbott Tavern Bed & Breakfast with Restaurant and Bourbon Bar in Downtown Bardstown KY and our New Addition to our facilities The Talbott Inn. [...]
All our rooms include refrigerator, microwave, dry bar, 43″ smart TV, coffee maker, hair dryer, and access to the common area with internet access. Choose from Queen, King, and Double-Queen sized rooms. A visitor [...]
Hurst Discount Drugs and Soda Shop Hurst Discount Drugs and Gifts Downtown Bardstown Pharmacy and Soda Shop. Hurst Discount Drugs is your old fashion soda fountain pharmacy in the 21st century!!! Bring the [...]
Gartland's Art Sales and Custom Framing Gartland's Art Sales Bardstown KY, a unique one-of-kind family owned business, has continued to serve central KY for over 38 years and is still going strong. Our [...]
The Best Shopping in Bardstown KY Named "The Bourbon Capital of the World", Bardstown not only has some of the best distilleries, in it's downtown district , boasts some of the best local shopping in Kentucky. We invite you to [...]
Load More Posts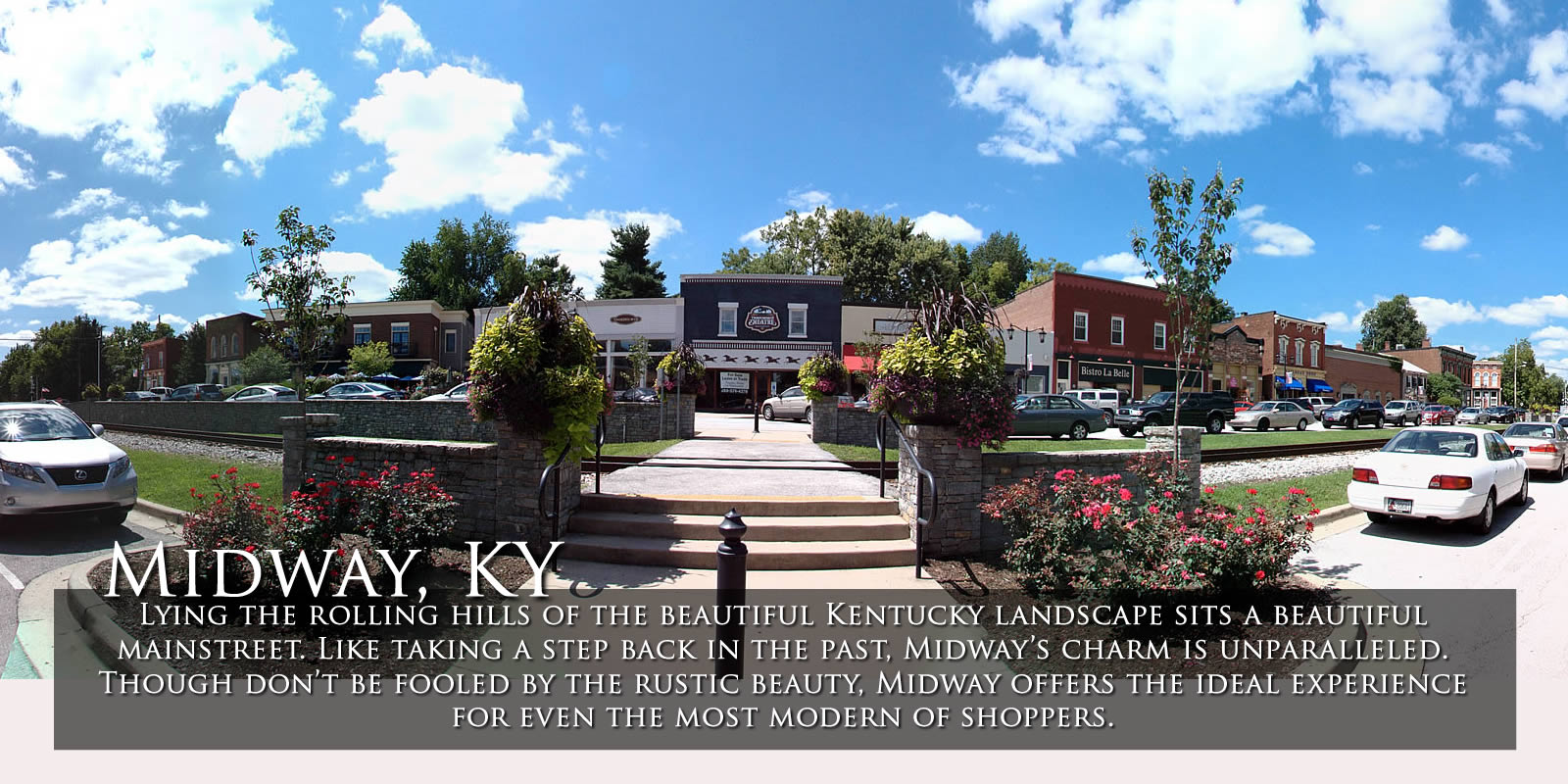 Calamity Jane Primitives Virtual Tour of Calamity Jane Primitives in downtown Midway Kentucky offering antiques, specialty candles and home accents. 107 East Main Street Midway, KY 40347 859-285-9501 [...]
Downtown Midway KY   Discover Midway KY Shopping Restaurants Lodging and More. Midway Kentucky is located in the heart of thoroughbred country. Featured Merchants Tap on Merchant below to enjoy their Virtual Tour! [...]
Darlin' Jean's Midway KY Darlin' Jean's Midway KY Casual Dinning in Historic Downtown Midway, Kentucky. We take Reservations, Full Bar, Walk-Ins Welcome, Good For Kids, Take Out, Waiter Service and Outdoor Seating. [...]
Fisher Antiques Midway KY Fisher Antiques is located in the small town of Midway, KY. We deal in "a little bit of everything" when it comes to antiques and collectibles. Your Midway Connection [...]
The Back Room is a home accessory store situated in downtown Midway on Main Street. Come purchase gifts, register for your wedding or baby showers, or spruce up your own home! Items include [...]
Best Midway KY Shopping & Restaurants Tucked in the Heart of Thoroughbred country, Midway offers a great selection of local shops and restaurants. We have selected the best shops and restaurants in Midway and invite you to explore Midway for [...]
Load More Posts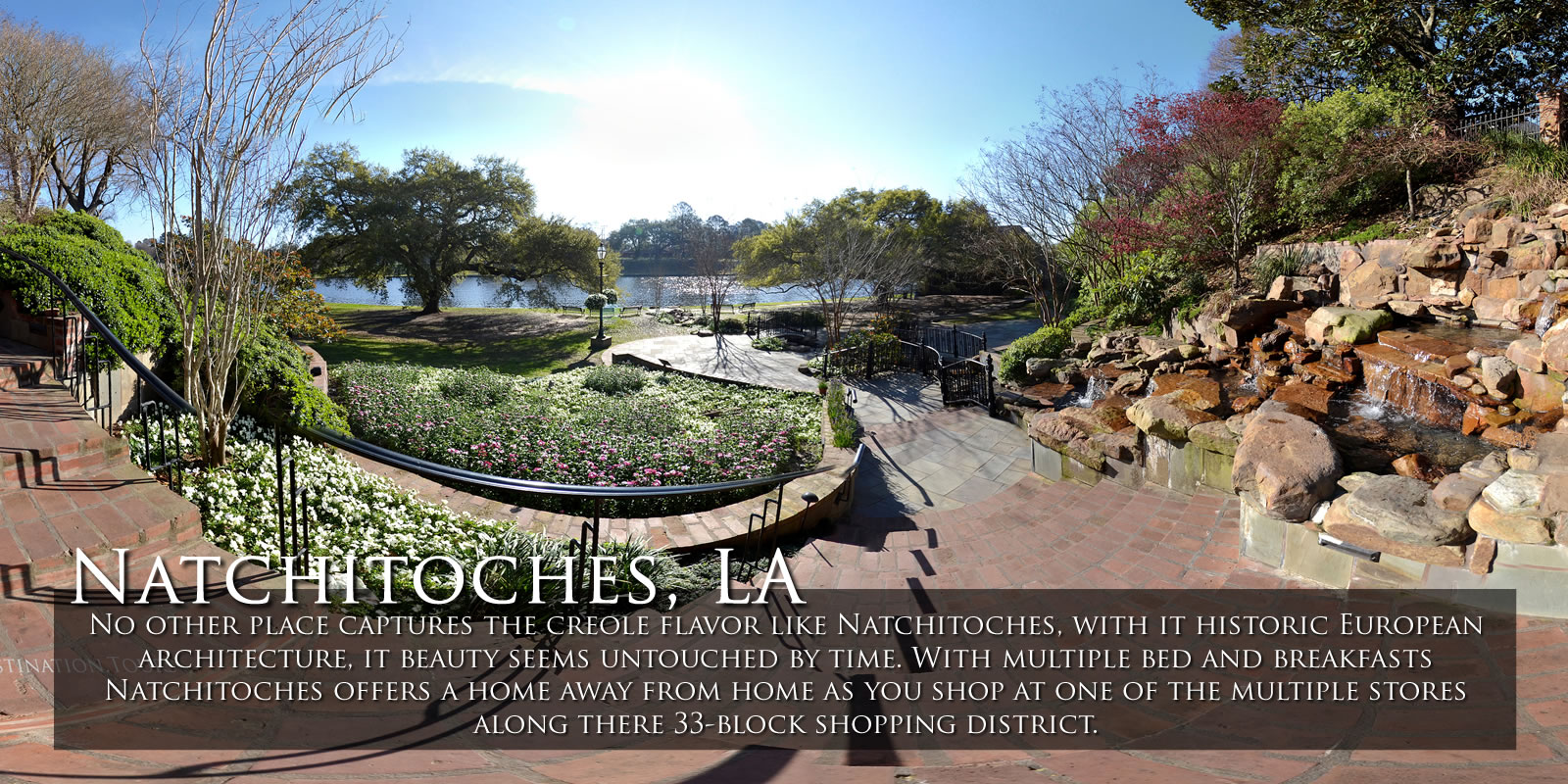 No other place captures the creole flavor like Natchitoches, with it historic European architecture, it beauty seems untouched by time. With multiple bed and breakfasts Natchitoches offers a home away from home as you shop at one of the multiple stores along there 33-block shopping district.
This shop is permanently closed - enjoy other great shops in Natchitoches below: 524 Front Street Natchitoches, LA 71457 Our Facebook [...]
Fort St. Jean Baptiste State Historic Site Natchitoches was founded by a French Canadian, Louis Antoine Juchereau de St. Denis, in 1714 while he was en route to Mexico from Mobile, Alabama, on [...]
Georgia's Gift Shop Visit our shop during your visit to Historical Downtown Natchitoches, Louisiana. We have that special treasure you are looking for with the largest selection of Natchitoches and Louisiana gifts, souvenirs, [...]
An idyllic retreat on Cane River Lake in the Natchitoches Historic District.  From beautifully appointed king-sized bedrooms complete with private baths, to a sumptuous gourmet breakfast, Jefferson House Bed & Breakfast is within walking [...]
Beau Jardin is the City of Natchitoches' newly-constructed water feature and garden area on the downtown riverbank, located within the Natchitoches Historic District.  Beau Jardin is the perfect venue for weddings, rehearsal dinners, [...]
Load More Posts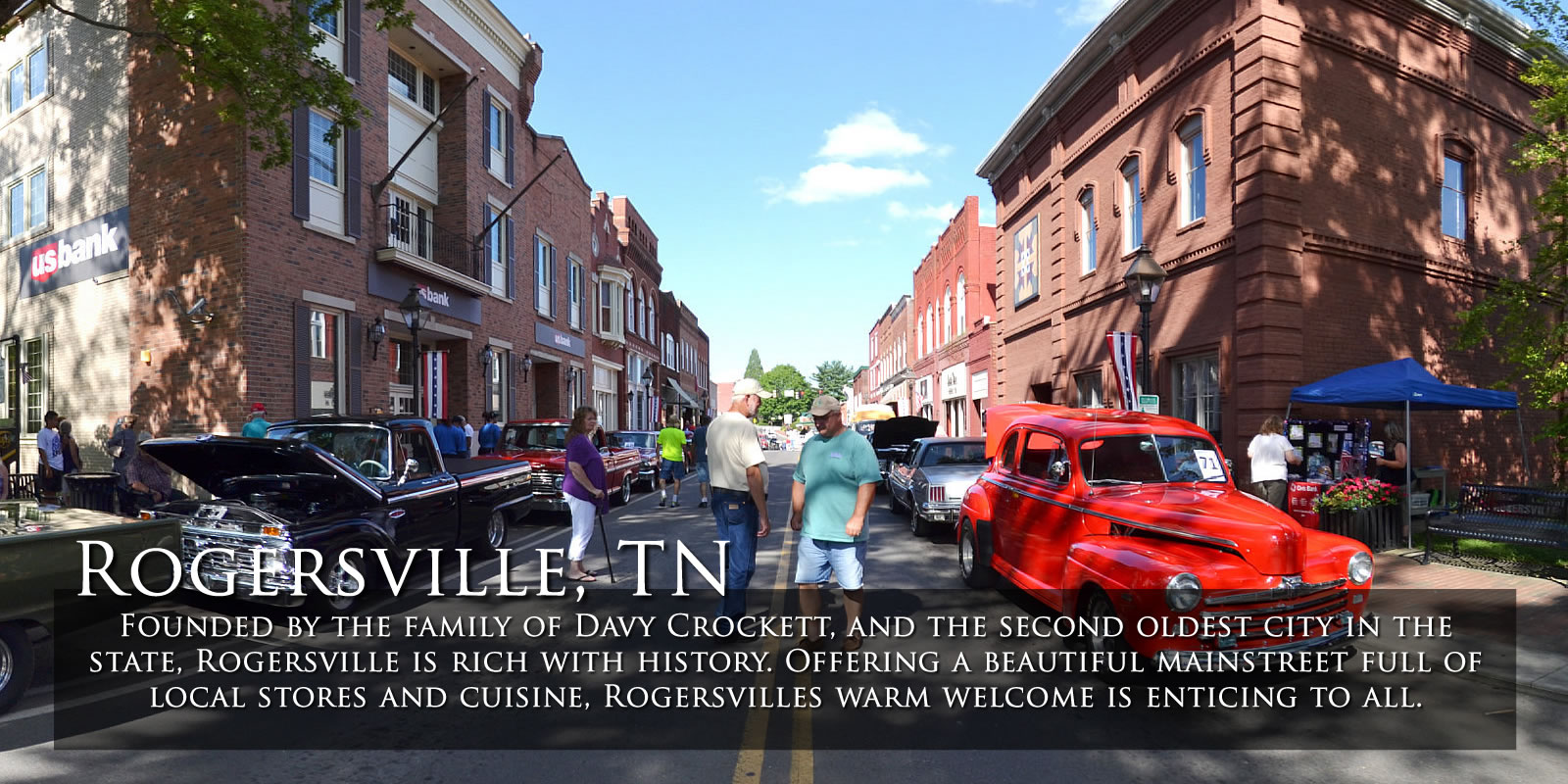 Heritage Galleries Collectables such as fine art, American and European art, antiques, fishing gear, tools, dolls, jewelry, glass such as carnival glass and Fenton, and more!  Your Rogersville's antiques and primitives connection. [...]
The Looking Glass Salon The Looking Glass Salon in Downtown Rogersville, we are a complete hair care and beauty salon. 207 East Main Street Rogersville, TN 37857 423-272-5031 [...]
Coffee At The Kyle Coffee Shop located just across the street from the Hale Springs Inn. 111 West Main Street Rogersville, TN 37857 423-500-1150 Hours: Monday- Saturday: 7am - 2pm [...]
Green Boomerang Natural Health Green Boomerang Natural Health is a mom and pop shop. Located in the picturesque city of Rogersville, TN. We believe in prevention of illness through good nutritional choices. [...]
Historic Downtown Rogersville, TN showcases an outstanding selection of fine arts, including original paintings and prints, blown glass, handmade jewelry, stained glass, photography, pottery, and sculptures of wood, stone and metal. In addition [...]
Occasions On The Square Occasions on the Square is an event facility for all occasions. From reunions to weddings and meetings to birthday parties. 101 [...]
Load More Posts