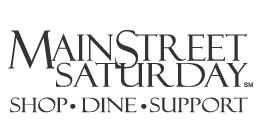 "Main Street Saturday" 
We are excited to introduce this event to further contribute to the success of your business and downtown. We invite you to utilize the tools below to connect with other local merchants and promote this event within  your community.  We invite you to connect with us and share the information we provide thru Facebook and other social media outlets. Printable materials are available on this page and can easily be printed at any office supply store. Questions? email us on the contact form below.
   Share
Please remember to Facebook posts from
Main Street Saturday. 
By sharing posts we will all be connecting each other with like-minded individuals
We know that by working together we can reach more people and create a greater impact for everyone.
   Promote Your Event
Please utilize our Press Release and Posters below to further promote the event.
"Main Street Saturday" Preserving What We Love 
What better way to express our commitment to our Main Street and local merchants  than with a Saturday celebration.
MAIN STREET SATURDAY: 
_____________________________________
NEWS PROVIDED BY
Destination.Tours
February 1, 2020, 11:00 CST
SHARE THIS ARTICLE
________________________________________________________________________
FRANKLIN, TN –  We couldn't think of a better way to celebrate except with a day dedicated to what makes our Main Streets thrive, our local merchants. 
Beautiful downtown shops and local cuisine not only add to the beauty and uniqueness of a Main Street but they are critical for its survival. Without these local merchants, many downtown events like holiday parades, art crawls, beer festivals and family events just would not occur.
Let's take time this Saturday to shop, dine or just take a stroll down Main Street to let our local merchants know that they are important to us and our community.
HOW TO PARTICIPATE
Head out to one or more of your favorite main streets, shop, dine or take a nice stroll downtown to let them know you appreciate what they add to your community.
Connect with us on our Facebook page, Main Street Saturday – Home to stay up-to-date and to share information about the event with others.
ABOUT DESTINATION.TOURS
A southeastern regional business dedicated to the growth and continued success of local small business brick-and-mortar. We help our local merchants with online marketing, tools like Google 360 virtual tours and local promotions, like Main Street Saturday.
Contact Main Street Saturday
Please allow 24 hours for a response.  Thank You.
[contact-form-7 id="4″ title="Contact Form 1″]