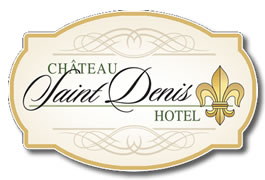 N

atchitoches is the quaint town featured in the movie Steel Magnolias.  Major festivals are held downtown each year, including the Natchitoches Jazz/R&B Festival and the world famous Natchitoches Christmas Festival which beautifully illuminates the City with over 300,000 lights and 100 lighted riverbank set pieces each winter during the holiday season.
Natchitoches is nationally recognized as a Distinctive Destination and USA Today recently awarded it's "Ten Best Reader's Choice Award" for "Best Southern Small Town." Natchitoches is also known for its remarkable cuisine offering a variety of unique dining experiences in the downtown district.  A visit to Natchitoches would not be complete without a sampling of a world famous Natchitoches meatpie or iconic Creole cuisine offered at a number of restaurants. Whether leisure or business brings you to Natchitoches, we say…Bienvenue a' Natchitoches, welcome to Natchitoches!
The Chateau Saint Denis Hotel takes pride in providing exceptional customer service. Guest satisfaction is our main priority. Please feel free to call or email with any questions or concerns. We are happy to assist you.
VisitNatchitochesLA.com
Other Great Destinations Nearby